Do you have an email database of supporters for your work? Everywhere you turn, from industry events to industry publications to individual consultants, you should be hearing that an email database is one key to success for your film. Fundraising, niche marketing and distribution are all heavily dependent on having a sizable list.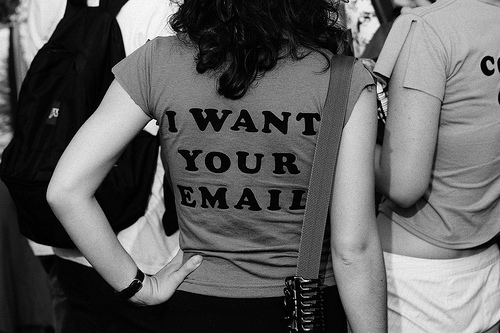 But let's address some excuses artists use for not starting a list.
–Email lists start from zero and it will take too much time to get a big enough list. Everyone starts at zero. No one was born with an email list! I know it is really hard to face having an account that looks empty, especially when you think of yourself as an established artist. It takes time and effort to build up a good list. Most people don't like the long term pay off of list building and social media tools. The effort is usually started when they need something NOW.  Come to terms with the long tail! Get started now, when you DON'T need anything and, over time, you will have a big enough list.
–Email collection feels spammy, exploitive. If the only time you contact your database is when you NEED something, then yes, you are being exploitive. People sign up to your list because you offer them something of value to their lives and they are giving you permission to keep talking to them. This is like GOLD DUST! Don't underestimate this asset. They are looking for your unique perspective on the world, some interesting tools or events they should know about that you recommend that are not directly related to your work, as well as news about what your are working on. They do admire your work after all, so don't keep them in the dark.
–Email service providers cost money. Many email service providers do not charge monthly fees until you reach a certain number of subscribers (2000) or you are sending a certain volume of emails per month. If you are trying to build a list in order to earn a living at some point, you must invest a little bit. Come on, we're talking like $30 a month here! Is this your profession or a hobby?
–Just one more thing that takes me away from making my art. True, but you can view this as a different form of expressing your creativity as well. Monthly communication with an audience shouldn't be viewed as an inconvenience. Your audience is what enables you to keep making your art; having an audience makes you valuable, both to yourself (a feeling of accomplishment) and to the market. You make art to be seen right? The newsletter doesn't have to be long, but it needs to be creative and engaging, things art should be at a minimum.
–I don't need a list because someone else is going to sell my work to an audience. Ok, Ms Old School filmmaker! We're in the second decade of the millennium and about 5 years along in the indie film distribution revolution. At what point are you going to accept the fact that FEW (like a hand full) of filmmakers have this luxury? And even they don't have it to a reliable degree. You are wasting all of the new distribution and marketing tools now available to you if you have no one to contact directly.
In my next post, I will give some tips about accumulating emails and how to keep that list healthy and happy to hear from you.
Sheri Candler August 8th, 2013
Posted In: Marketing
Tags: email list, excuses, independent film, list building