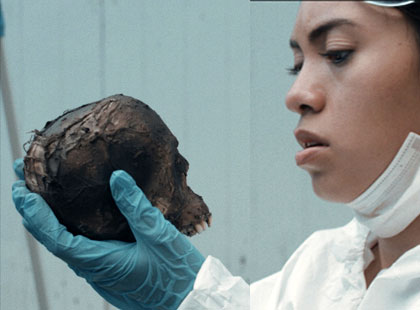 Juana Doe
ABOUT THE PROJECT
LOGLINE
A forensic anthropologist discovers her supernatural abilities when working with unidentifiable remains of migrants.
SYNOPSIS / DESCRIPTION
"We ran out of water. We are very tired. Please keep praying for us." — Last text message sent by a Texas border crosser to her sister. Her body was never found.

Along the Texas/Mexican border, undocumented immigrants are dying from dehydration, heatstroke, or hypothermia after crossing the border illegally. The text message above is an example of the last form of communication a loved one receives before a border crosser goes missing. Statistics are showing that border crossers are calling 911 for help via a "throw-away" cell phone but sometimes first responders don't arrive on time. Before crossing, many immigrants are coerced to travel without identification so it's harder to detain them if apprehended. A wave of skeletal remains is showing up near the Texas border and local forensic anthropologists are drowning in work.

This story is about death, hope, empathy, and compassion. This story is an evidence-based narrative that discusses immigrant lives. This film will humanize the people who work under strenuous conditions on the border (Forensic Anthropologists, Border Patrol Agents, & 911 Call Operators). This film will present a point of view that reflects a unique border identity; composed of resilience, culture, and empathy.
---
GENRE Narrative Short

DIRECTOR Ramón Villa-Hernández

WEBSITE juanadoe.com
---
Please help support this project with a tax deductible contribution.