fiscal sponsorship.
Application Checklist
Pay the required fees:

Submit your application:

Your application will not be reviewed until both fees are paid.
Tips
Read the FAQ's page before beginning
Format proposal using single spacing. Do not double space.
Use

Times/Times New Roman

or

Helvetica/Arial

at 10pt, 11pt or 12pt.
Use the same font and font size throughout.
Left footer: filmmaker name and the name of the project.
Right footer: add page numbers.
Comply with suggested lengths in the guidelines.
Do not write in the first person.
Say it clearly and concisely. Avoid exceeding recommended word count and repeating information.
Each proposal element is required unless otherwise stated.
After the title page your proposal should flow from one section to the next with clearly marked headings. Although the sections are numbered below, it is not necessary to number your sections or repeat the guidelines on your proposal.
The budget should begin on a new page.
Application Review Process and Time-Line
Most applications are given an initial review within 2 weeks of submission
If your application is approved, you will be notified of acceptance and sent start up documentation.
If your application requires edits and/or additional information, you will be contacted via email with details. Your revised Project Proposal is required within 30 days in order to remain active. If you abandon the application process you must pay another application fee to re-start the process
When a final decision has been reached you will be contacted via email.
Core Application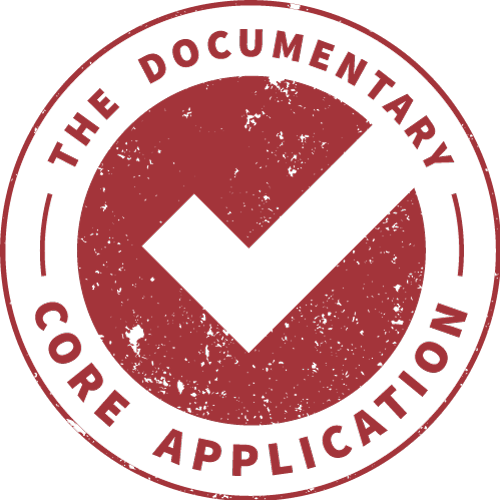 The Film Collaborative fiscal sponsorship program uses the Documentary Core Application for all projects
The Documentary Core Application is a collaborative effort by grantors who regularly fund documentary projects to standardize application requirements, with the aim of fostering greater access and a more equitable and sustainable documentary field.
Non-documentary projects should also submit using these guidelines. Elements not required for narrative or other projects are noted throughout.
Project Description

Title Page – Include the project title, length, format and genre of the project, and all contact information: name of primary contact and secondary contact (if applicable), company (if applicable), address, phone, email, website.
Logline — Provide a brief, catchy summary of your story.
(Approximately 1-2 sentences)
Story Summary / Synopsis – What is your story and story structure? Give an overview of your story, introducing the main characters and potential plot points. Describe the anticipated story structure and narrative trajectory, or potential character arcs for your project. Discuss your access to the story and characters.
(Approximately 1-2 pages)
Topic Summary – Why is this topic important, timely, or relevant? Why are you the best person to make a film about this? Explain the cultural or social relevance and context for the topic, and why this project is timely or urgent. Detail the topics, issues, themes, challenges, stakes, or questions that your project will cover.
(Approximately 1-2 pages)
Artistic Approach – How are you going to tell this story? Describe your creative vision for the finished project – its visual look and feel. Explain your intended use of cinematic language or any particular artistic approach that informs the storytelling. If applicable, mention any creative elements and assets, interactive elements, new technologies or non-traditional mediums that you intend to utilize. Explain how these elements will enhance the experience and interaction between viewers and the world of the story.
(Approximately 1/2 page)
Project Stage and Timeline – Explain the current status of the project. Outline the projected production timeline from the project's current state to the anticipated completion date. Your timeline should cover both the creative and production processes and should detail major project activities, production schedules, and anticipated post production and release dates.
(Approximately 1 paragraph)

Audience and Distribution Strategies

Distribution and Marketing Strategy – Characterize the intended distribution life for your film. Specify plans for festival, theatrical, and/or community screenings, as well as plans for securing national broadcast and/or distribution
(Approximately 1 paragraph)
Intended Audience – Describe the anticipated audience for your project, including any underserved audiences. How do you plan to reach your target audience? How have you addressed the needs and interests of this audience in your film? What is your relationship and access to this community?
(Approximately 1 paragraph)
Audience Engagement and Social Impact – (if applicable) – Audience Engagement is a strategy designed to activate audiences and constituencies toward a specific goal. Not all films are suited for social engagement, but if yours is, what actions do you hope for viewers to take after seeing your film? Potential activities could include organizational partnerships, educational guides, targeted stakeholder/community screenings, social media strategies, multi-platform activity, or social change campaigns. Do you have partnerships with organizations in your issue area already, and if so, how are these relationships informing your project development?
(Approximately 1 paragraph)

Key Creative Personnel

Provide brief biographies – (50-150 words) – for the director(s), and if attached, the producer(s), cinematographer, or editor. Include notable credits and/or major recognition or award information. For each key creative, include information about relevant expertise and the individual's role in the project. Do not send resumes, CVs or extensive filmographies. Bullet list any other advisors or consultants, if applicable.
(Approximately 1 paragraph/short bio)

Financial Info

Fundraising Strategy – Describe the strategy for raising the additional funds necessary to complete the project. *For TFC: How much do you intend to raise through fiscal sponsorship? How much do you intend to raise other ways?
(Approximately 1 paragraph)
Please note: TFC cannot consider projects with fiscal sponsorship fundraising goals of less than $25,000.

Funding to Date

– Provide a list of all sources and amounts raised to date. Clearly distinguish between potential sources of funding and secured amounts. List the status of other sources of funding currently under consideration, whether to be applied for or pending. This grid is mandatory for all fiscal sponorship applications.

Example:
Source
Amount
Status
Deadline Dates
(if applicable)
Identify Sources that Require Fiscal Sponsorship
Foundation A
$X
Secured
04/01/18
Yes
Private Investment
$X
Secured
No
Private Donations
$X
Secured
Yes
Foundation B
$X
Applied
08/31/18
Yes
Broadcast License A
$X
In Negotiation
No
Crowdfunding
$X
In Process (Campaign end date MM/DD/YY)
Yes
Budget

Comprehensive Line Item Expense Budget – Please provide a breakdown of your project's projected expenses, from development through release, in U.S. dollars, including a budget total. Provide budget notes for any areas that may be viewed as out of the ordinary or which requires further explanation.

Work Sample

Applicant's Prior Work – optional – Describe the sample you are submitting for consideration, including its narrative, aesthetic, or communication intentions. Discuss the relevance of the work to the current project, if any. If the current project is a departure from the prior work, how will this film differ?
(Approximately 1 paragraph)
Current Sample/Rough Cut – if applicable – (10-15 mins) – Describe the sample you are submitting for consideration. What should reviewers be looking for in your sample? Explain what is present or absent in the sample, and how it will differ as a finished film. How is it representative of the intended story, style, subject, or another aspect of the project?
(Approximately 1 paragraph)

Supplemental Questions

Do you have another fiscal sponsor for this project? (current or previous)
Explain how you will utilize fiscal sponsorship in fundraising for this project.