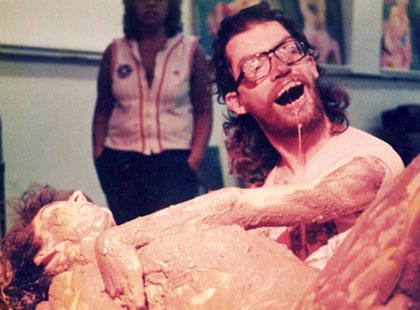 Deep Inside the Shaman's Den
A Film About Frank Moore
ABOUT THE PROJECT
LOGLINE
Frank Moore was a provocative body-centered artist with cerebral palsy, whose work was labeled obscene for more than four decades.
SYNOPSIS / DESCRIPTION
DEEP INSIDE THE SHAMAN'S DEN offers an illuminating look at the life and times of Frank Moore, the late Berkeley, California-based artist and provocateur who couldn't speak or walk. Born in 1946 with cerebral palsy, Moore far exceeded societal and familial expectations for a person living with a physical disability. During his life, Moore's creative, political and pedagogical activities inspired fellow artists, writers, community members and students. After winning an individual artist grant from the NEA in 1985, his work was investigated by Senator Jesse Helms and was swept into a national debate on censorship, sexuality and government funding for the arts. Moore refused to ride the "fame wave" that came along with being labeled an obscene avant garde artist, and never again sought external funding for his work so that he could retain full creative control. Instead of pursuing mainstream recognition, he focused on making underground and confrontational works using various mediums including poetry, essays, paintings, video, public access cable television and performances that were erotic, immersive and durational, often lasting up to 48 hours long. In 2008, tired of a two-party political system controlled by corporate money, Moore decided to run for President of the United States. With a progressive platform ahead of its time, he became a qualified write-in candidate in 25 states.

With evocative and illustrative archival materials - including Moore's extensive writings, thousands of photographs and over 800 hours of performance video—DEEP INSIDE THE SHAMAN'S DEN tells the story of a under appreciated underground artist. Through Moore's fascinating personal story, the film explores cultural norms and expectations around bodies, sexuality, relationships and the role of art in society. It's subject is historical, but the many questions it raises are more relevant now than ever.
---
GENRE Documentary Feature

DIRECTOR Keith Wilson
PRODUCER Keith Wilson, Emile Bokaer

WEBSITE frankmoorefilm.com
---
Please help support this project with a tax deductible contribution.