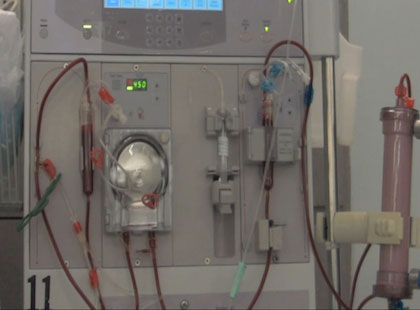 Blood Money
Patients for $ale
ABOUT THE PROJECT
LOGLINE
Dialysis patients, medical professionals, and whistleblowers unmask the multi-billion U.S. dialysis care industry that profiteers from patient deaths—treating nearly half a million Americans like cash cows.
SYNOPSIS / DESCRIPTION
"Your pressure drops low. You think you're dead. You black out but you didn't know," says Lisa Baxter. Like thousands of Americans, Lisa has undergone dialysis three times a week for about three to four hours each treatment. For every 100,000 Americans begin dialysis treatments each year, one in four will die within 12 months.

Filmed across the United States (with select interviews in Canada), the feature-length documentary, BLOOD MONEY: PATIENTS FOR $ALE, exposes legal, medical, and political malpractice among for-profit dialysis companies, which control over 70% of the outpatient dialysis market. Private dialysis providers continue to monopolize the dialysis market while their lucrative incentives are not aligned with—and, in fact, harmful to—their patients.

BLOOD MONEY is structured in three acts: the first act investigates featured patients and whistleblowers' trials. The second act lays bare the industry's paper and money trails. Profit-motivated dialysis firms exhaust their patients' Medicare coverage and/or private insurance and then devalue and discard patients. The final act issues a call to action, echoed by patients and dialysis center employees, nurses, and medical professionals.

At the heart of the story are dialysis patients and their uplifting movement for better care nationwide. Their hopes are not merely visions, culminating in patient-driven alternatives that address this public health crisis.
---
GENRE Documentary Feature

DIRECTOR Gordon Skinner
PRODUCER Gordon Skinner


---
Please help support this project with a tax deductible contribution.