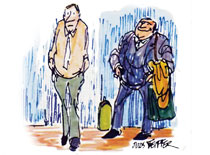 Bernard and Huey
ABOUT THE PROJECT
SYNOPSIS / DESCRIPTION
BERNARD AND HUEY is an upcoming film with a screenplay by Pulitzer/Oscar/Obie-winner Jules Feiffer, (screenwriter, Mike Nichols' CARNAL KNOWLEDGE and Robert Altman's POPEYE). BERNARD AND HUEY will be directed by award-winning filmmaker and Slamdance Film Festival co-founder Dan Mirvish (BETWEEN US) and produced with Mike S. Ryan (JUNEBUG) and Dana Altman (LOVELY, STILL).

Based on Feiffer's beloved characters BERNARD AND HUEY (who first appeared in the Village Voice in 1957), the film is a comedy about two old friends who reconnect after 25 years apart and their complicated relationships with the women in their lives.
---
GENRE Narrative Feature

DIRECTOR Dan Mirvish
SCREENWRITER Jules Feiffer
PRODUCER Mike S. Ryan, Dana Altman, Dan Mirvish

WEBSITE BernardandHueyMovie.com
---
Please help support this project with a tax deductible contribution.