[updated comment below-August 28, 2013]
Back in January, I wrote a post called The Independent's Guide to Film Exhibition and Delivery 2013 examining how rapid technological change was impacting the exhibition side of independent film, and how this was affecting  filmmakers' post-production choices and delivery budgets. At the time, I worried that the solid state digital formats emerging as pre-eminent were simply adding cost to delivery and, in fact, creating a new hierarchy in which Studios were grabbing an even larger share of the market simply by virtue of the fact that the available exhibition real-estate was shifting so rapidly to DCP that it might price out both smaller films and smaller venues unable to afford the changeover to DCP.
But surveying the landscape even seven months ago, it seems I underestimated two critical developments that have overtaken the Industry at a breathtaking rate, seemingly changing the world of exhibition and delivery forever. And lest you think my lack of clairvoyance didn't matter – I can sum it up this way: had I known what I know now, I would never have invested so much early 2013 money in HDCAMs for our Film Collaborative films.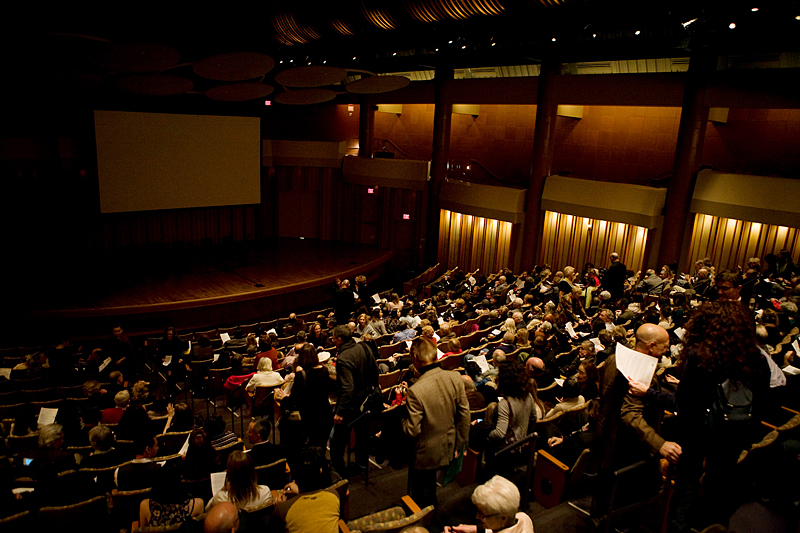 Of the many things that The Film Collaborative does, one of our core services, is booking our clients' and members' films in public venues all over the world – including everything from film festivals, traditional theatrical venues, universities, art galleries, etc. When we first got into doing this, of course most of our films had 35mm prints. And of course, those days are long past…digital tape has been the mainstay for some time now…most notably the HDCAM and the Digibeta before it. Disc-based formats (mostly DVD and recently BluRay) had been largely relegated to preview screeners and the smallest of festivals and venues.
As recently as the Sundance Film Festival (January 2013), all of our films showed at that Festival on HDCAM; DCP was still the exception at Sundance; and BluRay was still nearly unthinkable as a respectable format for a major Film Festival anywhere (note: many of the filmmakers we work with still think BluRay is an unacceptable exhibition format). And the general buzz before, during and after Sundance was that DCPs were creating a lot of technical problems at Festivals, and that BluRays of course were even worse.
Now flash forward to the impending Fall 2013, and everything is remarkably different. And I don't mean subjectively different…as in I think it is different. I mean objectively, measurably, data-driven different, as evidenced by a rather simple breakdown of the data available to us.
Anyone who has had a film on the Festival circuit knows that October is the height of the booking season, the time when all the venues that can't compete with Berlin or Cannes or Toronto before them, but don't want to run into the end-of year Holidays typically stage their events (not to mention the flood of Oscar-bait films that are released by the Studios at the end of the year). As such, October offers the best window into the "generic" state of independent exhibition, and is in fact the largest sample size of data available during the year.
This being already late August, most October festivals and venues are locking their October schedules now. And The Film Collaborative films are featured heavily in the Fall 2013 programming schedules, as evidenced by the 195 separate bookings we have secured for our films scheduled thus far for October. I don't mean 195 screenings mind you, I mean 195 separate engagements across all our films ranging from one day bookings to full theatrical runs.
Of our 195 bookings, the exhibition formats being used for these engagements are as follows (in descending order of frequency): 
BLURAY 144
DVD 25 
DCP 12
HDCAM 10
Digibeta 2
Quicktime File 2
The takeaway here is staggeringly obvious…in the current independent marketplace –especially in the United States — the BluRay rules far and away above all others. And this is NOT because we are forcing BluRays on venues….in every case we tell Festivals and venues what formats we have AVAILABLE, and largely let them make their choice. And for ALL of our films, we have at least two HDCAMS available….they just aren't getting used for almost anything! As such, they are just piling up on my shelves…feeling more and more obsolete every day. And I'll tell you they weren't exactly cheap to make…especially the ones with fabulously mixed 5.1 sound!
I should clearly note that we do NOT have DCP available for all our films, largely because they are expensive to master and we've been able to get away without putting all our films on DCP. But I maintain that this is CRITICAL information for all indie filmmakers who face similar budget choices….clearly one is NOT FORCED by current booking practices to have DCPs available. I can guarantee you we have not lost a single booking due to a festival telling us they can ONLY play DCP (although MANY will tell you they prefer it, especially in Europe).
There is no doubt that if we DID have DCPs available for all our films, that number of DCPs being used in October would change. But I doubt it would shift more than 10%…. Maybe BluRays would go to somewhere like 130 bookings and DCPs to 40 bookings. The difference between the frequency of both formats would still be stark.
I'd also like to say to the naysayers, you'll note that having CLEAN EXHIBITION QUALITY DVDS are still very important…in fact second most after BluRay. That's especially true if you wish to show on the University or Gallery or Church or Community Center circuit….a valuable circuit for most niche-oriented independent film. And I'd especially offer this chart to the Festival programmer who electronically yelled at me via email today saying… "DVD is not an exhibition format!" Clearly, a large percentage of venues disagree.
Some of you will ask….why does this matter? Well, the answer (as always) is largely financial…and offers a fascinating look at how the independent film world continues to adapt to the economic realities of competing in a largely studio and movie star-driven industry.
From the venue side of the equation, HDCAM and other tape-based decks were never cheap to rent, so when suddenly given the choice to opt out entirely in favor of a consumer-priced technology like BluRay…the majority of festivals went running to the shallower (cheaper) side of the pool. Clearly, the added stability of showing HDCAMs (which are incredibly reliable) has not been enough to counter-balance the cost-benefit analysis, particularly because BluRays look and sound damn good when projected even across large throws and large rooms. I know that this cost-benefit analysis will remind many of our older readers of the Betamax/VHS era…when it was well known that Betamax was better quality and more reliable, but the cheaper VHS won out completely because of economics.
Add to this the fact that, with current technology, it is DCPs that are the least reliable common exhibition format, and currently lead to the most delayed and cancelled screenings. To date, software ingestion issues, subtitle problems, and encryption code dramas plague independent DCP exhibition…and almost all festivals showing DCPs in fact require BluRay or DVD backups as well!
From the filmmaker side of the equation, the economic forces swaying the state of delivery and exhibition are even more profound. Until recently, it was a given that independent filmmakers were finishing their films on HDCAM and investing in multiple HDCAM copies for exhibition as well as delivery to distributors and broadcasters, platforms etc. But examining the data above, and given that most distributors and platforms prefer now hard drive delivery anyway…why go to HDCAM at all?
Perhaps a post-supervisor could better answer this question, but one conclusion at least remains true from our January 2013 posting…."For the time being, it seems to wisest to counsel that we deliver films as a Quicktime ProRes 422 file available for quick turnaround at a trusted lab with multi-format output capacity. From there, we can be assured of the ability to take our opportunities whenever and wherever they may lead us."
Back in those old days of January 2013, I made the following statement…"In 2013, the needs of your exhibition formats and delivery formats will likely be determined by how successful your film turns out to be. If your film turns out to be truly theatrical, you will likely need a combination of DCPs and HDCAMs and BluRays to meet the demands." But as we near the end of 2013, I'm thinking that maybe we don't need spend all that money quite yet. Lets go a little slower investing in contemporary formats….and check back in at the beginning of 2014 for the third part in this series….and see where we stand then.
Comment:
Hey Jeffrey,
Enjoyed your latest post. Sadly most of it rings true. You struck a nerve touting BluRay. I'm a film festival and post production veteran. You are correct B/R's are now omnipresent. The demise of tape is tragic actually. Dbeta, HDCAM, SR all bullet proof exhibition formats. You could be reasonably certain if the film was delivered on a pro tape format, some professional editors, colorists etc., had a hand in the film.
Now people deliver exhibition copies on a 33 cent piece of plastic. You are lucky if it comes in a sleeve. Don't expect labels with TRT's, audio or aspect ratio information either. If you ask me, the Fukushima accident killed HDCAM and SR, you couldn't find tape stock so people found another way, but I digress.My concern is the dreaded "can't read disc" or "no disc" message. We have multiple players for this very frequent occurrence. I need to tell to the film maker I've played it in 6 different machines and none of them will read it. I, of course, follow this up with "did you provide a DVD B/U?" I always hear.."well it played on my mac" OMG!
Having spent over a decade as an editor and post supervisor, I am dismayed that film makers spend thousands and thousands of dollars and perhaps years of their lives on a doc or feature and deliver on a B/R! I do exhibition for a living now and you can ask any of the seven projectionists on staff here and they will tell you B/Rs are the bane of our existence. I've been the Technical Director for SILVERDOCS for 10 years, now AFIDOCS. We still don't accept B/Rs, we ran I believe 3 DCPs this year. That said, it was a huge struggle this year getting professional media from all the FM's. I don't buy the "we can't afford tape." Really? Does you premiere mean that little to you? Drop the $150 bucks and have your editor knock out a digital cut to HDCAM.Our experience with DCPs is limited.
I will say this, we don't have any issues when the DCP comes from Deluxe or Technicolor or a reputable post house. When you get the WD passport 1TB drive shipped in bubble wrap that was created by some guy in the film makers spare bedroom on DVD- o- Matic, that's when things get dicey. In defense of DCP, the player will at least verify the file. The B/R on the other hand may play flawlessly at first, then throw up pixels all over a 40′ screen the second screening. Both of these formats are problematic from a festival perspective.
You can't really do a thorough quality control check on DCP's or B/R's unless you have unlimited access to the venue and lots of time before the festival. Tape on the other hand can be QCed in a dark room frame by frame or spot checked. Or if time is short, FFWD to the end and jot down the TRT and time code out! Damn I'm gonna miss tape. The archive scenario is even scarier. Possibly subject mater for you and a future post! With camera acquisition largely file based, I see film makers do a good job backing up camera original files while in production. They get to post, edit, maybe color correct, maybe some sound design, render for hours and hours burn a few discs and they think they are done. Finally, the film maker may have their project backed up on some external drive purchased at Newegg or TigerDirect. Some form of spinning disc that more than likely will crap out when he/she needs it. 
We are in a era where hundreds of hours of material are being lost. DP's and editors I've worked with for years have countless horror stories. So maybe we shouldn't kill off tape so fast? Maybe you dump your select evergreen camera originals, your unmixed masters on a chunk of HDCAM. Put it on a shelf, and if you can find a machine to play it on it twenty years it will look as good as the day you shot it. (The B/R will have returned to dust) There isn't a good answer out there yet, LTO perhaps or solid state drives when they become affordable. My next festival will be in eight different venues, not all DCP equipped, but all have HDCAM and B/R's.
What's a technical director to do?
Regards,
JOHN SUMMERS | Operations Manager 
AFI Silver Theatre and Cultural Center | American Film Institute
Jeffrey Winter August 22nd, 2013
Posted In: Digital Distribution, Theatrical
Tags: BluRay, DCP, Digibeta, DVD, end of digital tape, film festival screenings, HDCam, Sundance Film Festival, theatrical exhibition
Every filmmaker wants a theatrical exhibition for their film because of the prestige and the classic appeal. Key, in our opinion, is to know what's possible and what you're paying for. There are lots of services that charge big fees to book your film. Be knowledgeable about when you can book yourself (Landmark, Film Forum, Quad, Laemmle Theatres, Cinema Village, lots of others), or spend less on theatrical.
Publicity is the most important part of theatrical and that's what you should spend money and time on. A New York Times review is usually a key goal, and it won't come from having just a NYC release (that's new NYT policy). A Theatrical release is important to directors for the obvious reasons and it is a very useful marketing component, but the operative word is "useful". It's useful only if it does not cost you more than you'll make back from it and ancillaries that are enhanced by it.
According to one of our VOD partners, Comcast and InDemand have said, off-the-record, that they will start insisting on a 10-city day & date release for films to have access to their service. This policy would be implemented to help sift through the glut of the content in supply. We caution, before filmmakers rush into that spend, to think whether their film is likely to make it onto key Cable VOD platforms. Will the spend on theatrical likely be recouped on VOD? Also, cable VOD wants day and date releases, but theatres don't so be cautious when planning your distribution route.
Are you a filmmaker who has worked with a distributor or service company for theatrical exhibition? Tell us about them in our Distributor Report Card.
Orly Ravid July 21st, 2010
Posted In: DIY, Uncategorized
Tags: Cinema Village, Comcast, Distributor Report Card, Film Forum, InDemand, Laemmle's, Landmark, New York Times, Quad Cinema, The Film Collaborative, theatrical distribution, theatrical exhibition, VOD
Just because a documentary doesn't get a theatrical distribution deal doesn't mean it can't be considered for an Academy Award. Since many great docs don't get distributed theatrically, many filmmakers choose to qualify the film themselves. But it's not cheap. The least expensive option is the IDA's DOCUWEEKS program (www.documentary.org), or you can four-wall the film yourself. It needs to run at least two times a day, for a week in New York City AND Los Angeles. Theaters that regularly cater to this kind of Academy-qualifying runs include the Laemmle's in LA, and the IFC Center in NYC. Know in advance that you should expect to pay at least $30,000 to qualify this way. If you are considering this kind of run….TFC can help.
Are you a documentary filmmaker who has worked with a distributor for theatrical exhibition? Tell us about it on our Distributor Report Card.
Orly Ravid July 18th, 2010
Posted In: Uncategorized
Tags: Academy Award, Distributor Report Card, documentary, IFC Center, independent film, Laemmle's, The Film Collaborative, theatrical exhibition