How viable is DIY Digital Distribution? The Case Study of Tab Hunter Confidential
David Averbach is Creative Director and Director of Digital Distribution Initiatives at The Film Collaborative.
When distributing your film, a lot of time is spent waiting for answers. Validation can come only intermittently, and the constant string of "no"s is an anxiety-ridden game of process of elimination. Which doors open for your film and which doors remain closed determines the trajectory of its distribution, whether it's festival, theatrical, digital, education or home video (until that's dead for good).
I work with filmmakers, way down-wind of this long and drawn-out process, who, after exhausting all other possibilities, have "chosen" DIY digital distribution as a last resort.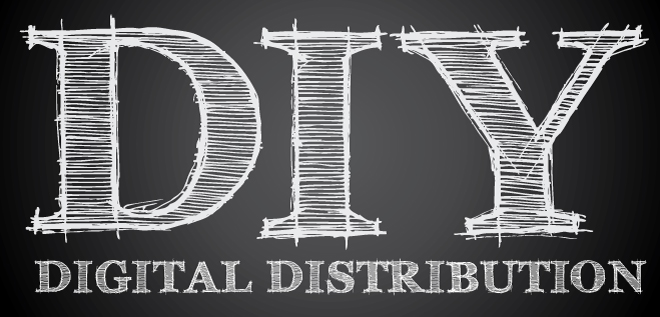 TFC's DIY digital distribution program has helped almost 50 filmmakers go through the process of releasing their film digitally over the past 5 years and with most of them, I have often felt as though I were giving a pep-talk to the kid who got picked last for the dodgeball team. "Hang in there, just stick to it…you'll show them all."
Is DIY Digital Distribution anything more than a last resort? Perhaps not…
DIY vs. DOA
Since TFC was formed over six and a half years ago, we have optimistically used "DIY" as a term of empowerment, where access and transparency had finally reached a point where one could act as one's own distributor. After all, we tell these (literally) poor, exhausted filmmakers, "no one knows your film better than you do", so "no one can do a better job of marketing it." With a little gumption, a few newsletters and handful of paid Facebook posts, you, too, might prove all the haters wrong and net even more earnings than Johnny next door who sold his film to what he thought was a reputable distributor but never saw a dime past the MG (minimum guarantee) in his distribution agreement. We even wrote two case study books about it.
It's not that I'm being untruthful with these filmmakers. Nor is it the case that these films are necessarily of poor quality. What they have in common is a lack of visibility. Most had some sort of festival run, and only a handful were released theatrically, usually with one- or two-day engagements in a handful of cities. Occasionally, we'll get a film that has four-walled in New York or Los Angeles for a week. Or sometimes ones that have played on local PBS affiliates or even on Showtime. But their films are not even close to being household brand names. So without the exposure or the marketing budget, they can do little more than to deliver their film to TVOD platforms like iTunes and hope for the best.
So what happens to these films? The news, as a whole, is not good. Based on what I've seen from these films in the aggregate, and all things being equal, if you DIY/dump your film onto only iTunes/Amazon/GooglePlay with moderate festival distribution but no real money left for marketing, you will be lucky to net more than $10K on TVOD platforms in your film's digital life.
And the poorer the filmmaking quality of your film, or the less recognizable the cast, or the less "niche" your film is, the more likely it will be that you won't even earn much more revenue than what is required to pay off the encoding and delivery fees to get your film onto these platforms in the first place (which is around $2-3K).
Which is why, as of late, I've been aggressively suggesting to filmmakers that holding off on high profile TVOD platforms and instead trying to drive traffic to their websites and offering sales and rentals of their film via Vimeo On Demand or VHX, two much cheaper options, might be a better use of their limited remaining funds.
But am I down on DIY? Not necessarily.
Risky Business
Granted, there are a lot of films out there for which The Film Collaborative can do very little for in the area of digital distribution other than hold filmmakers' hands. But what about for films working at the "next level up" from last-resort-DIY? Films who have either gotten a no-MG or modest-MG distribution offer?
Many distributors and aggregators working at this level will informally promise some sort of marketing, but many times those marketing efforts are not specifically listed contractually in the agreement. So when filmmakers ask me whether going with a no-MG aggregator is better than doing DIY, this is my answer…
It's important to remember that, once a film is on iTunes, no one will care how it got there. And by this I mean with no featured placement, just getting it on to the platform. So, if that's all a distributor/aggregator is doing, this is not the kind of deal that a filmmaker can dump into someone else's hands and move on to their next project. In fact, many aggregators will send you a welcome packet with tips and suggestions on how to market your film on social media, such as Facebook. In other words, they are literally expecting you to do your own marketing. Not just do but pay for. So, it is entirely possible that all that an aggregator or distributor is doing is fronting your encoding costs, which they will later recoup from your gross earnings, but only after they take their cut off the top. And if your distributor is offering you a modest MG, you must be prepared for the possibility that that MG may be all the earnings you are ever going to see. Certainly, we have seen many, many filmmakers in this position.
So the question remains: Is DIY still too risky for all but films that have run out of options?
It's a hard question to answer, mostly because there is no ONE answer. Undoubtedly, some films will be helped with such an arrangement and some films will not.
A View from the Other Side…
Distributors, of course, will stick to the sunny side of the street. They will tell you that DIY is too risky for the vast majority of films, and remind you that distribution is more than getting a film on to one or two platforms.
When I asked Gravitas Ventures founder Nolan Gallagher, a veteran in distribution and whose co-execs have a combined 50+ years in distribution experience, about his feelings regarding DIY, he was quick to point out that the main difference between a proven distributor and DIY is that while much of the work in DIY happens in year 1, distributors can help in year 3 or year 5 or beyond. He believes that DIY individual filmmakers will be shut out from new revenue opportunities (i.e. the VOD platforms of the future) that will be launched by major media companies or venture capital backed entrepreneurs in the years to come because these platforms will turn to established companies with hundreds or thousands of titles on offer.
This is a fair point, in theory, but I honestly cannot recall a single instance of one of our filmmakers from 2010-2013 jumping for joy over that fact that his or her distributor had suddenly found a meaningful new VOD opportunity in years 3-5, nor have we heard of any specific efforts or successes down the line. But it's good to know one can expect this if signing with a distributor.
He also mentioned that many of Gravitas' documentarians receive multiple 5 figures in annual revenue over 5 years after a film first debuted.
That's nice for those filmmakers…But what about the ones that don't? It would be ludicrous to suggest that any decent film, with the proper marketing and industry connections, can become a respectable grosser on iTunes.
By no means am I singling out Gravitas in order to pick on them in any way. For many films, clearly they do a terrific job.
But does that mean that there aren't a handful of filmmakers that have gone through aggregators like Gravitas or other smaller distributors that many TFC films have worked with, such as The Orchard, A24, Oscilloscope, Virgil, Wolfe, Freestyle Digital Media, Breaking Glass Pictures, Amplify, Wolfe, Zeitgeist Films, Dark Sky Films, Tribeca Films, Sundance Selects, who are not entirely convinced that they were well served by their distributor? Of course not.
The Million Dollar Question…
The question I really wanted to know was more of a hypothetical one than one that assigns blame: if these so-called "borderline films" that went through aggregators/distributors had done DIY instead, how close could they have come netting the same amount of earnings in the end? Is it possible that they could have gotten more?
This is a hard question—or, should I say, a nearly impossible question—to answer, because no one has a crystal ball. But also because of the continued lack of transparency surrounding digital earnings, despite initiatives like Sundance Institute's The Transparency Project, and because the landscape is continually evolving.
A recent article in Filmmaker Magazine, entitled "The Digital Lowdown," discusses how independent filmmakers struggle to survive in an overcrowded digital marketplace and "admits" that niche-less festival films will only gross in the range of $100K-$200K, and that, in fact, talks about a "six-figure goal." But in almost the same breath, there is a caveat. Sundance Artist Services warns that "…if a filmmaker spends about $100,000 in P&A to finance a theatrical run, they're probably going to be making that much from digital sources."
I have heard many stories of distributors and filmmakers alike, who put "X" dollars combined into P&A for both theatrical and digital only to make a similar amount back in the end. So what's the point? If you look at distribution from the perspective of paying back investors, are a good portion of filmmakers netting close to nothing, no matter whether they do DIY or whether they gear up for a theatrical and digital distribution via a distributor? If a film does not succeed monetarily, is the consolation prize merely visibility and exposure? (Which is not nothing, but it's not $$ either).
Sweet/Talk
A few months ago, my colleague Bryan Glick posted a terrific piece on our blog that questioned the ROI of an Oscar®-qualifying run, given the unlikelihood of being shortlisted. Bryan implies that because filmmakers like hearing "yes," and like having their egos stroked, when publicists, publications, screening series, cinemas, and private venues all lure filmmakers with a possibility of an Oscar®, something takes over and they lose perspective at the very moment they need it most.
Could the same be true for a distribution strategy? Are filmmakers so happy to be offered a distribution deal at all that they are unable to walk away from that distribution deal, even if they suspect that it undervalues their film? And could a viable DIY option change that?
Evaluating Success with DIY
Last fall, I began to think about what a "successful" DIY digital release could look like. On the low end, we've heard about a magical $10K figure that I discussed above…in the context of MGs paid to Toronto official selections via Vimeo on Demand, and Netflix offers to Sundance films via Sundance Artists Services. So it would have to be at least greater than $10K. And on the high end, it would have to be at least $100K that the filmmaker gets to net over a 10-year period.
Working backwards, how can this be achieved and is it possible to recreate that strategy via DIY?
One thing that gave me hope was when my colleague Orly Ravid, acting as sales agent, negotiated a licensing low-six-figure deal with Netflix for the film Game Face, about LGBTQ athletes coming out. The film won numerous audience awards at film festivals, but had no theatrical release. Timing, as well as the sports and LGBT niche, made this film perfect for a DIY release. The only catch was the Netflix insisted on a simultaneous SVOD & TVOD window, so Netflix and iTunes releases started within one day of each other. TFC serviced the deal through our flat-fee program via Premiere Digital Services.
Lessons Learned from the DIY Release of Tab Hunter Confidential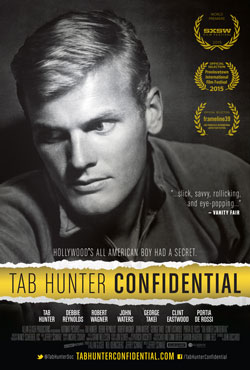 This past Spring, TFC spearheaded the digital release of Tab Hunter Confidential, a film for which we also handled festival and theatrical distribution, as well as sales. Truth be told, this film almost went through a distributor. In the end, however, after a protracted period of negotiation, an offer was made, but knowing how much Netflix was willing to offer, Orly advised the filmmaker to walk away from the deal and try our hand at a DIY release. The filmmaker agreed, and we serviced the Netflix deal via Premiere. However, as Netflix wanted the film for June, which is Gay Pride Month, we had a limited amount of time in which to do iTunes, and I was determined to make the most of it.
So what were the goals? And how could we get there?
I had been trolling both the "Independent" and "Documentary" sections on iTunes for months in preparation for what has now become this article on DIY. I had been noticing that while it is easy to get a film into the "New & Noteworthy" section in "Documentaries," which contains at hundreds of films, the similar section in "Independent" is limited to about 32. So how could one get there? And how could one's film be featured in the top carousel in "Independent" or in any of the genre categories? Would it help to offer iTunes exclusivity? Would it help to do iTunes Extras? Could we contact Apple and try and schedule something? What else could be done? These are the questions that I set out figure out on my own, or to ask our aggregator, Premiere Digital Services.
How can I get my film to be one of the 30+ films in the "Independent" Section of iTunes? This section is populated at Apple's discretion. Their iTunes division is based in L.A., not Silicon Valley, and they attend film festivals and are very up-to-date on the indie film landscape. It's clear, however, that while they do speak with distributors and aggregators about what's coming down the pipeline, most of the decisions about what is to receive placement in this section occur within a week or two of the release date in question, and are decided ultimately by iTunes. I informed Premiere Digital that we were very interested in being placed in Independent, and they told me that they have weekly calls with iTunes and that—closer to the date of release—they would mention the film to them. In the end—spoiler alert—we did manage to get Tab into this section. But there were no back room deals to get that to happen…so I can hereby confirm that it is possible to be featured on the iTunes store based solely on your film and the specifics of its release.
Rotten Tomatoes Score: Out of approximately 100 films that appeared from late November 2015 to early February 2016 (which I kept track of manually, so the following is not completely scientific), about 50 of those had a "fresh" rotten tomatoes score. About 40 of those 50 had RT scores over 80%, and many of those were Certified as Fresh. Of the remaining 50 films, about 20 had "rotten" RT scores, and about 30 had no score at all. Luckily, Tab Hunter Confidential has an RT score of 87%, so I knew I was safe from that perspective. But while I was investigating, I was particularly interested in those films without a score. I noticed that many of them had star power attached, and a few of them were holiday-themed. A few of them were Lionsgate titles. And a few sports-related and horror titles, which always seem to rise to the top. I glanced at the Independent section for this week (third week in August), and these numbers pretty much bear out, save the holiday ones. The takeaway here was that if your film did not have a theatrical (and therefore perhaps does not have a RT score), if it doesn't have famous people in it, it's not about sports or is not in the horror genre, your chances of appearing in this section as a DIY film going through an aggregator seem pretty slim.
Check in, check out dates. As many of you know, films always end up in one of Apple's genre sections. They stay there a few weeks or even a few months until they are bumped out of that category by newer items. But those sections are very glutted. The "Independent" section is a second placement, one that is curated by Apple, of only three rows of films. One thing that I became acutely aware of was the high turnaround in this section. Films seemed to be refreshed twice a week: once on Tuesdays (release day), and then again on Fridays. This was more or less consistent, although I got the feeling that on a few occasions things were a bit early or a bit late.
At any rate, it was very clear that if films were not pulling their weight, they would be booted from the "Independent" section for something else. At least 1/3 of the films were gone after only a few days. After all, Apple is in the business of making money off these films too. What occurred to me is that if filmmakers are doing distribution deals to get placement, and their films only last 3 days in the "Independent" section, and that measly placement is what amounts to the big perk/payoff of going through a distributor, it's a pretty sad day for either the filmmaker, the distributor, or both.

How can I get my film featured in the top carousel? It turned out to be the same answer as for the Independent section in general, but I can admit it now…I was a pest: I asked multiple people at Premiere this question. I was told over and over that Apple will make a request for layered artwork if they are interested in featuring the film. Two weeks before the release date I had not heard anything. But less than a week before, Premiere received the request for artwork from Apple. We ended up being featured in both the "Independent" and "Documentary" sections.
Why did they pick us? I am not completely sure, but here are my guesses: We had a great film festival run. The film was based on a bestselling book. We had a high RT score; we did a 40+ city theatrical; we had a lot of press, and we had a publicist; the film was apparently not doing terribly in the iTunes Pre-Order section, Tab Hunter did many interviews when the theatrical came out; Tab Hunter is freaking Tab Hunter; the film spans both LGBT genres and the genre of women of a certain age who came of age in the 1950s and still remember Tab's poster on their bedroom walls; the artwork was classy; it was almost June; we gave them an exclusive (although I don't think they ever advertised it as such); we did an international release on iTunes (we were told that Apple likes films to have more than one territory to be featured, which is kind of strange, because it wasn't featured in any other iTunes store, like Canada or UK); and lastly, we did some iTunes custom artwork and iTunes Extras.
Walking the walk. Speaking of customization, one thing that I noticed about every film in the "Independent" section was that most detail pages contained customized promotion background artwork. Apple likes this. It gives the film branding, credibility. Apple has two different kinds of background art one for the iTunes store and one for AppleTV. We opted to do just the iTunes store art, which is an extra $75 conformance fee at Premiere. We also did iTunes Extras basic package, for about $700 extra, which offers a chance to include bonus features, such as outtakes and other exclusive video. Since we were planning on including bonus interviews on our DVD, we included that file, as well as 10 minutes of interviews for which iTunes is the only place that they are available. I'm not sure if Extras helped the featured placement, since we were literally down to the wire on having them appear on the store in time for the release. (At the last minute, we needed a looping background audio for iTunes, which we didn't realize was mandatory, so if you go the Extras route, don't forget that that audio file is needed).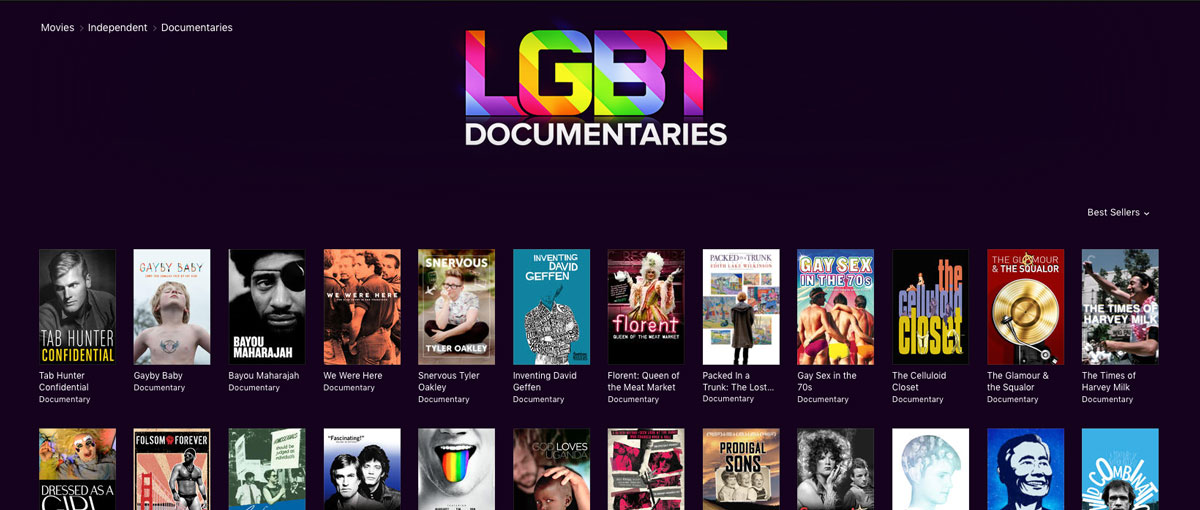 Results. All in all, we did everything we could, and it paid off. We were featured in both the carousels of the "Independent" and "Documentary" genre sections, and stayed in the "Independent" carousel for a full week and in "Documentary" carousel for two weeks. We stayed in the "New & Noteworthy" part of "Independent" for several weeks. At its peak, we reached #2 in Documentaries, being surpassed only by Michael Moore's Where to Invade Next, which months later is still in the "New & Noteworthy" part of "Independent." We made sure Tab Hunter Confidential shows up in both the iTunes Extras section and the "LGBT Movies" Collection section. The more places to find the film, after all, the more chance of it being rented or purchased.
After over 3 months, around the third week of August, Tab Hunter Confidential was the 12th All-Time Bestselling LGBT Doc in the iTunes store. As of the date of this blog, it has dipped down the 14th. It is still in the "New & Noteworthy" part of "Documentaries," although to be fair that section contains hundreds of films.
Regrets? Could we have stayed longer in the iTunes carousels? Two things worked against us. First, although there was a social media push when the film was released, it was pretty limited, as we had only a small P&A budget. With more of a spend, we could have gotten more attention during the second week, and perhaps sales would have warranted the film sticking around for longer. Other films, such as Gravitas' Requiem for the American Dream, for which TFC handled the Theatrical, featuring Noam Chomsky, have done a much better job surfing this wave. Fortuitous timing with Bernie Sanders, but that is a story for another day.
Although we offered TVOD exclusivity to Apple until June, it was unclear whether they really cared about that, as they never promoted it as such, and we probably should have released on Amazon, GooglePlay and Vudu on the same day as iTunes.
(Speaking of Amazon and GooglePlay, I once asked someone who used to work at Premiere how one gets featured on those other platforms' stores. What they told me was shocking: Amazon and GooglePlay basically copy content ideas from the iTunes store. This was about a year ago, so who knows if this is still happening, or if it was even true at all. But I was kind of blown away by this.)
Conclusion. There are undoubtedly things one could immediately try and recreate from the steps that were taken with Tab Hunter Confidential. However, who is to know if they could work a second time, with a different film and different timeframe?
I am not suggesting in this article that distribution deals are unnecessary. Many companies have a ton of industry connections and experience that one might not be able to recreate with DIY.
But in this case, the filmmaker is thrilled, and my TFC team believes that dollar for dollar, the filmmaker walked away with a guaranteed net that is more than they would have received had they taken the distribution deal that was offered to them by a distributor.
So should DIY be considered a dirty word? Only you can decide if it is right for you film. As a whole, the jury might still be out, but, at the very least, I suspect that we're going to get more filmmakers interested in iTunes background art.
Be sure to look out for Tab Hunter Confidential, on digital platforms, and now on DVD and Blu-Ray, which have recently been released by our friends at FilmRise.
David Averbach September 6th, 2016
Posted In: Amazon VOD & CreateSpace, case studies, Digital Distribution, Distribution, Distribution Platforms, DIY, education, iTunes, Marketing, Netflix