Want to launch a horror film franchise? Better get onto the festival circuit.
We've all heard the stories of the little independent horror films that could; seemingly plucked from nowhere and went on to be mega hits. 
Paranormal Activity, a $15,000 film launched at Slamdance 2008, was bought for about $350,000 and became the highest grossing film in the history of the festival. Though it was originally acquired with remake rights in mind, it ended up spawning four subsequent installments.
Sundance 2004 served as the launchpad for Saw (production budget around $1mil) which, like Paranormal Activity, was never supposed to go to movie theaters; it was originally going to go direct to DVD. It spawned 6 sequels. Another Sundance premiere, The Blair Witch Project, was shot for $60,000 and made over $140 Million in theaters.
Insidious was made for $1.5 mil, premiered at the 2010 Toronto International Film Festival and grossed over $90 Mil worldwide. Other films to launch at TIFF include Hostel and Cabin Fever.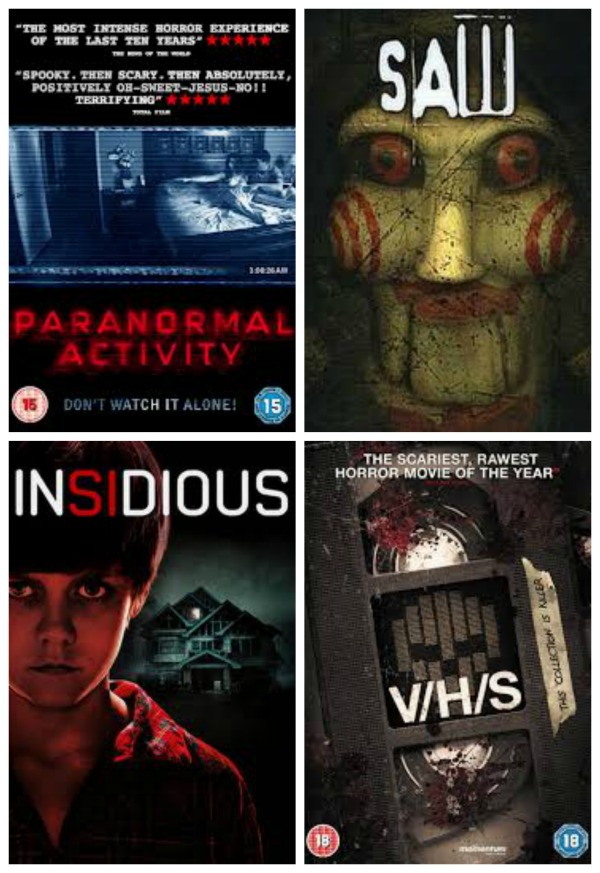 Yes, these films are the exceptions to the rule. The rule that says box office success is a result of higher production spends and star names. Such is the potential of the horror genre. It has one of the most loyal audiences who, to a certain degree, ignore critics and don't care too much about star cast. The catch is the traditional indie release model does not work to get these films out to market.
It is almost impossible for a horror indie to do the slow expansion route. This is why most films either release day/date, go direct to DVD or open wide and place all their marbles on opening weekend. Almost all horror films drop off over 50% after their first weekend. Often dropping even 60 or 70%. Even a film with critical appeal like You're Next only received middling reactions from the larger fan boy audience and will end its theatrical with less than $20 Million. Notably, it still out-performed all but one TIFF acquisition from last year's festival.
What makes the films I listed above unique is that they either opened in limited release and immediately garnered major interest (Paranormal Activity) or showed immense staying power per the genre (Insidious).
The commercial potential of horror compared to other arthouse films cannot be ignored. Almost no one I know would consider any of those films 'arthouse,' but that's exactly what they are. They are some of the most commercially successful independent films ever released. This year, all but one of the midnight madness films from TIFF has a US distributor attached and last year's batch all found distribution deals, making it the only section from the festival to secure domestic distribution for all of its slate.
Even the films that don't necessarily draw massive box office are usually incredibly successful. Sundance films like The Pact and V/H/S were never about theatrical receipts. Both were profitable via the advance received for their domestic distribution deal alone and both were profitable for the distributor (mainly via home video and foreign sales) hence why they each got sequels. Horror is arguably the only genre I know where a film could be bought for just shy of seven figures (The Pact), gross less than $10k theatrically in the US and still be considered a massive success. Distributors like Anchor Bay (who sometimes finances too), IFC Midnight, and Magnet specialize in this kind of release model and continue to thrive. It's incredibly rare for any of them to push the theatrical and almost all of their releases are available on demand upwards of 2 months before they even pop up on a screen.
There is also a clear set of time windows when these films do well. You will not see horror films popping up in theaters in the US during November or December and with good reason. Who can compete with the Christmas releases? Many distributors treat horror as filler title for January/February and it has worked well for films like Hostel. Insidious and The Pact were both summer counter programming. When The Sixth Sense set a then record for releasing at the end of summer, it seems to have set a precedent to debut horror in late summer.
I want to be clear though all is not a pot of gold when it comes to the genre. Please contrast this post with the prior blog entry from my colleague Sheri Candler. EVERYTHING there is absolutely true. I received more solicitations for generic horror films from the Cannes, TIFF, and AFM markets than for anything other genre or story. Many of these films will never see the light of day and even at micro budgets will fail to recoup.
Every year, we anoint maybe one or two new voices in the genre and otherwise it's mostly a rehashing of the same people. Just look at the midnight films from TIFF this year, The Green Inferno and All Cheerleaders Must Die from Lucky McKee. There are fewer spots for new auteurs to breakthrough. The people who are in the horror game are frequently collaborating and backing one another creating a genre power situation where they can squeeze out the very little guys/gals that would have just as easily been considered a few years ago. It's a giant game of six degrees of separation now that gets one to the inner circle of horror stardom.
As the horror sequels pile on, it is so easy to forget the simplicity of what came first. If horror is your game, I encourage you to go back and watch the original Saw. It's really a mystery story focusing on two people trapped in a room. The few other traps we see are only in flashback. The bulk of the film is two people talking in a room. As studios continue to struggle to push the boundaries (okay let's be honest, they struggle to come up with anything even slightly unique or entertaining), they look to the festival circuit for the next film with breakout potential. Every horror franchise to launch in the last few years has come from the festival circuit.
There is still a lot of life left in the genre, but if you're on a micro-budget, you have to offer something fresh or with minimal star power or have powerful connection in the indie world to get noticed. Horror is one genre where titling and cover art can make or break success with an audience. The attention span of the typical horror fan is very short unless they recognize something they like immediately. It's no accident that people were talking about Sharknado; an absurd, but definitely different take on horror and sci fi. It lit up Twitter like nobody's business. The Asylum does very well making those types of films. But the success narrative is skewed; it only attracted a viewing audience slightly better than a typical SyFy Channel movie of the week and its hurried theatrical screenings pulled in less than $200K from 200 cinemas. Still, it has spawned a sequel!
So to recap, the genre is waiting for someone to break out in the midnight section at Sundance, SXSW, Tribeca, and/or TIFF, these films are often the most successful to come out of the festival circuit and almost always receive a deal. However, to get into the festivals at all is incredibly difficult and if you're not already connected to the "in crowd," you are probably shit out of luck. While you could do a D grade microbudget film with distribution pre attached through Full Moon, what would that do for you? The best case scenario is you make a whopping $5,000 for all your hard work, they get control of the edit and the film doesn't see a significant release.
But whatever you do, choose a smart title, a good poster and cut an exciting trailer. They are imperative in horror.
Bryan Glick October 11th, 2013
Posted In: Distribution, Theatrical
Tags: All Cheerleaders Must Die, Bryan Glick, horror films, independent film, Insidious, Lucky McKee, Paranormal Activity, Saw, Sharknado, Sundance, The Film Collaborative, The Green Inferno, The Pact, The Purge, Toronto International Film Festival, V/H/S, You're next