TIFF Wrap Up: What does Toronto offer?
The 2013 Toronto International Film Festival has come and gone. The Oscar race has started and films from the festival are opening theatrically this week (Prisoners, Enough Said).  From the press circuit, you might think that only films starring Oscar nominees or made by Vegas magicians were in the festival, but those films represent only a small sampling of the diverse array of cinema from the festival.
Over the course of my 9 days, I saw 47 films from 19 different countries on 6 continents. While some of these films such as Metalhead have yet to secure a US distributor, they have been able to close a number of other territories and directors and talent have signed with major agencies.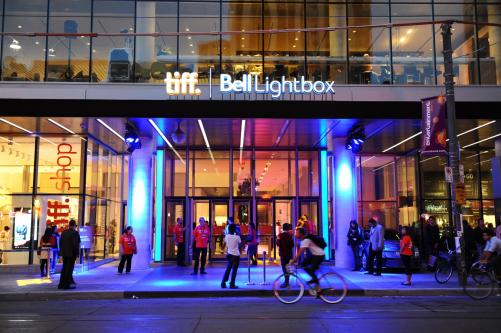 If your film is star driven and could warrant a wide release, the fest can serve as a great launch pad. The fact remains though that the fest will never be in competition with Sundance where more challenging fare is able to be discovered.  In fact, fewer than five films from the discovery, contemporary world cinema, and wavelength sections were acquired for US distribution over the course of the festival.  Proportionately the festival also offers very little room for documentaries. Of the 288 features in the festival, fewer than 15% are documentaries.
To be fair, several films were able to close deals for multiple territories, but were not able to get a US distributor as of the time of this writing, and of course many films will secure distribution in the coming month. I did not get the sense of urgency at this year's festival though there were a few all night negotiations and about a dozen films that sold for seven figures. That sounds like a lot until you realize Sundance had more films passing that benchmark despite having about ½ as many films available.
If I was a filmmaker I would personally be very wary of premiering my film at TIFF without stars.
The big players at the festival were The Weinstein Company and Roadside Attractions. TWC made the flashier deals nabbing Tracks out of Venice/Telluride for an undisclosed sum, The Disappearance of Eleanor Rigby: Him and Her for just over $3,000,000, The Railway Man for $2,000,000 and the behemoth deal for Can a Song save Your Life. That film sold for $7,000,000 with a $20,000,000 P&A commitment. On paper this may seem absurd, but the movie is a musical with original songs and, considering the director's prior feature won an Oscar for best original song, there is certainly an added revenue stream for the film. If you see the film though, it is also clear that TWC has to be careful in how they price the music, charging more than a specific dollar amount goes directly against the message of the film.
All four of these films will not be released until 2014. TWC already had Philomena, August Osage County, One Chance, and Mandela: Long Walk to Freedom in the festival, plus their Radius label had The Art of the Steal, Man of Tai Chi, Blue Ruin, and The Unknown Known. Unlike last year, Radius did not strike for any films at the festival.
Roadside Attractions came to the festival with Blood Ties and Gloria (Both North American premieres) and left with Life of Crime for $2,000,000, Joe for north of $2,000,000, Words and Pictures, and Therese. The first two are in partnership with Lionsgate. The total of four films is one shy of the five films they nabbed last year, but still makes them one of the two most active distributors at the festival.
A24 was another company that made a big splash acquiring for over $1,000,000 each Enemy, Under the Skin, and Locke.  Locke screened in Venice and a TIFF market screening, but was not in the festival. The company that has had continued success connecting to the millennial generation seems to be guiding themselves toward genre fare.
Magnolia acquired The Right Kind of Wrong ahead of its world premiere and also acquired The Sacrament.  Their films Pioneer and How I Live Now were in the festival.
Open Road is tackling The Green Inferno for wide release, but with no MG. They are partnering with XLRator on All is By My Side. Relativity Media meanwhile decided to partner with Blumhouse Productions to acquire Oculus from the Midnight Madness section and is planning a wide release. The film was originally attached to Film District, but they parted ways just prior to the start of the festival
Focus Features acquired Jason Bateman helmed Bad Words for north of $7,000,000 and premiered Dallas Buyers Club.
Millennium and CBS also made big buys. The former acquired Fading Gigolo for $2,000,000+ and the latter paid $2.5 Mill for The F Word
On the TV side, Showtime snagged Made in America and HBO went for Dangerous Acts before they world premiered at the festival.
IFC just acquired Hateship Loveship and IFC Midnight (The genre arm of IFC) went for Proxy and The Station. Their sister division Sundance Selects added Bastards and Finding Vivian Maier prior to the festival.  IFC/Sundance Selects had another 5 films that screened at the fest including the world premiere of The Face of Love.
Well Go USA was able to get Rigor Mortis pre-fest and McCanick during the fest. McCanick is one of the final films starring the late Cory Monteith. Drafthouse Films continued their pursuit of genre films with Why Don't You Play in Hell?.
A small number of foreign language films were able to secure distribution in the States. Cohen Media Group grabbed the documentary The Last of the Unjust, Artsploitation said, yes sir to The Major, Film Movement went for Le Demantlement, Viva Pictures decided to play with Antboy, and Tribeca scored Bright Days Ahead
Other deals include EOne acquiring Watermark, FilmBuff scoring the one digital deal of the festval with TFC Alum, Jody Shapiro's doc Burt's Buzz. Everyday Pictures will handle the theatrical. And of course Disney continued their relationship with the now retired Anime icon for The Wind Rises
Companies that were noticeably absent in the acquisitions department at the festival include Fox Searchlight, Oscilloscope, and Anchor Bay.
40 films secured US distribution between the festival slate being announced and the time of this writing. This is great, but pales in comparison to Sundance numbers, and is noticeably ahead of Tribeca's. The Midnight Madness and Gala sections are the only ones in which over ½ the films have US distributors attached. The Special Presentation and TIFF DOCS sections are also well represented.
Now I want to address the issue of manners and etiquette. While talking on your phone or doing screen grabs during a screening is rude, it does not warrant calling the cops.
There were some very troubling scenes to me at this year's festival. At no point is it acceptable to yell and curse at volunteers. They are merely doing what they are told and are graciously helping all of us partake in our fabulous festival excursion. If you have to say, "Do You Know Who I Am?" not only do we not know who you are, but you aren't important enough that it matters. Also, though most of us were taught how to line up and wait patiently in kindergarten, it is common courtesy to do this when people have waited an hour in line for a screening. Do not shove your way through the corn maze line to go near the front.
And if someone from your company is lucky enough to attend the fest freelance, do not turn them into your workslave. If you wanted to send them to the festival, you could have paid for them to be there.
Remember, we have the best jobs in the world and a little decency goes a long way.
| | | | |
| --- | --- | --- | --- |
| Film | Distributor | Amount Paid | Territories |
| Locke | A24 | $1.25 Mil | US |
| Enemy | A24 | low seven figures | US |
| Under the Skin | A24 | $1 Mll + | US |
| The Major | Artsploitation | | US |
| The F Word | CBS Films | $2.5 Mil | US |
| The Last of the Unjust | Cohen Media Group | | North America |
| The Wind Rises | Disney | | North America |
| Why Don't You Play in Hell | Drafthouse Films | | US |
| Watermark | Eone | | US, Canada |
| Le Demantlement | Film Movement | | US/World Airlines |
| Burt's Buzz | FilmBuff/Everyday Pictures | | US |
| Bad Words | Focus Features | $7 Million | Worldwide |
| Dangerous Acts | HBO | | US TV |
| Hateship Loveship | IFC | | US |
| Proxy | IFC Midnight | | North America |
| The Station | IFC Midnight | | US |
| The Right Kind of Wrong | Magnolia | | US |
| The Sacrement | Magnolia Pictures | | US |
| Fading Gigolo | Millennium Entertainment | Btwn-$2-3 Mil | US |
| The Green Inferno | Open Road Films | No MG | North America |
| All Is By My Side | Open Road Films/XLRator | | US |
| Oculus | Relativity/Blumhouse Productions | | US |
| Words and Pictures | Roadside Attractions | | US |
| Therese | Roadside Attractions | | US |
| Joe | Roadside Attractions/Lionsgate | $2 Mil + | US |
| Life of Crime | Roadside Attractions/Lionsgate | $2 Mil | US |
| Made in America | Showtime | | US TV |
| Tim's Vermeer | SPC | | Worldwide |
| The Armstrong Lie | SPC | | Worldwide |
| Finding Vivian Maeir | Sundance Selects | | North America |
| Bastards | Sundance Selects | | US |
| Eleanor Rigby Him and Her | The Weinstein Company | About $3 Mil | US/UK/FR/CA |
| The Railway Man | The Weinstein Company | $2 Mil | US |
| Can a Song Save Your Life | The Weinstein Company | $7 Million | US |
| Tracks | The Weinstein Company | | US |
| Bright Days Ahead | Tribeca Films | | US |
| Antboy | Viva Pictures | | US |
| McCanick | Well Go USA | | US |
| Rigor Mortis | Well Go USA | | US |
Bryan Glick September 19th, 2013
Posted In: Film Festivals
Tags: A24, Artsploitation, Bryan Glick, CBS Films, Cohen Media Group, Drafthouse Films, EOne, Film Buff, film distribution, Film Movement, film sales, Focus Features, IFC, independent film, Magnolia, Open Road, Relativity Media, Roadside Attractions, TIFF, Toronto International Film Festival, Tribeca Film, Viva Pictures, Weinstein Company, Well Go