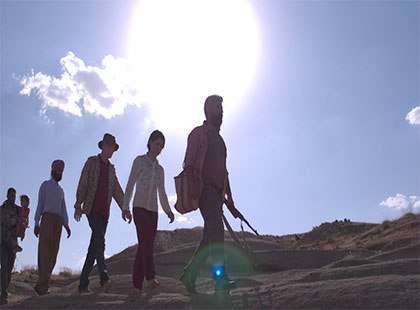 Scorched Earth
ABOUT THE PROJECT
LOGLINE
During the first days of the attack by ISIS in Northern, Iraq, in August 2014 an American journalist, American NGO worker, Yazidi nurse and a Yazidi warrior are brought together by fate as they attempt to escape the clutches of ISIS.
SYNOPSIS / DESCRIPTION
The film depicts the atrocities as ISIS instituted a scorched earth campaign that led to the largest human migration since WWII and the genocide and enslavement of the local Yazidi population in northern Iraq in August 2014. Two Americans are captured by ISIS and sent to be executed anonymously in the desert. A Yazidi man on his way to rescue his daughter-in-law hiding behind enemy lines, happens upon the Americans and rescues them from execution. The group must band together and cross treacherous terrain while being hunted by ISIS. They pick up other survivors along the way and witness mass executions and horrors at the hands of ISIS. Their only hope for escape is the Yazidi warrior who guides them. 

By clicking the donate button you will be supporting a project that raises awareness about the current refugee crisis, eradicating genocide and the Yazidi people. Our goal is to raise $100,000 US. Whether it's $1 or $10,000, all helps to get post production completed (sound design, score, VFX, color correction, edit festival circuit and marketing etc.).
---
GENRE Narrative Feature

DIRECTOR Drew Kabbe
PRODUCER Dave Kabbe

WEBSITE cultureshockproductions.com
---
Please help support this project with a tax deductible contribution.