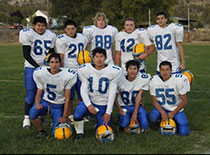 Welcome to Unity
ABOUT THE PROJECT
SYNOPSIS / DESCRIPTION
Imagine how crazy things may get when you put seven exchange students, including two kids from Muslim backgrounds, into a Christian home in rural America…. WELCOME TO UNITY is a story literally filmed by a group of exchange students and local American teens. These exchange students sink their teeth into rural Oregon, while becoming the stars of their high school football team, and simultaneously learn to live the "American Way." A lighthearted, teen angst film that voyeuristically illustrates that adolescence is a universal experience.
---
GENRE Documentary Feature

DIRECTOR Katharine Mahalic
PRODUCER Pete Ryan, Katharine Mahalic

WEBSITE welcometounity.us
---
Please help support this project with a tax deductible contribution.