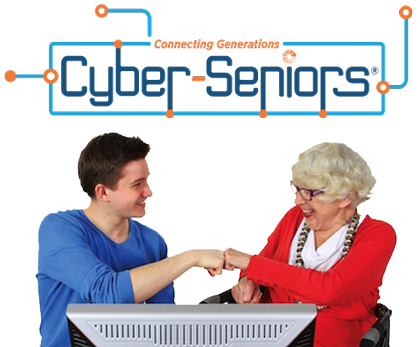 Cyber-Seniors
Connecting Generations
ABOUT THE PROJECT
LOGLINE
Building on the award-winning documentary and the high school community service project that inspired it, the goal of Cyber-Seniors is to bridge the digital divide and connect generations through technology.
SYNOPSIS / DESCRIPTION
The Cyber-Seniors program provides youth with valuable training and practical experience while keeping seniors socially connected and engaged with the world around them.

Unfortunately not all schools and seniors' centers have adequate funding to support this important initiative. Help bring Cyber-Seniors to your local school or senior center by making a membership donation. Membership provides:

* Training for up to 30 students to gain practical experience, earn community service hours and become eligible for awards and prizes.

* A dynamic teaching platform to help seniors connect using technology, which includes training videos, senior-centric websites, fun activities and more.

* FREE streaming of the award-winning documentary film Cyber-Seniors.

* Tools to measure and report on the impact of the Cyber-Seniors program.

Before confirming your donation payment, click on "Name of Project" and specify the organization you would like to support. We will notify the organization of your donation, if you indicate that you would like to be acknowledged.

If you don't have a school or senior center in mind and/or would like to contribute less than the cost of a full membership, your contribution will still make a difference and will go towards supporting the general work of our organization.

A tax receipt will be issued for all contributions.


---
GENRE Documentary Feature

DIRECTOR Saffron Cassaday
PRODUCER Brenda Rusnak

WEBSITE cyberseniors.org
---
Please help support this project with a tax deductible contribution.