It's a new year, Oscar Campaigning is in full swing and that must mean one thing….Sundance is upon us!
There is no doubt that Sundance is the best launching pad for documentaries in the US if not the world. 10 of the 15 Oscar Shortlisted Docs premiered at Sundance, including the highest grossing doc of the year, 20 Feet from Stardom. Furthermore almost 90% of all docs had some form of domestic distribution secured.
There has been a lot of chatter about the recent New York Times article talking about too many films entering into a shrinking marketplace. I am usually quite the pessimist and cynic, but in this instance it is one of the best things that could have happened for film. THERE IS NO EXCUSE NOT TO HAVE DISTRIBUTION.
I REPEAT…
THERE IS NO EXCUSE NOT TO HAVE DISTRIBUTION. Looking at the films from last year's festival, it becomes clear that the options are endless. And many films have combined approaches for their DIY. Netflix is distributing the audience award winner, The Square starting January 17. The film had a small DIY theatrical with the help of Participant Media, but that's not the end of it. When it debuts on Netflix, it will also be available on GATHR only expanding the film's reach.
With all this said, every filmmaker should be making distribution plans from the beginning. Put money aside to cover a festival premiere (publicist, lodging, travel, prints, etc) and for the strong possibility of a self financed release. Perhaps you'll never have to use it. But it is better to be prepared.
Now with my rant out of the way, here's a look at how the film's from last year's festival fared in distribution.
EVERY SINGLE US DOCUMENTARY and DOCUMENTARY PREMIERE selection had some form of domestic distribution, but multiple world doc films have yet to line something up in the States.
____________________________________________________________________
DOCUMENTARY WINNERS
TV DOCS  (HBO, SHOWTIME, CNN):
HBO acquired TV rights to or produced 7 documentaries from last year's festival.
Gideon's Army, Life According to Sam (whose subject passed away this week), Manhunt, and Valentine Road all world premiered in the US Documentary Competition. The Crash Reel and Which Way is the Front Line From Here? The Life and Time of Tim Hetherington screened as documentary premieres and the network acquired world doc entry Pussy Riot – A Punk Prayer for $1,000,000.
Not only does the network connect these films with far more viewers than they could reasonably expect in a theatrical release, but these films are also some of the critical favorites. Four of the seven films are on the Oscar shortlist for documentaries and a fifth won an Emmy.
HBO is not the only TV player in town.
Showtime aired History of the Eagles Part One and The World According To Dick Cheney which were both in the Documentary Premieres section. The Eagles Doc was also an Emmy Award Winner.
CNN Films partnered with Magnolia on Blackfish. The film has been seen by over 20,000,000 people worldwide and grossed north of $2,000,000 in the US. It made the Oscar Shortlist and has been cited as a key reason Sea World's revenue is down over 30% this year. The acquisition was for $1,000,000, split between the network and Magnolia and certainly profitable for the latter. The company also had Pandora's Promise which grossed $66k theatrically, but got hundreds of thousands more views on the TV screen via the broadcaster.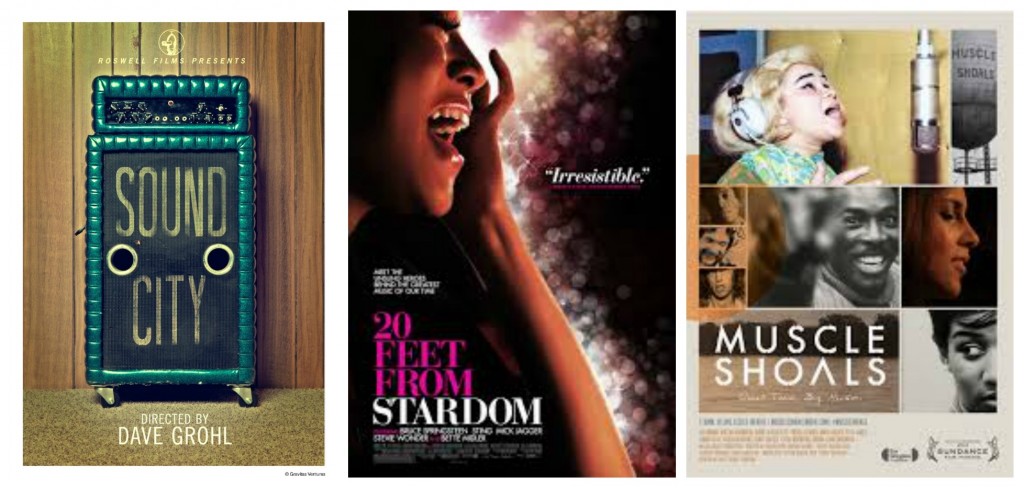 MUSIC DOCS 
Three of the five highest grossing Sundance docs from last year were about singers/musicians (3 of the top 5 were also sold by Submarine and 4 of the top 5 were distributed by Radius-TWC or Magnolia) Clearly, they are resonating with a larger audience and the top players in documentaries recognize this. What's truly impressive though is two of these films were day and date releases.
Sound City was a self financed release and dominated iTunes while also grossing over $400,000 in the care of Variance Releasing. While Variance handled the theatrical release of Sound City and Dave Grohl and his team did their own direct distribution through VHX, Gravitas Ventures handled the traditional VOD release of the film both in North America and internationally, including on iTunes.  The film has grossed north of 7 figures on VOD since Gravitas Ventures launched it almost a year ago. Muscle Shoals has managed just under $700,000 with Magnolia at the helm, but theirs is a traditional distribution situation and the acquisition amount was not stated. Twenty Feet From Stardom also had a traditional release and has grossed just under $5 million and is RADIUS-TWC highest grossing film to date. The film, acquired for just over a $1 million, is also a top performer digitally and has been selling well internationally.
SELF FINANCED IS POPULAR
Over 25% of Sundance 2013 docs pursued some form of self-distribution.
Running From Crazy, Blood Brother, The Square, God Loves Uganda, American Promise, Linsanity, When I Walk, Sound City, Pandora's Promise and the yet to be released Citizen Koch all went for self financed theatricals.
Linsanity and Citizen Koch both raised over $100,000 on Kickstarter for their theatrical releases.  Linsanity has made $299,408 in cinemas. This more than justifies the DIY campaign and assuming they didn't pour extra money into the release would net them just over $100,000 before digital and other ancillary are factored in.
The Square, which is the first Netflix Documentary pick up, had a small Oscar Qualifying run that turned into a little bit more and helped the film make the shortlist. It has grossed over $50,000 to date. That threshold was also exceeded by fellow shortlist film God Loves Uganda. Variance is releasing God Loves Uganda and should either film make the final Oscar cut you can expect additional revenue. That said, neither release appears to be profitable on its own. Variance said a few years ago they wouldn't do a release for under $20,000 and cinemas do take a large chunk of revenues. Add the cost of Oscar Campaigning and the absence of the Netflix deal and God Loves Uganda clearly needs the Oscar nomination to boost its bottom line for digital (It will air on PBS later this year).
Running From Crazy quietly earned $33k, When I Walk did not report totals and Blood Brother has grossed over $50,000, but all through TUGG screenings.  Blood Brother's total is at once impressive and instantly disappointing. The film won the audience and grand jury awards, but failed to generate major buyer interest. ITVS has TV and Cinedigm has digital rights, but the film has become one of the lower grossing performer's for a major festival award winner. At the same time, it screened at festivals left and right and, while skipping week long engagements, has screened at churches and small towns around the country. It may ultimately reach $100,000 via TUGG.
_____________________________________________________________________
DOCUMENTARY UNDERPERFORMERS
While Sundance continues to push for a lot of political docs, they are far from the best performers at the box office. After Tiller is a great film, but hardly a Friday night date movie. Festival revenue has provided a boost for the Oscilloscope release, but with under $70k in theatrical and a solid push for Oscar (it was not shortlisted) feels like a disappointment.  Similarly award winners The Square and Blood Brother also are far from the top of the pack at the box office.
Meanwhile, over 1/3 of the World Doc films have nothing lined up for the States and Fire in the Blood is the lowest grossing Sundance Doc from last year that reported box office totals. It still has made about $20k and much of it from TUGG.
Other underperformers include Cutie and the Boxer, which was not day and date, and The Summit, which was one of the biggest doc deals at low 7 figures from Sundance Selects, but failed to pass $300k theatrically. Compared to films like Dirty Wars (IFC) which pulled in $371, 245 and Inequality for All (Radius-TWC) grossing $1.1 million, the buy was a bust.
Next week, we'll take a look at how the narrative films from Sundance 2013 fared in release.
Bryan Glick January 15th, 2014
Posted In: Distribution, DIY, Film Festivals, Theatrical
Tags: 20 Feet From Stardom, After Tiller, American Promise, Blackfish, Blood Brother, Citizen Koch, CNN, Cutie and the Boxer, Dirty Wars, Fire in the Blood, Gathr, Gideon's Army, God Loves Uganda, HBO, HIstory of the Eagles Part One, Inequality for All, Kickstarter, Life According to Sam, Linsanity, Magnolia, Manhunt, Muscle Shoals, Netflix, Oscar short list, Pandora's Promise, Pussy Riot, Running from Crazy, Showtime, Sound City, Sundance Film Festival, The Crash Reel, The Square, The Summit, The World According to Dick Cheney, theatrical releases, Tugg, Valentine Road, When I Walk, Which Way is the Front Line From Here?
I recently posted on our Facebook page a note about the fact that one has to be mindful about when to initiate a NETFLIX VOD window.  Sheri Candler asked to me blog about it.  I do everything she says.
We have heard consistently from Cable VOD operators and aggregators and Broadcasters such as Showtime that the Netflix VOD window is considered a cannibalizer of revenue for Cable VOD and TV so know that before licensing rights and resolving windows.  When it comes to Netflix they have gotten so successful that they are a more selective platform than Amazon. Amazon wants has recently passed the 80,000 titles mark and is racing to aggregate as many as possible. Netflix has over 100,000 titles on DVD and over 17,000 titles on its streaming service but is now getting more and more selective. Netflix SVOD rights are sold for a flat fee, at least for now. To get onto Netflix, first one has to get on their radar and into their system, and then get that demand up in their queue system to get a good fee offer.  One has to then resolve everything else before risking inadvertently killing any chances of a Broadcast sale or Cable VOD distribution. However, depending on the film, you may make more money from Netflix than by selling to let's say EPIX which will want your Netflix SVOD rights anyway. And you may make more money distributing directly then doing a small Broadcast deal or going with a distributor or aggregator that will take all your digital rights anyway. Though it should be noted most filmmakers cannot get to Netflix directly.
As with anything in film distribution, there is no one rule that applies to all films. This is a case-by-case business. Some films are big enough that one can stagger windows and monetize them all. Some films are better served by being available on all platforms at once or close to it. Some films lend themselves more to rental or ad-supported free-on-demand and others can really generate the transactional (pay per download) business.
The point of this little missive though is just to note the conflation of TV and the Internet is happening. Google TV  is here and retailers, Television and device manufacturers, cable operators and telcos are all competing to aggregate and offer as much content as possible. Even print media companies are following suit wanting channels of content on their websites.  And soon enough it will be less a discussion of rights and more a discussion of PAYMENT METHODS or MONETIZING METHODS and I think that will always depend on the film and its demographic targets.  The options will always be: 1. Ad-Supported / Free on Demand, 2. Subscription 3. Pay Per View 4. Download to Rent, and / or 5. Download to Own. And now instead of focusing on packaged media the focus is is on whether one can play content back on as many devices as one wants and that aspect related to all the various payment methods options. The content providing industries are all racing to aggregate as much content as they can and for it to be playable across as many devices as possible and payment methods vary so far depending on service and distributor choices. Hulu (a platform backed by studios and that was once only ad-supported is now beta testing its Netflix imitation subscription model).
Brands will attract customers just like they always did when video stores were king and just like when you choose which cell phone provider to use or whom to get your Internet connection through, assuming you live in an area with choice.
The other day on a Digital Hollywood Conference panel, I learned a stat from Erik Opeka of New Video: iTunes has 130,000,000 credit cards on file. Some of you are thinking right now, "I'm in the wrong business".
Orly Ravid October 21st, 2010
Posted In: Amazon VOD & CreateSpace, Digital Distribution, iTunes, Netflix, Uncategorized
Tags: Amazon, Digital Distribution, Digital Hollywood, Epix, Erik Opeka, film distribution, GoogleTV, Hulu, iTunes, Netflix, New Video, Orly Ravid, Sheri Candler, Showtime, SVOD, VOD