Many of you may be aware that we co authored a book in 2011 called Selling Your Film Without Selling Your Soul. It was funded, created and distributed much in the same way we advocate filmmakers approach their work; we attracted sponsors to help pay for the development, creation and the ability to distribute one version of the book as a forever free pdf download; and we self published it because it would be hypocritical to advocate that filmmakers take control of their work while we turned ours over to a publisher. Plus most publishers would bristle at the thought that copies are available for free. We felt that the best way to get our sponsors' messages seen widely was through free distribution and we need to retain the rights to the work in order to make that happen.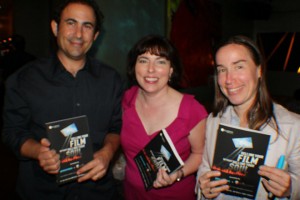 For all who did download and share that book, we thank you and hope that it inspired and guided you on releasing your next projects.
We are several years on from the original release now and our thoughts are turning to our colleagues outside of the US. Most all of our previous case studies came from American filmmakers, but now more and more filmmakers from outside of the US are either leaving their government funded filmmaking schemes due to shrinking budgets or are choosing not even to try for the funds and turning to crowdfunding and private investment. We think it is time to put the spotlight on non US based filmmakers who are navigating their own paths as well as the outlets that are enabling them to reach outside of their countries's borders and bring their work to a global audience.
I published a short sneak peek at one of my case study chapters on the Selling Your Film blog yesterday, so hop on over and take a look at what writer/director Marcus Markou did with his narrative film Papadopoulos and Sons. Though a timely, sweet and funny film, UK distributors didn't know what to do with a film that didn't have major festival accolades or a big name cast (sound familiar?), so Markou took matters into his own hands. What resulted was a hybrid release that included a 7 week theatrical run in the UK with sell out screenings in London's Cineworld flagship cinema, Shaftesbury Avenue (right in the heart of the city, for those unfamiliar), a nomination from the London Critics' Circle for Breakthrough British Filmmaker and distribution deals in Germany, Greece, the US, Australia and on major airlines. It is an inspiring tale and I can't wait for you to read the chapter in full when it is released in May 2014.
Sneak Peek HERE 
Sheri Candler February 6th, 2014
Posted In: book
Tags: Case studies, Jon Reiss, Marcus Markou, Orly Ravid, Papadopoulos and Sons, Selling Your Film Without Selling Your Soul, Sheri Candler