Next week (September 15 – 19) marks IFP's annual "Independent FIlm Week" in NYC, herein dozens of fresh-faced and "emerging" filmmakers will once again pitch their shiny new projects in various states of development to jaded Industry executives who believe they've seen and heard it all.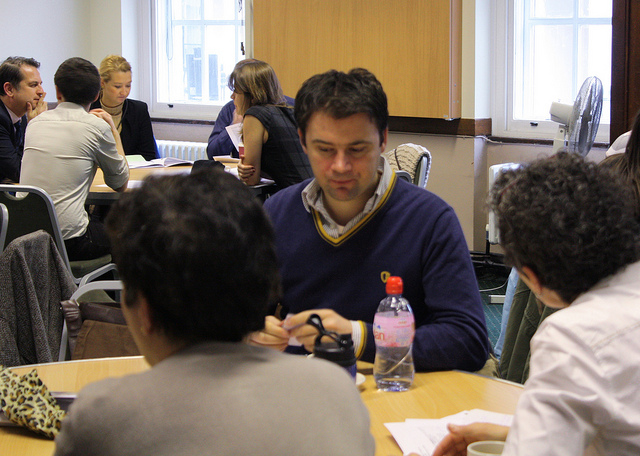 Most of you reading this already know that pitching a film in development can be difficult, frustrating work…often because the passion and clarity of your filmmaking vision is often countered by the cloudy cynicism of those who are first hearing about your project. After all, we all know that for every IFP Week success story (and there are many including Benh Zeitlin's Beasts of the Southern Wild, Courtney Hunt's Frozen River, Dee Rees' Pariah, Lauren Greenfield's The Queen of Versailles, Stacie Passon's Concussion etc…), there are many, many more films in development that either never get made or never find their way into significant distribution or, god forbid, profit mode.
So what keeps filmmaker's coming back year after year to events like this? Well, the simple answer is "hope" of course….hope, belief, a passion for storytelling, the conviction that a good story can change the world, and the pure excitement of the possibilities of the unknown.
Which is why I found a recent poll hosted on IFP's Independent Film Week website [right sidebar of the page] so interesting and so telling….in part because the result of the poll runs so counter to my own feelings on the state of independent film distribution.
On its site, IFP asks the following question: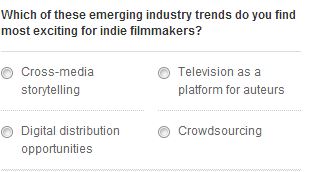 Before you view results so far, answer the question….Which excites YOU the most? Now go vote and see what everyone else said.
** SPOILER ALERT — Do Not Read Forward Until You've Actually Voted**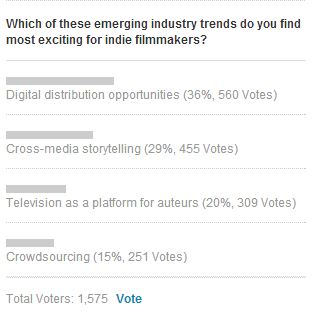 What I find so curious about this is in my role as a independent film distribution educator at The Film Collaborative, I would have voted exactly the other way.
I suspect that a key factor in IFP Filmmakers voting differently than I has something to do with a factor I identified earlier, which I called "the pure excitement of the possibilities of the unknown." I'm guessing most filmmakers called the thing most "exciting" that they knew the least about. After all 1) "Crowdsourcing" seems familiar to most right now, and therefore almost routine to today's filmmakers….no matter how amazing the results often are. 2) "Television As a Platform for Auteurs" is also as familiar as clicking on the HBO GO App….even despite the fact that truly independent voices like Lena Dunham have used the platform to become household names. 3) Cross Media Story Telling remains a huge mystery for most filmmakers outside the genre sci-fi and horror realms….especially for independent narrative filmmakers making art house character-driven films. It should be noted that most documentary filmmakers understand it at least a little better. And 4) Digital Distribution Opportunities…of course this is the big one. The Wild West. The place where anything and everything seems possible…even if the evidence proclaiming its success for independents STILL isn't in, even this many years after we've started talking about it.
But still we hope.
From our POV at The Film Collaborative, we see a lot of sales reports of exactly how well our truly independent films are performing on digital platforms….and for the most part I can tell you the results aren't exactly exciting. Most upsetting is the feeling (and the data to back it) that major digital distribution platforms like Cable VOD, Netflix, iTunes etc are actually increasing the long-tail for STUDIO films, and leaving even less room than before for unknown independents. Yes, of course there are exceptions — for example our TFC member Jonathan Lisecki's Gayby soared to the top of iTunes during Gay Pride week in June, hitting #1 on iTunes' indie charts, #3 on their comedy charts, and #5 overall—above such movie-star-studded studio releases as Silver Linings Playbook and Django Unchained. But we all know the saying that the exception can prove the rule.
Yes, more independent film than ever is available on digital platforms, but the marketing conundrums posed by the glut of available content is often making it even harder than ever to get noticed and turn a profit. While Gayby benefited from some clever Pride Week-themed promotions that a major player like iTunes can engineer, this is not easily replicated by individual filmmakers.
For further discussion of the state of independent digital distribution, I queried my colleague Orly Ravid, TFC's in house guru of the digital distro space. Here's how she put it:
"I think the word 'exciting' is dangerous if filmmakers do not realize that platforms do not sell films, filmmakers / films do.
What *is* exciting is the *access*.
The flip side of that, however, is the decline in inflation of value that happened as a result of middle men competing for films and not knowing for sure how they would perform.
What I mean by that is, what once drove bigger / more deals in the past, is much less present today. I'm leaving theatrical out of this discussion because the point is to compare 'home entertainment.'
In the past, a distributor would predict what the video stores would buy. Video stores bought, in advance often, based on what they thought would sell and rent well. Sure there were returns but, in general, there was a lot of business done that was based on expectation, not necessarily reality. Money flowed between middle men and distributors and stores etc… and down to the sellers of films. Now, the EXCITING trend is that anyone can distribute one's film digitally and access a worldwide audience. There are flat fee and low commission services to access key mainstream platforms and also great developing DIY services.
The problem is, that since anyone can do this, so many do it. An abundance of choice and less marketing real estate to compel consumption. Additionally, there is so much less of money changing hands because of anticipation or expectation. Your film either performs on the platforms or on your site or Facebook page, or it does not. Apple does not pay up front. Netflix pays a fee sort of like TV stations do, but only based on solid information regarding demand. And Cable VOD is as marquee-driven and not thriving for the small film as ever.
The increasing need to actually prove your concept is going to put pressure on whomever is willing to take on the marketing. And if no one is, most films under the impact of no marketing will, most likely, make almost no impact. So it's exciting but deceptive. The developments in digital distribution have given more power to filmmakers not to be at the mercy of gatekeepers. However, even if you can get into key digital stores, you will only reach as many people and make as much money as you have marketed for or authentically connected to."
Now, don't we all feel excited? Well maybe that's not exactly the word….but I would still say "hopeful."
To further lighten the mood, I'd like to add a word or two about my choice for the emerging trend I find most exciting — and that is crowdsourcing. This term is meant to encompass all activities that include the crowd–crowdfunding, soliciting help from the crowd in regard to time or talent in order to make work, or distributing with the crowd's help. Primarily, I am going to discuss it in terms of raising money.
Call me old-fashioned, but I still remember the day (like a couple of years ago) when raising the money to make a film or distribute it was by far the hardest part of the equation. If filmmakers work within ultra-realistic budget parameters, crowd-sourcing can and usually does take a huge role in lessening the financial burdens these days. The fact is, with an excellently conceived, planned and executed crowdsourcing campaign, the money is now there for the taking…as long as the filmmaker's vision is strong enough. No longer is the cloudy cynicism of Industry gatekeepers the key factor in raising money….or even the maximum limit on your credit cards.
I'm not implying that crowdsourcing makes it easy to raise the money….to do it right is a whole job unto itself, and much hard work is involved. But these factors are within a filmmaker's own control, and by setting realistic goals and working hard towards them, the desired result is achieved with a startling success rate. And it makes the whole money-raising part seem a lot less like gambling than it used to….and you usually don't have to pay that money back.
To me, that is nothing short of miraculous. And the fact that it is democratic / populist in philosophical nature, and tends to favor films with a strong social message truly thrills me. Less thrilling is the trend towards celebrities crowdsourcing for their pet projects (not going to name names here), but I don't subscribe to a zero-sum market theory here which will leave the rest of us fighting over the crumbs….so if well-known filmmakers need to use their "brand" to create the films they are most passionate about…I won't bash them for it.
In fact, there is something about this "brand-oriented" approach to crowdsourcing that may be the MOST instructive "emerging trend" that today's IFP filmmakers should be paying attention to…as a way to possibly tie digital distribution possibilities directly to the the lessons of crowdsourcing. The problem with digital distribution is the "tree-falls-in-the-forest" phenomenon….i.e. you can put a film on a digital platform, but no-one will know it exists. But crowdsourcing uses the exact opposite principal….it creates FANS of your work who are so moved by your work that they want to give you MONEY.
So, what if you could bring your crowdsourcing community all the way through to digital distribution, where they can be the first audience for your film when it is released? This end-to-end digital solution is really bursting with opportunity…although I'll admit right here that the work involved is daunting, especially for a filmmaker who just wants to make films.
As a result, a host of new services and platforms are emerging to explore this trend, for example Chill. The idea behind this platform (and others) is promising in that it encourages a "social window" to find and engage your audience before your traditional digital window. Chill can service just the social window, or you can choose also to have them service the traditional digital window. Crowdfunding integration is also built in, which offers you a way to service your obligations to your Kickstarter or Indiegogo backers. They also launched "Insider Access" recently, which helps bridge the window between the end of the Kickstarter campaign and the release.
Perhaps it is not surprising therefore, that in fact, the most intriguing of all would be a way to make all of the "emerging trends" work together to create a new integrated whole. I can't picture what that looks like just yet…and I guess that is what makes it all part of the "excitement of the possibilities of the unknown."
Jeffrey Winter will be attending IFP Week as a panelist and participant in the Meet the Decision Makers Artists Services sessions.
Jeffrey Winter September 12th, 2013
Posted In: crowdfunding, Digital Distribution, DIY, Film Festivals, iTunes, Long Tail & Glut of Content, Marketing
Tags: cable VOD, cross media storytelling, crowdfunding, Crowdsourcing, digital film distribution, Gayby, hope, IFP, Independent Film Week, iTunes, Jonathan Lisecki, Netflix, Orly Ravid, The Film Collaborative