The 2013 Toronto International Film Festival has come and gone. The Oscar race has started and films from the festival are opening theatrically this week (Prisoners, Enough Said).  From the press circuit, you might think that only films starring Oscar nominees or made by Vegas magicians were in the festival, but those films represent only a small sampling of the diverse array of cinema from the festival.
Over the course of my 9 days, I saw 47 films from 19 different countries on 6 continents. While some of these films such as Metalhead have yet to secure a US distributor, they have been able to close a number of other territories and directors and talent have signed with major agencies.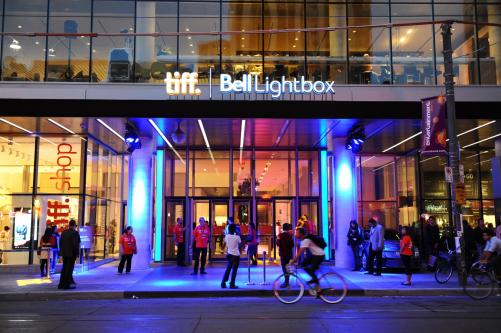 If your film is star driven and could warrant a wide release, the fest can serve as a great launch pad. The fact remains though that the fest will never be in competition with Sundance where more challenging fare is able to be discovered.  In fact, fewer than five films from the discovery, contemporary world cinema, and wavelength sections were acquired for US distribution over the course of the festival.  Proportionately the festival also offers very little room for documentaries. Of the 288 features in the festival, fewer than 15% are documentaries.
To be fair, several films were able to close deals for multiple territories, but were not able to get a US distributor as of the time of this writing, and of course many films will secure distribution in the coming month. I did not get the sense of urgency at this year's festival though there were a few all night negotiations and about a dozen films that sold for seven figures. That sounds like a lot until you realize Sundance had more films passing that benchmark despite having about ½ as many films available.
If I was a filmmaker I would personally be very wary of premiering my film at TIFF without stars.
The big players at the festival were The Weinstein Company and Roadside Attractions. TWC made the flashier deals nabbing Tracks out of Venice/Telluride for an undisclosed sum, The Disappearance of Eleanor Rigby: Him and Her for just over $3,000,000, The Railway Man for $2,000,000 and the behemoth deal for Can a Song save Your Life. That film sold for $7,000,000 with a $20,000,000 P&A commitment. On paper this may seem absurd, but the movie is a musical with original songs and, considering the director's prior feature won an Oscar for best original song, there is certainly an added revenue stream for the film. If you see the film though, it is also clear that TWC has to be careful in how they price the music, charging more than a specific dollar amount goes directly against the message of the film.
All four of these films will not be released until 2014. TWC already had Philomena, August Osage County, One Chance, and Mandela: Long Walk to Freedom in the festival, plus their Radius label had The Art of the Steal, Man of Tai Chi, Blue Ruin, and The Unknown Known. Unlike last year, Radius did not strike for any films at the festival.
Roadside Attractions came to the festival with Blood Ties and Gloria (Both North American premieres) and left with Life of Crime for $2,000,000, Joe for north of $2,000,000, Words and Pictures, and Therese. The first two are in partnership with Lionsgate. The total of four films is one shy of the five films they nabbed last year, but still makes them one of the two most active distributors at the festival.
A24 was another company that made a big splash acquiring for over $1,000,000 each Enemy, Under the Skin, and Locke.  Locke screened in Venice and a TIFF market screening, but was not in the festival. The company that has had continued success connecting to the millennial generation seems to be guiding themselves toward genre fare.
Magnolia acquired The Right Kind of Wrong ahead of its world premiere and also acquired The Sacrament.  Their films Pioneer and How I Live Now were in the festival.
Open Road is tackling The Green Inferno for wide release, but with no MG. They are partnering with XLRator on All is By My Side. Relativity Media meanwhile decided to partner with Blumhouse Productions to acquire Oculus from the Midnight Madness section and is planning a wide release. The film was originally attached to Film District, but they parted ways just prior to the start of the festival
Focus Features acquired Jason Bateman helmed Bad Words for north of $7,000,000 and premiered Dallas Buyers Club.
Millennium and CBS also made big buys. The former acquired Fading Gigolo for $2,000,000+ and the latter paid $2.5 Mill for The F Word
On the TV side, Showtime snagged Made in America and HBO went for Dangerous Acts before they world premiered at the festival.
IFC just acquired Hateship Loveship and IFC Midnight (The genre arm of IFC) went for Proxy and The Station. Their sister division Sundance Selects added Bastards and Finding Vivian Maier prior to the festival.  IFC/Sundance Selects had another 5 films that screened at the fest including the world premiere of The Face of Love.
Well Go USA was able to get Rigor Mortis pre-fest and McCanick during the fest. McCanick is one of the final films starring the late Cory Monteith. Drafthouse Films continued their pursuit of genre films with Why Don't You Play in Hell?.
A small number of foreign language films were able to secure distribution in the States. Cohen Media Group grabbed the documentary The Last of the Unjust, Artsploitation said, yes sir to The Major, Film Movement went for Le Demantlement, Viva Pictures decided to play with Antboy, and Tribeca scored Bright Days Ahead
Other deals include EOne acquiring Watermark, FilmBuff scoring the one digital deal of the festval with TFC Alum, Jody Shapiro's doc Burt's Buzz. Everyday Pictures will handle the theatrical. And of course Disney continued their relationship with the now retired Anime icon for The Wind Rises
Companies that were noticeably absent in the acquisitions department at the festival include Fox Searchlight, Oscilloscope, and Anchor Bay.
40 films secured US distribution between the festival slate being announced and the time of this writing. This is great, but pales in comparison to Sundance numbers, and is noticeably ahead of Tribeca's. The Midnight Madness and Gala sections are the only ones in which over ½ the films have US distributors attached. The Special Presentation and TIFF DOCS sections are also well represented.
Now I want to address the issue of manners and etiquette. While talking on your phone or doing screen grabs during a screening is rude, it does not warrant calling the cops.
There were some very troubling scenes to me at this year's festival. At no point is it acceptable to yell and curse at volunteers. They are merely doing what they are told and are graciously helping all of us partake in our fabulous festival excursion. If you have to say, "Do You Know Who I Am?" not only do we not know who you are, but you aren't important enough that it matters. Also, though most of us were taught how to line up and wait patiently in kindergarten, it is common courtesy to do this when people have waited an hour in line for a screening. Do not shove your way through the corn maze line to go near the front.
And if someone from your company is lucky enough to attend the fest freelance, do not turn them into your workslave. If you wanted to send them to the festival, you could have paid for them to be there.
Remember, we have the best jobs in the world and a little decency goes a long way.
| | | | |
| --- | --- | --- | --- |
| Film | Distributor | Amount Paid | Territories |
| Locke | A24 | $1.25 Mil | US |
| Enemy | A24 | low seven figures | US |
| Under the Skin | A24 | $1 Mll + | US |
| The Major | Artsploitation | | US |
| The F Word | CBS Films | $2.5 Mil | US |
| The Last of the Unjust | Cohen Media Group | | North America |
| The Wind Rises | Disney | | North America |
| Why Don't You Play in Hell | Drafthouse Films | | US |
| Watermark | Eone | | US, Canada |
| Le Demantlement | Film Movement | | US/World Airlines |
| Burt's Buzz | FilmBuff/Everyday Pictures | | US |
| Bad Words | Focus Features | $7 Million | Worldwide |
| Dangerous Acts | HBO | | US TV |
| Hateship Loveship | IFC | | US |
| Proxy | IFC Midnight | | North America |
| The Station | IFC Midnight | | US |
| The Right Kind of Wrong | Magnolia | | US |
| The Sacrement | Magnolia Pictures | | US |
| Fading Gigolo | Millennium Entertainment | Btwn-$2-3 Mil | US |
| The Green Inferno | Open Road Films | No MG | North America |
| All Is By My Side | Open Road Films/XLRator | | US |
| Oculus | Relativity/Blumhouse Productions | | US |
| Words and Pictures | Roadside Attractions | | US |
| Therese | Roadside Attractions | | US |
| Joe | Roadside Attractions/Lionsgate | $2 Mil + | US |
| Life of Crime | Roadside Attractions/Lionsgate | $2 Mil | US |
| Made in America | Showtime | | US TV |
| Tim's Vermeer | SPC | | Worldwide |
| The Armstrong Lie | SPC | | Worldwide |
| Finding Vivian Maeir | Sundance Selects | | North America |
| Bastards | Sundance Selects | | US |
| Eleanor Rigby Him and Her | The Weinstein Company | About $3 Mil | US/UK/FR/CA |
| The Railway Man | The Weinstein Company | $2 Mil | US |
| Can a Song Save Your Life | The Weinstein Company | $7 Million | US |
| Tracks | The Weinstein Company | | US |
| Bright Days Ahead | Tribeca Films | | US |
| Antboy | Viva Pictures | | US |
| McCanick | Well Go USA | | US |
| Rigor Mortis | Well Go USA | | US |
Bryan Glick September 19th, 2013
Posted In: Film Festivals
Tags: A24, Artsploitation, Bryan Glick, CBS Films, Cohen Media Group, Drafthouse Films, EOne, Film Buff, film distribution, Film Movement, film sales, Focus Features, IFC, independent film, Magnolia, Open Road, Relativity Media, Roadside Attractions, TIFF, Toronto International Film Festival, Tribeca Film, Viva Pictures, Weinstein Company, Well Go
Recently I was invited to be on a panel at the International Film Festival Rotterdam (IFFR) and participate in their mentoring sessions and the lab at Cinemart.  Great experience. I am always amazed by the difference between the US and Europe. The whole government funding of films and new media initiatives as our government is about to shut down.  Well, their policies and practices do take their own financial toll too but one I think is worth it.  For all my europhileness I have to note that the Europeans can be just as guilty of not wanting to watch subtitles in fact some countries dub films instead. And of course we know that Hollywood is big business in Europe too. But all in all, art house cinema seems to reach more broadly in Europe and even some parts of Asia than it does in the US.  Films in Cannes and other top fests can sell all over Europe and never in the US or success in opening theatrically only in NY and maybe LA and overall it seems to me box office is generally down for foreign language cinema.
International filmmakers want US distribution and it was painful for me to discuss their prospects at IFFR because for so many, the prospects are slim.  But this one's for you! (Please note this blog is focused on digital distribution and not healthy categories for foreign language cinema such as Non Theatrical including Museums, Films Festival, Colleges, Educational / Institutional).
Cable VOD was 80% of the digital revenue in the US in 2009 but it's now declining little by little, now estimated to be in the high 70's (approx 77%) and may decline further still. The reason for this change, which is expected to continue, is that Internet based platforms are growing.  Regarding FOREIGN LANGUAGE ON CABLE VOD: Distributors and aggregators agree that foreign language cinema is very hard to get onto Cable VOD platforms and slots for non-English cinema are reserved generally for marquee driven films and/or films with a real hook (name cast/director, highly acclaimed, genre hook).   A big independent Cable VOD aggregator notes a real struggle in getting foreign language films to perform on Cable VOD and even Bollywood titles that had wide theatrical distribution and a box office of upwards of $1,000,000 still perform poorly (poorly means 4-figure revenue, 5-figure tops). They have had some success with foreign martial arts films and will continue with those in the foreseeable future. Time Warner Cable (TWC) remains more open to foreign language cinema though it plays the fewest films, a range between 190 – 246 at any given time (with a shelf life usually of 60 days and with 2/3rd of the content seeming to be bigger studio product, and the rest indie).  By comparison Charter and AT&T play about 1,000 and Verizon plays 2,000, and Comcast plays about 4,000.  [See below for the 2010 breakdown of Cable subscription numbers.] Hence, individual titles may perform better on Time Warner Cable for obvious reasons, Comcast may have more subscribers but there's less competition and TWC is in New York, the best demographic for art house cinema.
Generally speaking, platforms overall are far more receptive to foreign films following the recent success of DRAGON TATTOO, TELL NO ONE, IP MAN, etc.  than they have ever been before.  However as one can see from the titles noted, foreign genre films are preferred because they have the opportunity to reach broader audiences than the usual foreign film.  Genres that reportedly work include:  sci-fi, thriller/crime, action, and sophisticated horror.  Dramas have had limited success, and comedies often don't translate, nor does most children's content. In regard to Cable VOD – foreign box office is becoming an important proxy, because the marketing and pr tend to build US awareness on the larger titles prior to being available here.  Many companies have built very successful VOD businesses pursuing a day and date theatrical or DVD strategy.  Again, genre films work best, with horror and sci fi being the top performers.  3 of the top 10 non-studio titles in 2010 were foreign language subtitled releases.  Small art house distributors say that at most it's a small dependable revenue stream via services such as INDEMAND http://www.indemand.com (iN DEMAND's owners are and it services Comcast iN DEMAND Holdings, Inc., Cox Communications Holdings, Inc., and Time Warner Entertainment – Advance/Newhouse Partnership.)  Distributors and aggregators all site Time Warner as being far more open to foreign language cinema than Comcast, because it's urban focused (NY, LA, etc) not heartland focused as Comcast is.
In terms of these titles finding their audiences on Cable VOD, Comcast announced improved search functionality by being able to search by title and Cable VOD is aware of its deficiencies and is said to be improving in terms of marketing to consumers but Cable VOD is still infamous for its lack of recommendation engines and discovery tools. Key aggregators work to have films profiled in several categories and not just the A-Z listing.
Top 25 Multichannel Video Programming Distributors as of Sept. 2010 – Source NCTA (National Cable Television Association)
| | | |
| --- | --- | --- |
| Rank | MSO | BasicVideoSubscribers |
| 1 | Comcast Corporation | 22,937,000 |
| 2 | DirecTV | 18,934,000 |
| 3 | Dish Network Corporation | 14,289,000 |
| 4 | Time Warner Cable, Inc. | 12,551,000 |
| 5 | Cox Communications, Inc.1 | 4,968,000 |
| 6 | Charter Communications, Inc. | 4,653,000 |
| 7 | Verizon Communications, Inc. | 3,290,000 |
| 8 | Cablevision Systems Corporation | 3,043,000 |
| 9 | AT&T, Inc. | 2,739,000 |
| 10 | Bright House Networks LLC1 | 2,194,000 |
| 11 | Suddenlink Communications1 | 1,228,000 |
| 12 | Mediacom Communications Corporation | 1,203,000 |
| 13 | Insight Communications Company, Inc. | 699,000 |
| 14 | CableOne, Inc. | 651,000 |
| 15 | WideOpenWest Networks, LLC1 | 391,000 |
| 16 | RCN Corp. | 354,000 |
| 17 | Bresnan Communications1 | 297,000 |
| 18 | Atlantic Broadband Group, LLC | 269,000 |
| 19 | Armstrong Cable Services | 245,000 |
| 20 | Knology Holdings | 231,000 |
| 21 | Service Electric Cable TV Incorporated1 | 222,000 |
| 22 | Midcontinent Communications | 210,000 |
| 23 | MetroCast Cablevision | 186,000 |
| 24 | Blue Ridge Communications1 | 172,000 |
| 25 | General Communications | 148,000 |
FOREIGN LANGUAGE CINEMA VIA OTHER DIGITAL PLATFORMS and REVENUE MODELS:
DTO (Digital Download to Own (such as Apple's iTunes which rents and sells films digitally) – this space has been challenging for foreign films in the past, and most services do not have dedicated merchandise sections. Thus, the only promo placement available is on genre pages, so the films need to have compelling art and trailer assets to compete.  iTunes and Vudu (now owned by WALMART – see below) are really interested in upping the ante on foreign films over the next 12 months.  Special consideration will need to be made for the quality of technical materials, as distributors have encountered numerous problems making subtitled content work on these providers.
SVOD (Subscription VOD such as NETFLIX's WATCH INSTANTLY) – this space is probably the best source of revenue for foreign content because the audience demos skew more sophisticated and also end users are more inclined to experiment with new content niches.  Content in this space should have great assets and superior international profile (awards, box office), and overall should evoke a "premium feel" for the right titles, license fees can be comparable to high end American indies.  Appetite for foreign titles will increase as the price for domestic studio content continues to accelerate.  Genres are a bit broader than VOD/DTO, but thrillers, sci fi and action still will command larger sums ($). Good Festival pedigree (especially Cannes, Berlin, Venice, Sundance, etc.) will also command higher prices.  Overall, it's a great opportunity as long as platforms keep doing  exclusive deals.  NETFLIX has surpassed 20,000,000 subscribers and a strong stock price and is in a very competitive space and mood again. (See more below).  Hulu expects to soon reach 1,000,000 subscribers  "to approach" half a billion in total revenues (advertising and subscription combined) in 2011, up from $263 million in 2010. That's from $108 million in 2009. (see more below)
AVOD (Advertising Supported VOD – such as SNAG and HULU) – Another great space for foreign content (as evidenced by the recent exclusive HULU – Criterion deal – (see below) although that deal is actually for HULU's subscription service (Hulu Plus). These platforms are more willing to experiment with genres and content types and favor art films and documentaries over genre films. Depending on the film, annual revenues can approach low to mid four (4) figures in rev share.  SNAG recently was capitalized to the tune of $10,000,000 but seems to be spending that money on marketing and not on "acquiring" so a film's revenue is likely to be dependent on performance and rev/share unless one strikes an exclusive deal with SNAG and manages to get an MG.  HULU's revenues are covered above.  Films report low 4-figures but sometimes 5 and 6 figure revenues but up until now those higher performing films have been English language and appeal to younger males.
TELEVISION / BROADCAST SALES: For foreign language cinema unless one has an Oscar™ winner or nominee, or an output deal, the prospects of a meaningful license fee are slim. Even worse, if you do secure a deal, it will likely preclude participation in Cable VOD, Netflix and any of the ad-supported VOD platforms such as Hulu and Snag.
KEY SPECIFIC TOP SPECIFIC DIGITAL PLATFORMS / RETAILERS:
AMAZON reportedly is readying a service that would stream 5,000 movies and TV shows to members of its $79-per-year Prime free-shipping membership program. Amazon being corporately tied to extremely popular entertainment information service IMDB and the film festival submission service WITHOUTABOX gives it a potential edge in the market, one that has never been fully harvested but easily could be and seems to be looming. And since its inception, Amazon has let film content providers open up shop on their site directly without a middle-man. Middle man aggregators get slightly better terms. Amazon presently offers 75,000 films and television shows combined and plans to soon exceed 100,000. It should be noted Amazon VOD has been US-focused though recently bought Love Films in the UK.
FOCUS FEATURES' NEW DIGITAL DISTRIBUTION INITIATIVE: There is not much information out on this yet but FOCUS/UNIVERSAL are launching a new digital distribution initiative that may or may not brand their own channel on iTunes etc., but does seem to be focused on niche cinema to some extent and this may speak to foreign language titles. An option to watch out for.
GOOGLE is working on encroaching into the content delivery market with its launch of GOOGLE TV, which unfortunately has not created quite the fanfare the company planned for.  It boasts: The web is now a channel. With Google Chrome and Adobe Flash Player 10.1, Google TV lets you access everything on the web. Watch your favorite web videos, view photos, play games, check fantasy scores, chat with friends, and do everything else you're accustomed to doing online. GOOGLE TV does come with the Netflix App and others. Google partnered with some of the leading premium content providers to bring thousands of movie and TV titles, on-demand, directly to your television. Amazon Video On Demand offers access to over 75,000 titles for rental or purchase, and Netflix will offer the ability to instantly watch unlimited movies and TV shows, anytime, streaming directly to the TV.
HULU: Hulu's numbers keep growing for certain films, which has to-date not been foreign language but that may change given the Criterion Collection announcement. Hulu is also now a subscription service (HULU PLUS) and announced the Criterion deal is for that. Criterion of course specializes in classic movies from the canon of great directors–Ingmar Bergman, Jean-Luc Godard, Federico Fellini, etc.–and has about 800 titles digitized so far, many of which are also available via Hulu competitor Netflix. It's understood that this will be an exclusive deal, and that the Criterion titles that Netflix does offer will expire this year.  Hulu Plus subscribers will initially get access to 150 Criterion films, including "The 400 Blows," "Rashomon" and "Breathless." Hulu says the movies will run without ad interruptions, but may feature ads before the films start; the free Hulu.com service will offer a handful of Criterion titles, which will run with ads.  Hulu, owned by Comcast's NBC, Disney's ABC and News. Corp.'s Fox introduced the Hulu Plus pay service last year. Hulu CEO Jason Kilar says the $7.99-per-month offering is on track to reach one million subscribers in 2011. Competing for exclusive content seems to be on the rise as platforms compete for household recognition and top market share.
iTunes (APPLE): iTunes dominated consumer spending for movies in 2010 but that may not last long. One can get onto iTunes via one of its chosen aggregators such as New Video, IODA, Tune Core, Quiver…  Home Media Magazine reported the findings of an IHS Screen Digest report that showed that Apple was able to hold off challenges from competitors like Microsoft's Zune Video (via XBOX Kinect), Sony PlayStation Store, Amazon VOD and Walmart's VUDU.  Despite the new competition,  the electronic sellthrough and video on demand market rose more than 60% in 2010, Apple iTunes still came out on top, perhaps due in part to the release of the iPad last spring and Apple TV last fall.  Research director of digital media for IHS, Arash Amel, said, "The iTunes online store showed remarkable competitive resilience last year in the U.S. EST/VOD movie business, staving off a growing field of tough challengers while keeping pace with a dramatic expansion for the overall market."  However, it's important to note that although iTunes staved off competition, the overall iTunes consumer spending fell almost 10% in 2010 to 64.5%.  It was 74.4% in 2009.  Insiders predict it will not hold its market dominance for long.
Microsoft's Zune Video was one of Apple's biggest competitors last year, accounting for 9% of U.S. movie EST/iVOD consumer spending in 2010 but this does not seem a key platform for foreign language cinema.
MUBI:  www.Mubi.com having added Sony Playstation to its platforms reach, MUBI now has reportedly 1,200,000 members worldwide and is finally in a better position to generate revenue.  Still its own figures estimates amount to 4-figures of revenue and that's for all its territories.  Mubi's partnership with SONY does not extend into the US.
NETFLIX as reported in Multichannel News "as its subscriber base has swelled, Netflix has become a target for critics complaining that it is disrupting the economics of TV" is now a competitor to Cable and in fact Cable VOD companies won't take a film if it's already on NETFLIX's Watch Instantly service. But Netflix is realizing it erred by losing focus on the independent and is now quietly offering bigger sums that compete with Broadcast offers and that are on par with the 5 and 6 figure revenues generated by Cable VOD for the stronger indie / art house films. Having films exclusively may be the driving force of future monetization in digital, or least in SVOD.  Regarding 2011 outlook, Netflix's "business is so dynamic that we will be doing less calendar year guidance than in the past," the execs said.  For the first three months of the year, Netflix expects domestic subscribers to increase to between 21.9 million and 22.8 million, with revenue between $684 million and $704 million and operating income between $98 million and $116 million. Internationally — meaning, for now, Canada — the company expects 750,000 to 900,000 subscribers with revenue of $10 million to $13 million and an operating loss between $10 million and $14 million.
REDBOX: Redbox, whose brick-red DVD vending machines are scattered across the country, is aiming to have a Netflix-like video streaming subscription service up and running by the end of 2011, company executives told investors mid February. Redbox is a wholly owned subsidiary of Coinstar. The Oakbrook Terrace, Ill.-based company claims to have rented more than 1 billion DVDs to date through vending machines at about 24,900 U.S. locations nationwide, including select McDonald's, Wal-Mart Stores and Walgreens locations. It should be noted though that Redbox is very studio title focused and wide release focused but its streaming service will likely move beyond that.
WAL-MART bought VUDU and is expected to be a major player. Walmart is the world's largest retailer with $405 billion in sales for the fiscal year ending Jan. 31, 2010. In the U.S., Wal-Mart Stores, Inc. operates more than 4,300 facilities including Walmart supercenters, discount stores, Neighborhood Markets and Sam's Club warehouses.   VUDU, is Walmart's recently acquired online media source where consumers can rent or buy movies and TV shows for their internet-ready HDTV, Blu-ray Disc players or PlayStation 3 consoles.  Like iTunes, there are no monthly fees.  Consumers can buy and rent movies when they want, and 2-night rentals are only $2.  It will be interesting to see how VUDU will rise as a contender in 2011 and whether iTunes will suffer as a result of their success.  Wal-Mart advertises that regarding VUDU: "from Internet-ready HDTVs to WiFi enabled Blu-ray players, you'll find all the VUDU ready electronics you're looking for at Walmart.com. Whether adding a flat panel TV to your dorm room or upgrading your home entertainment center, our selection of VUDU ready HDTVs has you covered. You'll also save money on our VUDU ready products when you select items with free shipping to your home. With VUDU, you'll be able to stream HD movies directly from the Internet to your TV in dynamic surround sound for a great low price. Shop VUDU ready HDTVs and Blu-ray players at Walmart.com — and save. " And the retail giant makes sure all relevant devices / electronics it carries are VUDU-enabled.  2011 and beyond will be telling.  Wal-Mart caters to the average American so it remains to be seen if there is an appetite for foreign language film via VUDU in the months and years to come. In its inception VUDU was catering to early adaptors of new technology and those eager to watch HD but now it seems to be becoming more generic. New Video is a preferred aggregator to VUDU, among others.
VODO (Free / monetized Torrent): www.VODO.net: This has not been tried in the US by most distributors if any and not for foreign language cinema but it has worked for several projects such as Pioneer One which generated $60,000 USD by having the content made available for free and then getting donations in return.
Other emerging retailers entering the digital space:
Sears and Kmart are the latest over-the-top threats to pay-TV providers' video-on-demand businesses. Sears launched its online movie download service, Alphaline Entertainment, which will let Sears and Kmart customers rent or purchase movies, including on the same day they are released on DVD and Blu-ray Disc, provided through digital media services firm Sonic Solutions.  Titles currently available to rent or buy from Alphaline include studio and successful TV shows. Under Sonic's multiyear agreement with Sears, the companies will provide access to Alphaline services through multiple devices including Blu-ray Disc players, HDTVs, portable media players and mobile phones. Sears and Kmart, said in a statement. "We'll continue to increase the reach and flexibility of the Alphaline Entertainment service by providing consumers on-demand access to the latest entertainment from a range of home and mobile electronics." Sears, which merged with Kmart in 2005, is the fourth largest retailer in the U.S. The company has about 3,900 department stores and specialty retail stores in the U.S. and Canada.  It remains to be seen if they take on foreign language cinema. New Video is also an aggregator to them.
That's all she wrote folks. Until the next time.
Orly Ravid March 10th, 2011
Posted In: Amazon VOD & CreateSpace, Digital Distribution, Distribution, Distribution Platforms, Hulu, International Sales, iTunes, Netflix, Uncategorized
Tags: Alphaline Entertainment, Amazon, Apple, AVOD, Cinemart, Comcast, Digital Distribution, DTO, film distribution, Focus Features, foreign language film, Google TV, Hulu, InDemand, International Film Festival Rotterdam, iTunes, Kmart, Microsoft Zune, Mubi, Netflix, New Video, PioneerOne, Redbox, Sears, SnagFilms, subtitles, SVOD, Time Warner, VOD, VODO, VUDU, Walmart