TIFF IS HERE! Let the craziness (And the Jewish new year) begin! I figured I would split this into the good and bad from how films performed at last year's fests.  If you're playing in the Contemporary World Cinema or Discovery section you might want to run to Vimeo ASAP, but more on that later. Let's get the ball rolling, shall we?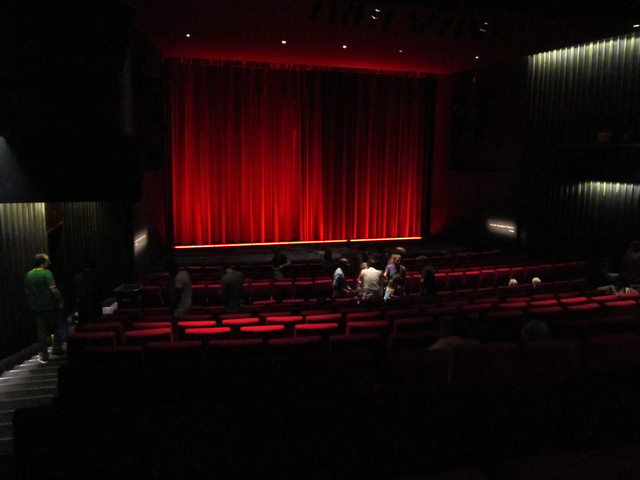 Five positives to highlight from last year
Midnight Madness Acquisitions

Every film in the Midnight Madness section was acquired for domestic distribution and many (Lords of Salem, Aftershock) were for seven figure deals. The simple fact is that the horror audience is incredibly loyal. It is arguably the most loyal and consistent substantial audience that exists. It's also often critic-proof, which is not the case for a downbeat drama.

Black and White Film

Frances Ha and Much Ado About Nothing were both arguably risky ventures despite the notoriety of people behind and in front of the lens. Both films were shot in black and white and rely on indie celebrity status for marketing. That said, each has grossed over $4,000,000 at the domestic box office. Frances Ha is IFC's highest grossing film this year and Much Ado About Nothing is Roadside's best box office performer from their long list of acquisitions at last year's festival.

Best Performers

A number of smaller specialty distributors had their highest grossing US films to date come from 2012 festival acquisitions. Many of these films would not scream top box office though. One is arguably a massive disappointment.

Cinema Guild took Museum Hours which has since grossed over $300,000. The film has been nothing if not a marvel, having passed the $200,000 mark before even opening in LA. For a company known for challenging foreign fare and documentaries, this film is no exception, but has clearly connected with audiences.
Well Go USA took some action from abroad to the tune of just under $700k in the US via The Thieves. For a company based in Plano, TX that has to be a record.
Drafthouse Films did so well with the documentary Act of Killing that TIFF is giving them a panel to explain their distribution strategy. HINT…GO…Tim League is one of the most entertaining people you will hear speak in any capacity. He is also usually quite candid and unpredictable. This film looks to top out at just under $500,000…over 300% above their next highest box office performer.
Entertainment One's expansion into the US box office has been a poor to mixed bag (not to worry though, they kind of dominate everywhere else). A Late Quartet stars Christopher Walken, Catherine Keener, and Philip Seymour Hoffman, but tepid reviews and no awards traction capped the film at around $1.5 Mil. Still, it's their best performer in the States.
Cohen Media Group specializes in handling foreign films. They specifically seem to like ones from France. Yet their highest grosser is from Lebanon (with French backing of course). The Attack is still going strong at the box office with $1.6 Mil in revenue and likely to add another $250,000 or so before it wraps. It's only a matter of time before they pass the $2,000,000 mark with a film.

Israel

The Attack, The Gatekeepers, and Fill the Void all have something in common. They were at least partially shot in Israel and have all grossed over $1,000,000 in the US. In addition, Hannah Arendt has grossed over $600,000 which is particularly impressive when compared with other Zeitgeist releases of the past few years. While Eagles failed to attract buyer interest, Israel continues to be arguably the most reliable foreign language performer in the US. I would say it's France, but their film industry is much more robust. Many of their top films will never come here and I can't say that with Israel.  To put it another way, the US box office total combined for these four films would be equal to $1 donation from every Israeli citizen.

HBO Docs

Sheila, Sheila, Sheila. If you don't know her name, you clearly don't know squat about the Docs. Mea Maxima Culpa premiered at the fest and was one of only two TV Docs to get on the Oscar shortlist (the other one, Ethel, was also an HBO Doc). HBO paid big and got the two most star studded docs of the festival, Love, Marilyn and Casting By.  For documentaries, TV continues to be the major power player and nobody ponied up more money for a Doc at the fest than HBO did when they partnered with Cinedigm for Love, Marilyn. Sale price was between $1.25 million and $1.75 million.
Five negatives to highlight from last year
Midnight Madness Box Office

Dredd was a giant studio disappointment and major money loser after opening in the US on 2500 screens with a PSA of $3426. Reported production budget was $50mil, but pulled in a worldwide BO gross of a little over $35mil. Eli Roth's Aftershock never took off on digital or theatrically where it opened to a PSA under $500 and failed to gross over $100k. Come Out and Play meanwhile couldn't even pass $5k. Rob Zombie's The Lords of Salem managed over $1,000,000 after buyer Anchor Bay capitalized on publicity surrounding Zombie's new book and album, but still didn't justify the acquisitions price (reportedly $2mil) and bidding war for the title.

Films with Title Changes

Girl Most Likely and Stuck in Love are both star driven comedies that originated with horridly bland titling (Imogene and Writers respectively). Despite the attempts of Roadside Attractions and Millenium Entertainment to rebrand the films, both are each company's lowest performing TIFF acquisition. Girl Most Likely saw grosses drop 72% in its second weekend and Stuck in Love will not even pass $100k. Both films saw much better results on VOD, but at the end of the day, compared to top performing acquisitions titles from these players, both can be considered disappointments.  Meanwhile TWC's Unfinished Songs (Formerly Songs for Marion) has barely outgrossed their Norwegian epic Kon-Tiki. EEK!

African and Eastern European Cinema

A look at the films that failed to secure distribution last year and it becomes clear that buyers were not enjoying anything from the entire continent of Africa. I mean literally, THE ENTIRE CONTINENT! There was not a Tsotsi  in the bunch.

Award winning films without distribution going into the festival

Artifact won the audience award for best doc, the Fipresci prize went to Detroit Unleaded and both have yet to find a home in the States. Artifact will all but certainly go DIY and who knows what the future holds for Detroit Unleaded which does not have the benefit of name recognition or Jared Leto's face.

The lack of prominent DIY and Alt distribution models

Spring Breakers was a pact between the producers and A24. There were otherwise no prominent examples of DIY releasing, hybrid theatrical or new ideas that sprung out of the festival. Yes, Snoop Lion self-released his doc Reincarnated, but that was to disastrous results and the doc was nothing more than a vanity project.
Clearly, the fest knew things had to change based on Tuesday's announcement. In case you've been living under a rock or stuck in Venice, Vimeo has offered a game changer to films that will world premiere at TIFF. A $10,000 MG to the films that give Vimeo a 30 day premiere VOD window. If the film makes back the $10k before the 30 days, it switches to their standard and by all accounts fantastic 90/10 split. Yes, YOU get to keep 90%! Any film that's not a star vehicle would be a fool not to take them up on the offer, especially since they can still seek acquisition. In fact, a smart distributor will see all the free press they will get from the publicity and look for the films that say yes. Naturally, I expect most to do the opposite and argue that the lost revenue will require them to lower their offers. That should be a red flag to any filmmaker if it happens. Similarly, if a sales agent is telling you to pass, so that your film from Croatia can wait for the American dollars to pour in, you should terminate your relationship on the spot!  No word yet though on what happens for the films that did the 1-2 punch  and premiered at Locarno or Venice.
BONUS
Congratulations to TFC alums with films in the festival.
Amy Seimetz (Pit Stop) stars in Ti West's latest flick The Sacrament.
Jody Shapiro (How to Start Your Own Country) directed Burt's Buzz
James Franco (Kink and Interior. Leather Bar) wrote, directed and stars in Child of God, wrote the source material for and stars in Palo Alto, and stars in Third Person. More impressive is the fact that he has had films at Sundance, Berlin, SXSW, Tribeca, Cannes, Venice, and Toronto this year.
I'll be on the ground in Toronto again this year and hope to report back about my findings and the deals made.
Below is a list of films from TIFF and how they've performed at the box office. I chose not to include any film that was from a studio or mini major and opened wide. I also chose not to include films that premiered at Berlin, Sundance, or SXSW and had already secured distribution.
| | | |
| --- | --- | --- |
| Film | Distributor | Box Office Gross |
| Come Out and Play | Cinedigm | $2,638 |
| What Richard Did | Tribeca Film | $2,749 |
| Inescapable | IFC | $4,327 |
| The Time Being | Tribeca Film | $5,274 |
| The Brass Teapot | Magnolia | $6,997 |
| Inch'Allah | EOne | $9,155 |
| I Declare War | Drafthouse Films | $10,793 |
| Greetings from Tim Buckley | Tribeca Film | $11,157 |
| Viola | Cinema Guild | $15,471 |
| The ABC's of Death | Magnet | $21,832 |
| Pieta | Drafthouse Films | $22,080 |
| The Patience Stone | SPC | $23,296 |
| Far Out Isn't Far Enough: The Tomi Ungerer Story | First Run | $27,156 |
| The Bay | Roadside Attractions | $30,668 |
| Berberian Sound Studio | IFC | $31,641 |
| How To Make Money Selling Drugs | Tribeca Film | $39,192 |
| Passion | Entertainment One | $40,100 |
| The Fitzgerald Family Christmas | Tribeca Film | $50,292 |
| Venus & Serena | Magnolia | $51,271 |
| Aftershock | Radius-TWC | $58,510 |
| More than Honey | Kino Lorber | $66,728 |
| Leviathan | Cinema Guild | $72,816 |
| Something in the Air | | $73,306 |
| No One Lives | Anchor Bay | $74,918 |
| Stuck In Love (Formerly Writers) | Millenium Entertainment | $81,071 |
| Byzantium | IFC | $85,252 |
| Storm Surfers 3D | Xlrator | $117,090 |
| Free Angela and All Political Prisoners | Code Black | $129,102 |
| Midnight's Children | Paladin/108 Media | $190,022 |
| No Place on Earth | Magnolia | $200,238 |
| Arthur Newman | Cinedigm | $207,853 |
| Tai Chi 0 | Variance/Well Go USA | $212,094 |
| Blancanieves | Cohen Media Group | $240,310 |
| Museum Hours | Cinema Guild | $304,145 |
| A Werewolf Boy | CJ | $342,922 |
| Act of Killing | Drafthouse Films | $379,598 |
| At Any Price | SPC | $380,594 |
| In the House | Cohen Media Group | $389,757 |
| A Hijacking | Magnolia | $401,366 |
| The Reluctant Fundamentalist | IFC | $528,731 |
| Still Mine (formerly Still) | Samuel Goldwyn | $586,767 |
| To The Wonder | Magnolia | $587,615 |
| Hannah Arendt | Zeitgeist | $636,505 |
| The Thieves | Well Go USA | $685,839 |
| Lore | Music Box Films | $970,325 |
| From Up on Poppy Hill | GK | $1,002,895 |
| Ginger & Rosa | A24 | $1,012,973 |
| What Maise Knew | Millenium Entertainment | $1,065,000 |
| The Lords of Salem | Anchor Bay | $1,165,882 |
| Girl Most Likely (Formerly Imogene) | Roadside Attractions | $1,377,015 |
| Disconnect | LD | $1,436,900 |
| Kon-Tiki | TWC | $1,517,410 |
| A Late Quartet | Entertainment One | $1,562,546 |
| The Attack | Cohen Media Group | $1,580,787 |
| Stories We Tell | Roadside Attractions | $1,584,890 |
| Love is All You Need | SPC | $1,608,982 |
| Unifnished Song (Formerly Song for Marion) | TWC | $1,634,532 |
| Fill the Void | SPC | $1,757,195 |
| English Vinglish | Eros | $1,862,086 |
| The Iceman | Millenium Entertainment | $1,943,239 |
| The Gatekeepers | SPC | $2,415,727 |
| Emperor | Roadside Attractions | $3,346,265 |
| Frances Ha | IFC | $4,043,502 |
| Much Ado about Nothing | Roadside Attractions | $4,262,205 |
| The Company You Keep | SPC | $5,133,027 |
| Hyde Park on Hudson | Focus | $6,376,145 |
| Anna Karenina | Focus | $12,816,367 |
| Spring Breakers | A24 | $14,124,284 |
| The Master | TWC | $16,377,274 |
| The Perks of Being a Wallflower | Summit | $17,742,948 |
| Quartet | TWC | $18,390,117 |
| The Impossible | Summit | $18,889,600 |
| The Place Beyond the Pines | Focus | $21,403,519 |
| Silver Linings Playbook | TWC | $129,729,000 |
| Clip | Artsploitation | BO Not Reported |
| Pusher | Radius-TWC | BO Not Reported |
| Iceberg Slim: Portrait of a Pimp | Phase 4 | BO Not Reported |
| Janeane from Des Moines | Red Flag Releasing | BO Not Reported |
| Reincarnated | DIY | BO Not Reported |
| State 194 | Participant Media | BO Not Reported |
| The Secret Disco Revolution | Screen Media | BO Not Reported |
| Wasteland | Oscilloscope | BO Not Reported |
| The Lesser Blessed | Monterey Media | BO Not Reported |
| Motorway | Media Asia Films | Digital Only |
| Everybody Has a Plan | 20th Century Fox | Digital Only |
| London-The Modern Babylon | Brittish Film Institute | Digital Only |
| Lunarcy! | Epix | Digital Only |
| Camp 14 – Total Control Zone | Netflix | Digital Streaming |
| Picture Day | Arc Entertainment | Digital/DVD only |
| My Awkward Sexual Adventure | Tribeca Film | Digital/DVD only |
| The Deep | Focus World | Digital/DVD only |
| Bad 25 | ABC | TV |
| 9.79 | ESPN | TV |
| Casting By | HBO | TV |
| First Comes Love | HBO | TV |
| Love, Marilyn | HBO | TV |
| A Liar's Autobiography | Epix | TV |
| Mea Maxima Culpa | HBO | TV |
| Roman Polanski: Odd Man Out | Showtime/Gravitas | TV/Digital |
| Jayne Mansfield's Car | Anchor Bay | Not Yet Released |
| The Last Time I Saw Macao | Cinema Guild | Not Yet Released |
| Men At Lunch | First Run | Not Yet Released |
| Out in the Dark | Breaking Glass | Not Yet Released |
| Thanks For Sharing | Roadside Attractions | Not Yet Released |
| Zaytoun | Strand Releasing | Not Yet Released |
| Shepard & Dark | Music Box Films | Not Yet Released |
| Capital | Cohen Media Group | Not Yet Released |
| Mekong Hotel | Strand Releasing | Not Yet Released |
| Three Worlds | Film Movement | Not Yet Released |
| Ghost Graduation | Fox | Not Yet Released |
| The End of Time | Sony Pictures Worldwide | Not Yet Released |
| Great Expectations | Outsource Media Group | Not Yet Released |
| Twice Born | Entertainment One | Not Yet Released |
| The Deflowering of Eva Van End | Film Movement | Not Yet Released |
Bryan Glick September 5th, 2013
Posted In: Distribution, Film Festivals
Tags: <u, A Late Quartet, Act of Killing, Aftershock, Artifact, Casting By, Come Out and Play, Detroit Unleaded, distribution, Dredd, Eagles, film sales, Frances Ha, Girl Most Likely, independent film, Lords of Salem, Love, Marilyn, Mea Maxima Culpa, Midnight Madness, Much Ado About Nothing, Museum Hours, Reincarnated, Spring Breakers, Stuck in Love, The Attack, The Thieves, TIFF, Toronto International Film Festival, Unfinished Songs, Vimeo