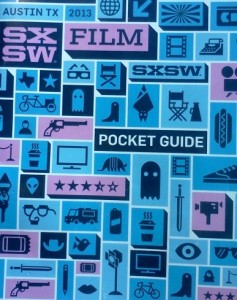 Upon returning from the constantly evolving confab of everything tech and media that is SXSW, I was asked by a friend to describe in one word what attending the festival was like. Without hesitation I uttered, "spam".  SXSW is a little bit of everything. This is both what continues to make it a viable event and also its Achilles heel.
For those who have never been, here's are some quick facts on what differentiates the festival from other major fests in the US (Sundance, Tribeca, Telluride, LAFF, etc):
–SXSW is a FOR PROFIT.  Filmmakers pay their own way to attend (though badges are comped).
–There are no press and industry screenings and there is no formal sales market. You either have a film badge or you don't and it's first come first serve. This means you could go to a screening and 20 people are there or the line could wrap around the block.
–Not only are films screened, but they have a comedy festival, a music festival, a tech conference and it all overlaps with the film festival. They fill the fest with literally hundreds of panels and discussions on just about every topic you could think of.
What makes the festival work is its completely open atmosphere. People who otherwise might be closed off to a filmmaker are not only accessible but they are often willing to talk. At the SXSW closing party you had shorts filmmakers rubbing shoulders with Brie Larson while local college students conversed with distributors over shots. It was truly a sight to  see.
I have been going to the festival for a few years now and this year's crop was a real eclectic and fresh bunch of films. The documentary slate was WAY, WAY stronger than the past few years, but there also wasn't a clear stand out. To my mind, it was also the gayest year on record with no fewer than a dozen docs that prominently feature LGBTQI+ story lines.  Even the non queer films I saw like Unhung Hero were packed with gay men enjoying a virtual tour through a Penis garden in South Korea (literally).
I would also like to personally applaud the filmmakers of those docs for supporting one another. It was great to see how many of the producers/directors showed up to one another's screenings. This is yet another distinction from the festival standard. Filmmakers at SXSW find the time to go see a few films from other filmmakers (honestly I have no idea how with so much going on, but the point is that they do it).
Which brings me to the one constant theme that I heard from people during the fest. It is just too many things going on at once. Sometimes fewer choices is beneficial. I will attest that creating my schedule for SXSW took me 3x as long than creating my schedule for Sundance. While SXSW had about 25 or so fewer world premieres, they actually screened almost 20 more films in total. They also do not start film screenings till 11:00 AM so you have one less screening slot per day.
But even if there were no films, there is still the tradeshow with hundreds of vendors, mock casting sessions, panels, meet ups, over 3000 bands performing, parties on each corner, sponsored stations, and dozens of brand new startups. In fact, one of the most rewarding things during the festival that I did was go to a meet up of new film oriented companies.
The fest this year extended more premieres into the second half of the festival (when the much larger music festival often results in a mass exodus from the film venues) and it did seem to help. Attendance was clearly up during the second half of the festival. In some cases, films were even able to fill up which I would not have imagined possible judging from previous years
The deals this year have been a bit slower than in year's past, but expect them to trickle down in the coming months. Interestingly, the two of the three distributors (Drafthouse and Magnolia) that have acquired world premieres from the festival have deep ties to the state of Texas. Drafthouse Films bought the midnight film Cheap Thrills and fellow midnight entry Haunter was acquired by IFC Midnight. Gross out horror comedy Milo was bought Magnet (The genre arm of Magnolia) and indie darling, Joe Swanberg, sold his film Drinking Buddies to Magnolia.
Other films to announce deals at or just before the festival include audience award winning docs The Punk Syndrome (GoDigital) and A Band Called Death (Drafthouse Films). Fellow doc, These Birds Walk, went to Oscilloscope.  Sundance breakout Muscle Shoals was acquired by Magnolia who clearly had a busy festival. It is worth noting that the producers have chosen to donate all profits to two different music organizations.
SXSW has solidified its place as the younger, hipper, indie version to Sundance. The films tend to skew more towards genre fare, there are plenty of comedies, the docs go more human interest than overtly political, and often what the films lack in polish they make up for in gusto. This is the festival that has recognized some of the freshest voices in indie film like the Duplass Brothers, Amy Seimetz, and of course Lena Dunham.
In talking with filmmakers, it is clear a lot more are willing to take matters into their own hands and pursue DIY. There is very little of the big producer ego permeating through the festival and for filmmakers who attend, they can see what will be the norm in the next two-three years by embracing the new tech companies whose presence, while a distraction, is also part of the charm.
I also would like to applaud the festival for staying true to its Austin roots. There were a large amount of Texas based films that made it into the festival. Austin is an indie film pioneer and playing with the big boys of NY/LA. The commitment to championing their own is admirable, but the truth is these films by and large are as good (if not better) than fellow entries from the larger and more typically thought of film hubs.
While SXSW still has work to do in shaking off the image of being the second choice to Sundance, the fact is they are growing at a rapid pace and the quality of films is constantly improving.   Since it takes place after Sundance and Berlin, it will never be able to equal their heights on the sales front, but if distributors were smart, they would intentionally hold out for a SXSW film or two to add to their slate. Especially if they have a good VOD/Digital operation in place.
Finally, I can't in good conscience finish this post without mentioning that I won $70 in gift cards from Fandango by twice stumping their guru on 80's film trivia. Thank you Fandango and I look forward to using the gift cards to see more of the films from SXSW as they enter into the theatrical marketplace.
Bryan Glick March 23rd, 2013
Posted In: Film Festivals
Tags: A Band Called Death, Bryan Glick, Cheap Thrills, Drinking Buddies, film festival, filmmaker, filmmaking, for profit festival, Haunter, independent film, Milo, Muscle Shoals, sxsw 2013, The Film Collaborative, The Punk Syndrome, These Birds Walk, Unhung Heroes
The Sundance narrative films are always the hot properties going into the festival, but many of these star-studded films fade while starless films often surprise. Here's a look at how the narrative films from the 2012 festival performed.
THE BIGGER PLAYERS
FOX SEARCHLIGHT
They acquired the audience and jury prize winners from the US Dramatic competition and both have scored Oscar nominations. The Sessions was acquired for worldwide rights for $6 million and with a $4 Million P&A (prints & advertising) minimum. It has grossed $5,818,544 in North America an additional $3,135,887 overseas. The film has since sold to dozens of territories. Beasts of the Southern Wild, meanwhile played in theaters for a whopping 20 weeks and despite never being in more than 318 theaters (60% of the max count for The Sessions at 516) grossed more than every Sundance film from 2012 except for one. Its gross stands at $11,539,605. Furthermore, it was bought at a bargain of under a $1,000,000. It has also been released in over a dozen countries that have reported box office grosses with many more sure to come in light of its best picture Oscar nominations insuring that the film will more than make back its $1.8 million dollar budget.
SONY PICTURE CLASSICS
SPC is really known as the best company for foreign films in the US and being the latest champion of Woody Allen, but they continue to be very prominent at Sundance. They snatched up two high profile narrative films that performed on extreme opposite ends of the spectrum.
Smashed was acquired for $1,000,000 on the strength of Mary Elizabeth Winstead's performance. Unfortunately, it is not easy to market a serious movie about 20 somethings attempting to get sober. Despite decent if not great reviews, it will max out at under $400,000 gross even though it received the typical maximum playout that SPC has to offer with its run peaking at 50 screens. Once P&A are accounted for this film is pretty much a loss for SPC.
Celeste and Jesse Forever performed much better at the box office grossing $3,094,813, but it went as wide as 586 screens and only had 5 weekends where it averaged a  PSA (per screen average) of over $1k. Acquired for $2,000,000, this film is most likely a slight loss for the distributor, but a big profit to the filmmaker who had a reported budget of under $900,000. It has grossed just over $200,000 from releases in 8 other countries.
OSCILLOSCOPE
28 Hotel Rooms barely played in more than 10 theaters and grossed $18,869. With so few locations, the focus was clearly on digital/VOD. For a NEXT film (meaning micro budget), it is far from a terrible gross and given poor to okay reviews. Hello I Must Be Going was an opening day film at the festival, but despite playing in more theaters during its run and not being available on VOD, it only managed $106,709. At its widest, it played in 15 theaters, but the expansion was too quick and the film fizzled fast.
IFC/IFC MIDNIGHT/SUNDANCE SELECTS
There are really two types of IFC releases in theaters. One is play a week at IFC Film Center in New York City and maybe one more location and the rest of the run is on VOD. The other is a theatrical push. In most cases, any late acquisitions announced well after a festival has wrapped fall into the former. Later acquisitions Price Check (2 theaters,$7,413 gross), Young and Wild (2 theaters, $5,514), and Save the Date (2 theaters, $5,719 gross)  have all grossed less than $10k in one week of theatrical release. Also not passing that threshold are The Pact and Why Stop Now (3 theaters, $2,432 gross) . As a horror film, The Pact likely performed much better on VOD, covering its mid six figure acquisitions price. The other films were targeting minority communities (Young and Wild) or relying on stars (Save the Date and Why Stop Now ) to push ill-reviewed films. VOD was not reported, but most likely these other films were all acquired for under $100,000. They should all eventually prove profitable for IFC, but not the filmmakers.
In contrast Liberal Arts has grossed $327,345 which is more than Josh Radnor's  prior film Happythankyoumoreplease, but that film was dumped into the marketplace over a year after it won the audience award. Liberal Arts had the hot young actress Elizabeth Olson as a co star and produced a so-so gross for its over $1,000,000 acquisition price, meaning it had to do stellar on VOD, foreign and other ancillaries to be profitable
Sleepwalk With Me meanwhile  relied on a built in audience to get the message across and is truly something unique that is not easily duplicated by other indie films. It had the boost of winning Best of NEXT Audience Award at Sundance, a prime follow up at SXSW, Birbiglia's comedian following and with, Ira Glass as producer, a tie in to "This American Life" which has a very loyal following. The film grossed $2,266,067 on 135 screens at its peak, stayed in theaters for 3 months and was followed very closely by a cable VOD release.  
This has not been a particularly strong year for IFC, but Sleepwalk With Me is its highest grossing film theatrically and the filmmakers themselves heavily promoted the film instead of relying on higher cost promotional/marketing methods as the central way of getting out the word. All parties worked overtime to push the film and it is not a model that an unknown would be able to ever duplicate.
MAGNOLIA/MAGNET
Magnolia admitted that part of the reason it was not financing the awards campaign for Ann Dowd for Compliance was because the film lost money. While this controversial film is the third highest grossing film ever from the Next section and $319,285 is nothing to cry about, the film was also not released day and date VOD as is typical for the distributor. In its first week it amassed $43,346 on one screen, but it did not hold up well in expansion. It topped out at 21 screens in its fourth week and while the acquisition price wasn't reported, it most likely was no more than low six figures. I think this is a case of unrealistic expectations.
V/H/S played in almost as many theaters and only grossed $100,345 (releasing in October, naturally), but as with The Pact its money came from VOD and a sequel (S-V/H/S) was quickly put through which was at this year's fest (picked up for release by IFC). Even though $1,000,000 was spent to acquire it, this film should prove to be pretty profitable.
Meanwhile, Nobody Walks was only in theaters for 5 weeks and never played on more than 7 screens, grossing a measly $25,342 . It was acquired for mid-high six figures and the focus was clearly always on VOD. While VOD was not reported, given the cast and producing powers it is likely to have recouped.
Magnolia also released 2 Days in New York, the sequel to 2 Days in Paris to the tune of $633,210 and Magnet came to the festival with Tim and Eric's Billion Dollar Movie which did okay theatrically with $201,406.00 and both likely had a robust life in the digital sphere.
TRIBECA FILM
Tribeca Film released two US Dramatic entries. For Ellen grossed $12,396 on 3 screens for 7 weeks despite the presence of Paul Dano. The Comedy however has grossed     $41,113 on 4 screens for 8 weeks and the bulk of that coming from one screen in NY capitalizing on its Brooklyn setting. Both did day and date, but I imagine The Comedy outperformed For Ellen there too.
THE ONE OFFS
Keep the Lights On and Middle of Nowhere did almost identical business. Middle of Nowhere was released by writer/director Ava DuVernay's distribution company AFFRM and played in a mix of major urban megaplexes and arthouse theaters, grossing $236,806 on 25 screens for a total of 9 weeks in theatrical release. Keep the Lights On had the backing of Music Box Films and relied heavily on screens from Landmark and specialty houses in LGBT dominant markets. The film grossed $246,112 on 10 screens for a total of 16 weeks in theatrical release. Red Hook Summer hired Variance Films for its DIY theatrical and grossed $338,803 on 41 screens for total of 11 weeks in theatrical release. The Spike Lee feature was made for under $1,000,000. While it grossed more than the two films above, it did so with a brand name director.
Safety Not Guaranteed was acquired by Film District for over $1,000,000 and grossed $4,010,957 on 149 screens for a total of 19 weeks in theatrical release. The film only cost $750,000 to make and has had some international success too.
Focus Features paid over $2,000,000 for worldwide rights to For a Good Time Call but the film only grossed $1,251,749 in the US and a little over $100,000 in the UK. This may seem bad, but the film was available on VOD when it opened and has been a top performer on iTunes. It never played in more than 107 theaters. The film cost $1,300,000 to make so it also turned a nice profit for the producers.
The $2.5 Million budgeted Robot and Frank was acquired by Sony and Samuel Goldwyn for over $2 Million and grossed over $3.3 Million theatrically. It has grossed another almost $500,000 internationally.
But the big success is Roadside Attraction's Arbitrage which they paid over $3,000,000 for and chose to do VOD/Theatrical. It has grossed almost $8,000,000 and equaled that on VOD.
Lastly, The Words was the only Sundance 2012 film to get a wide release, 2801 screens. CBS bought the closing night film for $2,000,000. It managed $11,494,838 barely out performing Beasts of the Southern Wild.
THE BIT PLAYERS
Image debuted the star studded film Goats on four screens to a PSA of under $500 and its theatrical run quickly ended in one week. The film was acquired for almost $1,000,000 coming nowhere close to the film's $5,000,000 Budget. A loss for all involved.
California Solo is still in theaters, but with a current gross of $15,433 on 2 screens for the last 6 weeks, it is not a breakout for Strand Releasing. Unlike a lot of recent Strand acquisitions from Sundance, it actually received a theatrical release.
Teddy Bear is one of the few world dramatic films to sell and though it only grossed $16,138  for Film Movement, this is a notable success. It is a foreign mumblecore film with no name actors and it out grossed other films that have been released from the same programming section.
Sony Worldwide's release of The First Time will likely be its last since the film couldn't get over $25k despite opening in 19 theaters. The theatrical only lasted one week.
Madrid, 1987 and That's What She Said did not report grosses. The latter shared screens in LA and NY then immediately went digital courtesy of Phase 4. The Film Collaborative handled the theatrical for Mosquita Y Mari. While it grossed under $15k, it is the highest grossing Lesbian narrative of 2012 that received theatrical release.
THE VOD OVERPAY
TWC Radius release Lay the Favorite is a domestic theatrical flop and not likely to justify the acquisition price of over $2,000,000. Lay the Favorite grossed only $20,998 theatrically in the US and has barely grossed over $1,000,000 abroad. Considering the production cost was $20,000,000, there are probably a lot of angry investors.
Their second acquisition, Bachelorette, cost a fraction of that production budget at $3,000,000 and has grossed almost $10,000,000 overseas ($447,954 domestically) and debuted at #1 on iTunes. The advance cost was $2,000,000. It will recoup for investors and may ultimately do so for TWC thanks to the likes of Rebel Wilson.
Millennium meanwhile is probably questioning paying just under $4,000,000 for Red Lights which grossed a puny $ 52,624 at the box office. With the star power and being a genre film, it is likely to have performed much better on other outlets, though the path to profit would be daunting at that acquisition price.  It has made over $13,000,000 overseas theatrically. Despite that, it is possible it won't make back it $17-20 Million production budget.
RECAP
While VOD adds costs to a theatrical, it is often a win-win for distributors and filmmakers.
NEXT films are doing better at the box office, but still not measuring up to the box office of the US Dramatic films.
9 of the 38 Narrative releases grossed over $1,000,000 (5 premiere, 3 US Dramatic, 1 Next)
8 of the 38 narrative releases failed to gross over $10k at the box office (3 Premiere, 2 World Dramatic, 1 US Dramatic, 1 Next, 1 Midnight)


BLOG EXTRA
Sundance received over 12,000 submissions for under 200 slots at the 2013 festival. You are more likely to get into Harvard than you are into Sundance. Yet a number of people manage to do it multiple times and even in the same year. Here are the double and triple players.
David Lowery co-wrote and co-produced Pit Stop and also wrote/directed Ain't Them Bodies Saints and edited Upstream Color. All were official selections at Sundance this year.
James Franco and Vince Jolivette each have Interior. Leather Bar, Lovelace, and Kink. Jolivette is a producer on all three films. Franco co-wrote and stars in Interior. Leather bar, stars in Lovelace and directed Kink.
Mary Elizabeth Winstead stars A.C.O.D and The Spectacular Now. Her costar in The Spectacular Now, Brie Larson, is also in Don Jon's Addiction.
Juno Temple is in Afternoon Delight and Lovelace.
Casey Wilson co-wrote and stars in Ass Backwards and is also in C.O.G
Amy Seimetz is not only one of the stars of Pit Stop, but this indie darling is also in Upstream Color.
Table for your reference of the docs and narratives from Sundance 2012
Film
Company
Deal Amount
Terrtitories
Sales Company
Box Office/Release
Section
Budget
Other Theatrical Countries with reported grosses
Additional Countries with a release
International Grosses
Bestiaire
Kimstim Films
US
$1,428.00
New Fron
NA
NA
 NA
Putin's Kiss
Kino Lorber
N/A
North America
N/A
$9,114.00
world doc
NA
Denmark
 NA
The Law in These Parts
Cinema Guild
US
Liran Atzmor, Produce
$10,309.00
World Doc
NA
NA
 NA
China Heavyweight
Zeitgeist
N/A
US
EyeSteelFilms
$10,550.00
World Doc
NA
Japan
 NA
Payback
Zeitgeist
N/A
US
N/A
$17,979.00
World Doc
NA
Canada
 NA
The Ambassador
Drafthouse Films
N/A
US
Trustnordisk
$28,102.00
World Doc
NA
NA
 NA
West of Memphis
SPC
N/A
Worldwide
Peter Jackson and Ken Kamins
$46,307
Doc Premiere
NA
Portugal, United Kingdom
 NA
The Invisble War
Cinedigm and New Video
N/A
North America
The Film Collaborative
$62,649.00
US Doc
NA
NA
 NA
5 Broken Cameras
Kino Lorber
N/A
US
CAT&Docs
$74,571.00
World Doc
$250,000
United Kingdom
Canada, Japan, Sweden
$36,372.00
Escape Fire
Roadside
N/A
US
CAA
$87,577
US Doc
NA
NA
 NA
Marina Abramovic
Music Box
N/A
US
Submarine
$86,637.00
us doc
Austria, Italy, Poland, Russa, Ukraine
France, Germany, Ireland, United Kingdom
$57,127.00
How To Survive a Plague
Sundance Selects
High Six Figures
North America
Submarine
$123,814.00
US Doc
NA
NA
 NA
The Other Dream Team
Film Arcade & Lionsgate
Mid Six Figures
North America
WME
$135,228.00
US Doc
NA
NA
 NA
The House I Live In
Abramorama
US Theatrical
$186,059
US Doc
United Kingdom
$8,407.00
Something From Nothing: The Art of Rap
Indomina
Over $1,000,000
Worldwide
UTA
$288,312.00
doc premiere
United Kingdom
NA
$45,388.00
Detropia
DIY
$377,219
US Doc
NA
NA
 NA
Ai Weiwei: Never Sorry
Sundance Selects
N/A
North America
Cinetic Media, Victoria Cook
$489,074.00
US Doc
Austria, Germany, Russia, United Kingdom
Denmark, Sweden, Taiwan
$334,911.00
Shut Up and Play the Hits
Oscilloscope
N/A
North America
WME
$510,334.00
Midnight
United Kingdom
Germany, Portugal
$118,773.00
Chasing Ice
Oscilloscope
N/A
US  (Non TV)
Submarine
$940,300
US Doc
NA
NA
 NA
The Imposter
Indomina
N/A
North America
A&E Films
$898,317.00
World Doc
Denmark, Russia, United Kingdom
Australia, France, Ireland, Kuwait, Netherlands, New Zealand, Sweden
$1,870,940.00
The Queen of Versailles
Magnolia
Mid Six Figures
North America
Submarine
$2,401,999.00
US DOC
United Kingdom
NA
$93,707.00
Searching for Sugar Man
SPC
Mid Six Figures
North America
Submarine
$3,095,075
World Doc
Australia, Denmark, New Zealand, Sweden, United Kingdom, United Arab Emirates
France, Germany, Netherland, Norway
$2,203,958.00
Indie Game: The Movie
HBO And Scott Rudin
(Remake Rights)
N/A
TV
Film Sales Company
B.O. Gross not
Reported
world doc
NA
Taiwan
 NA
Big Boys Gone Bananas
DIY Theatrical
US
B.O. Gross Not Reported
World Doc
NA
Sweden, Canada, UK
 NA
Bones Brigade
The Film Sales Company/Sundance Artist Services
DIY Theatrical and Digital Platforms
US
The Film Sales Company
B.O. Gross Not Repoted
Doc Premiere
NA
Japan
 NA
Room 237
IFC Midnight
N/A
North America
Betsy Rodgers
2013
New Fron
NA
Denmark, Ireland, Sweden, United Kingdom
 NA
Under African Skies
Snag Films
N/A
Exclusive Digital
A&E Films
Digital
Doc Premiere
NA
NA
 NA
The House I Live In
Snag Films
Domestic Distribution
Digital
US Doc
NA
NA
 NA
Love Free or Die
Wolfe
US DVD/VOD
Cinephil
Digital
US DOC The film will be available for educational/non-theatrical screenings beginning in October through Kino/Lorber in partnership with Wolfe, followed by airings on PBS stations nationwide as part of the series "Independent Lens." Wolfe will release the film on DVD/VOD in 2013.
NA
NA
 NA
About Face
HBO Doc
N/A
TV
Pre-Fest
TV
Doc Premiere
$500,000
NA
Italy
 NA
The D Word
HBO Doc
N/A
TV
Pre-Fest
TV
doc premiere
NA
NA
 NA
Chasing Ice
National Geographic
N/A
TV
Submarine
TV
US  Doc
NA
NA
 NA
Marina Abramovic
HBO Doc
TV
Pre-Fest
TV
us doc
NA
NA
 NA
Me @ The Zoo
HBO Doc
Mid Six Figures
TV
Submarine
TV
us doc
NA
NA
 NA
The Queen of Versailles
Bravo
N/A
TV
Submarine
TV
US DOC
NA
NA
 NA
Ethel
HBO Doc
N/A
TV
Pre-Fest
TV/B.O. Gross not reported
Doc Prem
NA
NA
 NA
Under African Skies
A&E Films
N/A
TV/Theatrical
A&E Films
TV/B.O. Gross Not Reported
Doc Premiere
NA
NA
 NA
A Place At the Table (Finding North)
Magnolia
US
Submarine
US DOC
NA
NA
 NA
Bryan Glick January 29th, 2013
Posted In: Digital Distribution, Distribution, Theatrical
Tags: film festival, independent film, Sundance 2012, theatrical distribution, theatrical release
TFC reached out to Film Independent/Los Angeles Film Festival's Director of Publicity and Communications, Elise Freimuth, to discuss to the "Do's and Don'ts" of working with Publicists on the Film Festival circuit. The following are her "insider" thoughts on the subject…
With so many independent filmmakers going the DIY route, more and more of you are taking on publicity and marketing responsibilities.  As a result, you need to educate yourselves on the essentials of the trade.  Even if you do end up hiring a publicist, it's important to understand some basics so you can be empowered and know the right kind of questions to ask when selecting a publicist or putting together a PR strategy with them.
Many indie filmmakers make the mistake of thinking about publicity when they get accepted into a film festival, but in truth, you need to start thinking about PR when you're putting your budget together.  Costs need to be factored in early on for possibly hiring a unit photographer, hiring a publicist once you do get accepted to a festival, paying for room and board for talent to attend a festival and creating press materials.
Create your press materials early!  So many filmmakers put these off and then have to scramble to pull assets together when they get accepted into a film festival.  A publicist is usually hired about 1-2 months before a festival, so it doesn't give them much time to work on your film.  Give them as much time as possible to pitch your work by giving them a package of nice materials.  They may have suggestions to spice things up a bit, but at least they're not having to start from scratch.
We're in the moving pictures business for a reason– we like telling stories with images.  And images are incredibly important when you're promoting your film.  Creating high-quality still images from your film will go a long way in helping you promote your work and save you from a huge headache down the road.  If you can't afford a unit photographer to come in for a few days during the shoot, then have a photographer friend or someone from your camera department (so many video cameras can create beautiful stills) take high-quality still photos for you.  If you have name talent, you should schedule a photographer on the days you'll be shooting key scenes with them. Your photos should properly convey the tone (comedy vs drama) and reveal something about the character or story.  A generic close-up of a character reveals nothing—it could be from any film.
Journalists want photos that are going to help them tell the story about your film and they're going to want to grab their readers/viewers.  Photos should be high resolution (at least 300 dpi), and most news outlets prefer horizontal.  When selecting images, keep in mind that you may need to get key talent to sign off on these, so go through their representatives and have them do their "photo kills" early so you're not chasing them down 3 weeks before a festival.  Also, you really only need 2 or 3 great still images.  When audiences start to see the same photo running online and in magazines and newspapers, it's easier for them to recognize your film.  And given the time constraints journalists have nowadays, the last thing they want to do is troll through 20 pictures.  They want to look at a few and pick one.
Following these guidelines will also help film festivals.  Their marketing departments need to put together program books, ads and build their website, and it's really hard when filmmakers submit low resolution photos in non-traditional formats.  You'll also want to consider holding back a few photos for exclusives down the road when you get a theatrical or digital release.  Some publications like USA Today, Los Angeles Times, New York Times and Entertainment Weekly like to use exclusive photos for their movie previews and articles.  Plus, it's a great way to do an extra push and leak out exclusive content when you're releasing your film.
Gone are the days of putting your clips and trailers on bulky and expensive beta tapes.  Most festivals and broadcast/online outlets just require a digital file, preferably in HD that you can e-mail, post on your website or share via file transfer websites.  Just like with photos, a couple clips of key scenes that convey your story and tone are all you really need.  Clips should only be about 30-45 seconds long.  Trailers are nice, but they're not terribly necessary at this point.  If your film gets acquired, they're just going to cut a new trailer and the process can be rather pricey.  Usually broadcast outlets aren't going to show festival film trailers, unless there are huge stars involved.  There are some online outlets that may run your trailer, but again, don't break your back over this.  If you do decide to do a trailer, just make sure it's no longer than a minute and a half and it should be well-edited and tell your story without giving everything away.
Production notes are really handy for journalists to refer to when prepping for interviews with you or your talent, or to fact check when they're writing reviews or stories on your film.  These notes do not need to be 35 pages long.  Keep them sweet, short and simple.  Include a log-line (1 line), short synopsis (2-3 lines), long synopsis (2-3 paragraphs)—these also help the festival staff when they're putting together their materials.  You'll want to include short bios (1-2 paragraphs) on yourself, key crew and cast.  A director's statement is always nice, but not necessary.  This should be 1-3 paragraphs and can explain your reason for making your film, explain controversial elements behind the film, the style you chose, etc.  Don't include reviews and interviews from other publications in your production notes because journalists don't need to see other people's work in your notes.  A full list of credits is also essential as film critics need to include this information when they file their review.  If they don't have the full credits, this sometimes prevents them from actually filing a review of your film!
Posters are lovely to have as a souvenir, but not necessary for publicizing your film at a festival.  The festival will ask you for these because they'll sometimes display them for a day or two at the theater venue or in their filmmaker lounge, but that's about all they use them for.  Posters are expensive to make, so if you're on a budget, this is the thing to cut.  Maybe opt for some creative hand-out material with your screening schedule on it if you're on a budget and are really keen on printed material.  A small postcard is easy to hand out to people you meet.  Some filmmakers get even more creative and hand out matchbooks, coasters, buttons and more to go along with the theme of their film.  But again, all of these things are just fun add-ons if you've got the money for them.
If you start getting interview requests and screener requests (see paragraph about screeners) before the festival begins, hold off on setting these up until you've hired a publicist or put a PR strategy in place.  The last thing a publicist wants is to come on board a film and find out you've set up a bunch of interviews without them.  Or egads!  Set it with someone they know could potentially attack your film or not fit in line with the strategy.
Don't hire a publicist if you haven't gotten into a film festival or have a theatrical/digital release.  They're more than happy to take your money, but you won't get a return on their services if you're not actually screening your film anywhere.  So many filmmakers think they need to hire a publicist as soon as the film is done, but you'll just be spending dollars that can be used more effectively once you secure that festival slot.  You should aim to hire your publicist within 1-2 months of your festival screening, but start asking your sales agent, friends and fellow filmmakers for recommendations and put together your wish list early.  Once you find out you're in a festival, you can start making the calls to these publicists and set up meetings.  These meetings are kind of like a first date or a dance—you need to find out if you like each other, can work together and they can execute the proper strategy for your film.  They should obviously like your movie, but they should also have a strategy and be able to openly talk with you about potential negative reactions that could result from the press and industry, weaknesses in your film and how to navigate those, and be able to work closely with your sales agent (their strategies need to align).  In some cases, the publicist is really there to support the sales agent, and having one who understands distributors is also helpful.  Having a cheerleader isn't enough—that's what your parents are for. Your publicist should have a plan, know the press attending and be able to strategically execute that plan.  For festivals like Sundance, Toronto, Cannes and SXSW, the price you pay will be higher because it needs to cover room and board for the publicist. Expect to pay anywhere from $7-12K.  Believe it or not, the costs for sending a team of publicists to these festivals ends up breaking even for them.  They're working on your film because they're passionate about you and your work.  For festivals like the Los Angeles Film Fest, AFI, New York Film Fest and Tribeca, there are tons of locally based publicists in entertainment, so you have a wealth of people to choose from.  If you're playing in LA, select a LA-based publicist and in New York, New York.  Why?  So you don't have to pay more for their travel.  PLUS, they're going to be a lot more familiar with the local press attending that festival.  Expect to pay $3-7K for these festivals.
Whether you hire a publicist or not, don't blow your wad at the very beginning.  It's incredibly exciting for you now that you're playing in a film festival.  You want to see a ton of press breaks and have everyone interviewing you and your talent, but you need to reign it in.  You want people to discover your film and if you go hog wild with interviews, then no one will want to interview you or your talent when the film finally gets that theatrical/digital release.  It's like turning the heat on to boil a pot of water.  You want that water bubbling for your festival PR campaign—you don't want it boiling over.  Work on getting included in some festival curtain raisers—i.e. previews that mention films to catch or look out for.  A handful of interviews are all you really need with some key outlets that cater to the audience you're trying to target.
Decide whether it's the industry you want to focus on, or raise awareness about a certain issue, or reach out to a certain fan base.  BE TARGETED.  If you're a small documentary or narrative with no stars, then Access Hollywood will not want to cover you.  They only want the A-list talent.  Be REALISTIC and SMART about the type of press you can get.
Communicate with the festival PR staff.  If you're doing DIY, then reach out to them personally.  If you have a publicist, make sure they get in touch with the staff so they can be notified of press opportunities that might fit your film, or get some leads.  If you're on your own, the festival PR staff is there to help you.  They have tons of films they need to publicize and are mostly focusing on publicizing the festival as a whole, not individual films.  They can't play favorites because all the filmmakers are their children here, but they can give you advice on putting together a PR strategy, point you towards journalists they think might be interested in your film and how to reach out to them.  They'll appreciate that you're thinking about PR in a smart way and not just asking for their press list so you can blast out multiple e-mails and invites.
A note on screeners.  BE CAREFUL WITH THESE.  The festival PR staff may ask you for copies of screeners, but you don't have to provide these.  It should be an option.  The risk in providing these to the festival is that any accredited journalist can walk in and watch your film on a laptop, small TV or check it out, and you won't know who it is.  They can always pass along screener requests from the journalist directly to you or your publicist so you have more control over who is seeing your film early (the same goes for acquisitions execs!  Let your sales agent send these out!!)  It's really best to protect your screeners and only give them to journalists if it works with your PR strategy.  Some journalists may need to see the film early for a curtain raiser or feature and are nice about only including films they like.  There are other journalists who could potentially badmouth your film before the festival screening.  Make sure you or your publicist knows the intent of the journalist.  Some films just play better on the big screen with an engaged crowd and some films play better on your laptop with a box of Kleenex at your side.  Figure out how your film plays and let that help guide you on whether you want to share screeners.
Orly Ravid May 31st, 2012
Posted In: DIY, Film Festivals, Publicity
Tags: Elise Freimuth, festival publicity, film festival, Film Independent, film publicity, LA Film Festival, postcards, posters, PR assets, PR budget, PR strategy, set photography, working with a publicist