written with input from Recreation Media's Ariel Veneziano and TFC's Bryan Glick
I remember reading an article in the trades a couple of years ago that described the way that the film executives at the Berlin International Film Festival typically trudge through the German winter in endless circles from the EFM market building to their screenings and back again actually "reminds them metaphorically of their miserable existence travelling in circles around the globe from one market to the next, doing the same trips and seeing the same people, year after year."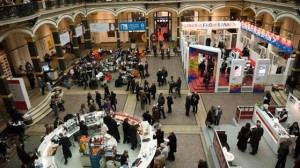 Of course, its arguable that being in a business that takes one from fabulous locations such as Sundance, Rotterdam, Berlin, Cannes, Los Angeles, New York, Hong Kong, Guadalajara etc. should be called miserable. But I knew exactly what the journalist meant. After all, it is really cold Berlin in February, and in truth so many of the movies are truly bad. And even the best movies are usually artsy stuff that is challenging commercially – so it's enough to drive a business executive truly mad.
So I tried to avoid that this year. I tried to use the vast tapestry of the sprawling, thriving, constantly evolving German capitol as a canvas for private meetings in cafes, restaurants, and bars at least a little off the beaten track (once you know the subway system, it only takes 10 minutes to get anywhere anyway). I tried to go to movies ONLY after they had been recommended to me – so as to cut down on the number of movies I would stay only a few minutes in before I walked out. And amongst all the trudging, there are certainly sufficient networking parties and events – not as many as say Sundance or Cannes by any means – but still plenty to enjoy and use as opportunities to get caught up with important contacts and valuable intel on the state of the Business.
Given the difficult the independent film business has been in the last few years – especially given the precipitous decline in the DVD business – what emerged from Berlin…in a positive sense…was at least the feeling of a business that has found its bottom and is holding steady. Not necessarily progressing…but not regressing either.
In certain ways, Berlin appears to be getting more important as a European market than ever. Because of the tough business climate, less and less European companies make the annual trip to relatively far-flung markets like AFM in Los Angeles. As such, Berlin has become an even more important trip for European companies looking to license product…and this extends beyond the usual "high-art" companies that typically frequent the Berlinale and further into the TV and ancillary market that has traditionally done its business at more expensive markets like Cannes and AFM. There is still a paucity of companies from both Latin America and Asia at the Berlinale, but in fact the representation of companies from Europe is actually better than ever, largely due to the economics.
Also tied into the need to save money, is the continuing trend that the market gets shorter and shorter every year…such that the market that begins on a Thursday afternoon is largely over by Tuesday afternoon. This isn't necessarily a bad thing…actually it is probably the opposite. Because of today's cloud-base communication technology, long gone are the days when a buyer goes into a sellers booth to "discover" what they are offering and sits down to long meetings of watching trailers and learning about the films for the first time. Today, we all arrive at our meetings having watched trailers and screeners online, knowing what we are interested in, and having highly focused, more productive meetings than ever before.
If any themes emerge from these meetings, it is mostly the same stuff we've been hearing for several years now….namely the questionable future of VOD/digital platforms in Europe. While VOD markets are relatively mature in the United States now, they are still nascent and unproven in Europe…but represent the direction our business MUST go if a truly healthy business will re-emerge for independent film. Unlike a few years ago, European companies no longer look down their noses at the digital distribution models…they all recognize their necessity moving forward. But still there is no PROOF that an emerging digital distribution network will be able to replace traditional distribution networks, and so what we find is more HOPE than EVIDENCE or hard numbers to back up the supposition that VOD is really the way of the future. This fact seems to weigh heavily over most discussions of independent film distribution in Europe, as we look to new sources of revenue.
From a traditional Acquisitions perspective — focusing on U.S acquisitions – sales of world premieres at the Berlinale were slow. Roadside Attractions nabbed Gloria and The Weinstein Company took US and English speaking Canadian rights to opening night film The Grandmaster. Cohen Media group acquired Elle S'En Va (On My Way). 
One should expect to see sales for other Berlinale films announced at SXSW, Tribeca, and Toronto as distributors get a chance to discover the films and when the asking prices are more reasonable for small indie outlets. Expect to see the award winners eventually receive distribution and any of the first time filmmakers who wind up getting into 2nd tier festivals here in the US can reasonably expect distribution.
However, following the sales rush of Sundance and the sheer volume of films at EFM, many films from Berlin are slower to sell and even more will not get picked up for distribution in North America. From last year's competition slate only about 60% have North American distributors, including Oscar nominees War Witch and A Royal Affair.
While the odds of Berlinale films breaking out into North America are slim, the numbers (especially for foreign films) can be quite rewarding when they do happen. Marley, A Royal Affair, and Farewell My Queen grossed over $1,00,000 in the US out of the Berlinale. But those films are of course exceptions to the rule.
I will end with a final thought for now. For those of us immersed in the film festival business, the Berlinale is still an unmatched hub for Festival programmers and festival enthusiasts. Unlike Sundance and Cannes, it is anything but crazy…and there is an unmatched confluence of colleagues able to sit down together in a productive environment to strategize our ways of moving forward together. In that way…it continues to be a truly vital environment for creating community and change in a business context. Even if it is REALLY cold!
Jeffrey Winter March 5th, 2013
Posted In: Film Festivals, International Sales
Tags: Ariel Veneziano, Berlinale, Bryan Glick, EFM, European Film Market, independent film sales, Jeffrey Winter, Recreation Media