[updated comment below-August 28, 2013]
Back in January, I wrote a post called The Independent's Guide to Film Exhibition and Delivery 2013 examining how rapid technological change was impacting the exhibition side of independent film, and how this was affecting  filmmakers' post-production choices and delivery budgets. At the time, I worried that the solid state digital formats emerging as pre-eminent were simply adding cost to delivery and, in fact, creating a new hierarchy in which Studios were grabbing an even larger share of the market simply by virtue of the fact that the available exhibition real-estate was shifting so rapidly to DCP that it might price out both smaller films and smaller venues unable to afford the changeover to DCP.
But surveying the landscape even seven months ago, it seems I underestimated two critical developments that have overtaken the Industry at a breathtaking rate, seemingly changing the world of exhibition and delivery forever. And lest you think my lack of clairvoyance didn't matter – I can sum it up this way: had I known what I know now, I would never have invested so much early 2013 money in HDCAMs for our Film Collaborative films.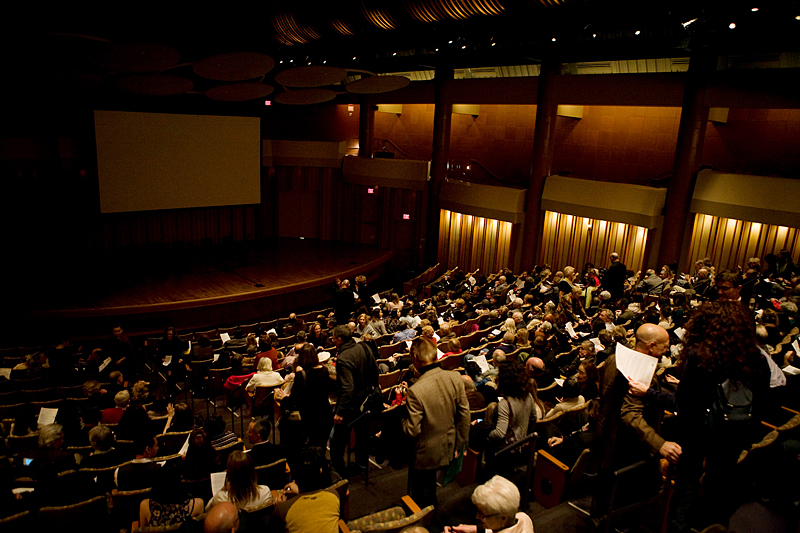 Of the many things that The Film Collaborative does, one of our core services, is booking our clients' and members' films in public venues all over the world – including everything from film festivals, traditional theatrical venues, universities, art galleries, etc. When we first got into doing this, of course most of our films had 35mm prints. And of course, those days are long past…digital tape has been the mainstay for some time now…most notably the HDCAM and the Digibeta before it. Disc-based formats (mostly DVD and recently BluRay) had been largely relegated to preview screeners and the smallest of festivals and venues.
As recently as the Sundance Film Festival (January 2013), all of our films showed at that Festival on HDCAM; DCP was still the exception at Sundance; and BluRay was still nearly unthinkable as a respectable format for a major Film Festival anywhere (note: many of the filmmakers we work with still think BluRay is an unacceptable exhibition format). And the general buzz before, during and after Sundance was that DCPs were creating a lot of technical problems at Festivals, and that BluRays of course were even worse.
Now flash forward to the impending Fall 2013, and everything is remarkably different. And I don't mean subjectively different…as in I think it is different. I mean objectively, measurably, data-driven different, as evidenced by a rather simple breakdown of the data available to us.
Anyone who has had a film on the Festival circuit knows that October is the height of the booking season, the time when all the venues that can't compete with Berlin or Cannes or Toronto before them, but don't want to run into the end-of year Holidays typically stage their events (not to mention the flood of Oscar-bait films that are released by the Studios at the end of the year). As such, October offers the best window into the "generic" state of independent exhibition, and is in fact the largest sample size of data available during the year.
This being already late August, most October festivals and venues are locking their October schedules now. And The Film Collaborative films are featured heavily in the Fall 2013 programming schedules, as evidenced by the 195 separate bookings we have secured for our films scheduled thus far for October. I don't mean 195 screenings mind you, I mean 195 separate engagements across all our films ranging from one day bookings to full theatrical runs.
Of our 195 bookings, the exhibition formats being used for these engagements are as follows (in descending order of frequency): 
BLURAY 144
DVD 25 
DCP 12
HDCAM 10
Digibeta 2
Quicktime File 2
The takeaway here is staggeringly obvious…in the current independent marketplace –especially in the United States — the BluRay rules far and away above all others. And this is NOT because we are forcing BluRays on venues….in every case we tell Festivals and venues what formats we have AVAILABLE, and largely let them make their choice. And for ALL of our films, we have at least two HDCAMS available….they just aren't getting used for almost anything! As such, they are just piling up on my shelves…feeling more and more obsolete every day. And I'll tell you they weren't exactly cheap to make…especially the ones with fabulously mixed 5.1 sound!
I should clearly note that we do NOT have DCP available for all our films, largely because they are expensive to master and we've been able to get away without putting all our films on DCP. But I maintain that this is CRITICAL information for all indie filmmakers who face similar budget choices….clearly one is NOT FORCED by current booking practices to have DCPs available. I can guarantee you we have not lost a single booking due to a festival telling us they can ONLY play DCP (although MANY will tell you they prefer it, especially in Europe).
There is no doubt that if we DID have DCPs available for all our films, that number of DCPs being used in October would change. But I doubt it would shift more than 10%…. Maybe BluRays would go to somewhere like 130 bookings and DCPs to 40 bookings. The difference between the frequency of both formats would still be stark.
I'd also like to say to the naysayers, you'll note that having CLEAN EXHIBITION QUALITY DVDS are still very important…in fact second most after BluRay. That's especially true if you wish to show on the University or Gallery or Church or Community Center circuit….a valuable circuit for most niche-oriented independent film. And I'd especially offer this chart to the Festival programmer who electronically yelled at me via email today saying… "DVD is not an exhibition format!" Clearly, a large percentage of venues disagree.
Some of you will ask….why does this matter? Well, the answer (as always) is largely financial…and offers a fascinating look at how the independent film world continues to adapt to the economic realities of competing in a largely studio and movie star-driven industry.
From the venue side of the equation, HDCAM and other tape-based decks were never cheap to rent, so when suddenly given the choice to opt out entirely in favor of a consumer-priced technology like BluRay…the majority of festivals went running to the shallower (cheaper) side of the pool. Clearly, the added stability of showing HDCAMs (which are incredibly reliable) has not been enough to counter-balance the cost-benefit analysis, particularly because BluRays look and sound damn good when projected even across large throws and large rooms. I know that this cost-benefit analysis will remind many of our older readers of the Betamax/VHS era…when it was well known that Betamax was better quality and more reliable, but the cheaper VHS won out completely because of economics.
Add to this the fact that, with current technology, it is DCPs that are the least reliable common exhibition format, and currently lead to the most delayed and cancelled screenings. To date, software ingestion issues, subtitle problems, and encryption code dramas plague independent DCP exhibition…and almost all festivals showing DCPs in fact require BluRay or DVD backups as well!
From the filmmaker side of the equation, the economic forces swaying the state of delivery and exhibition are even more profound. Until recently, it was a given that independent filmmakers were finishing their films on HDCAM and investing in multiple HDCAM copies for exhibition as well as delivery to distributors and broadcasters, platforms etc. But examining the data above, and given that most distributors and platforms prefer now hard drive delivery anyway…why go to HDCAM at all?
Perhaps a post-supervisor could better answer this question, but one conclusion at least remains true from our January 2013 posting…."For the time being, it seems to wisest to counsel that we deliver films as a Quicktime ProRes 422 file available for quick turnaround at a trusted lab with multi-format output capacity. From there, we can be assured of the ability to take our opportunities whenever and wherever they may lead us."
Back in those old days of January 2013, I made the following statement…"In 2013, the needs of your exhibition formats and delivery formats will likely be determined by how successful your film turns out to be. If your film turns out to be truly theatrical, you will likely need a combination of DCPs and HDCAMs and BluRays to meet the demands." But as we near the end of 2013, I'm thinking that maybe we don't need spend all that money quite yet. Lets go a little slower investing in contemporary formats….and check back in at the beginning of 2014 for the third part in this series….and see where we stand then.
Comment:
Hey Jeffrey,
Enjoyed your latest post. Sadly most of it rings true. You struck a nerve touting BluRay. I'm a film festival and post production veteran. You are correct B/R's are now omnipresent. The demise of tape is tragic actually. Dbeta, HDCAM, SR all bullet proof exhibition formats. You could be reasonably certain if the film was delivered on a pro tape format, some professional editors, colorists etc., had a hand in the film.
Now people deliver exhibition copies on a 33 cent piece of plastic. You are lucky if it comes in a sleeve. Don't expect labels with TRT's, audio or aspect ratio information either. If you ask me, the Fukushima accident killed HDCAM and SR, you couldn't find tape stock so people found another way, but I digress.My concern is the dreaded "can't read disc" or "no disc" message. We have multiple players for this very frequent occurrence. I need to tell to the film maker I've played it in 6 different machines and none of them will read it. I, of course, follow this up with "did you provide a DVD B/U?" I always hear.."well it played on my mac" OMG!
Having spent over a decade as an editor and post supervisor, I am dismayed that film makers spend thousands and thousands of dollars and perhaps years of their lives on a doc or feature and deliver on a B/R! I do exhibition for a living now and you can ask any of the seven projectionists on staff here and they will tell you B/Rs are the bane of our existence. I've been the Technical Director for SILVERDOCS for 10 years, now AFIDOCS. We still don't accept B/Rs, we ran I believe 3 DCPs this year. That said, it was a huge struggle this year getting professional media from all the FM's. I don't buy the "we can't afford tape." Really? Does you premiere mean that little to you? Drop the $150 bucks and have your editor knock out a digital cut to HDCAM.Our experience with DCPs is limited.
I will say this, we don't have any issues when the DCP comes from Deluxe or Technicolor or a reputable post house. When you get the WD passport 1TB drive shipped in bubble wrap that was created by some guy in the film makers spare bedroom on DVD- o- Matic, that's when things get dicey. In defense of DCP, the player will at least verify the file. The B/R on the other hand may play flawlessly at first, then throw up pixels all over a 40′ screen the second screening. Both of these formats are problematic from a festival perspective.
You can't really do a thorough quality control check on DCP's or B/R's unless you have unlimited access to the venue and lots of time before the festival. Tape on the other hand can be QCed in a dark room frame by frame or spot checked. Or if time is short, FFWD to the end and jot down the TRT and time code out! Damn I'm gonna miss tape. The archive scenario is even scarier. Possibly subject mater for you and a future post! With camera acquisition largely file based, I see film makers do a good job backing up camera original files while in production. They get to post, edit, maybe color correct, maybe some sound design, render for hours and hours burn a few discs and they think they are done. Finally, the film maker may have their project backed up on some external drive purchased at Newegg or TigerDirect. Some form of spinning disc that more than likely will crap out when he/she needs it. 
We are in a era where hundreds of hours of material are being lost. DP's and editors I've worked with for years have countless horror stories. So maybe we shouldn't kill off tape so fast? Maybe you dump your select evergreen camera originals, your unmixed masters on a chunk of HDCAM. Put it on a shelf, and if you can find a machine to play it on it twenty years it will look as good as the day you shot it. (The B/R will have returned to dust) There isn't a good answer out there yet, LTO perhaps or solid state drives when they become affordable. My next festival will be in eight different venues, not all DCP equipped, but all have HDCAM and B/R's.
What's a technical director to do?
Regards,
JOHN SUMMERS | Operations Manager 
AFI Silver Theatre and Cultural Center | American Film Institute
Jeffrey Winter August 22nd, 2013
Posted In: Digital Distribution, Theatrical
Tags: BluRay, DCP, Digibeta, DVD, end of digital tape, film festival screenings, HDCam, Sundance Film Festival, theatrical exhibition
2012 was a profound and often painful year in terms of the rapid technological change impacting the delivery and exhibition of independent film.
2012 was the year we wrapped our heads around the idea that there are virtually no more 35mm projectors in theatrical multiplexes, and that the Digital Cinema Package (DCP) has taken its throne as king – right alongside its wicked little stepchild, the BluRay.
2012 was the year it became clear that the delivery and exhibition formats we've been relying on for the last few years (especially HDCAMs) are no longer sufficient, and that in order to keep pace with the marketplace, we must now embrace the next round of digital evolution.
There are many filmmakers who will now want to stop reading, thinking "ughh, techie-nerd speak, that's for my editor and post-supervisor to worry about." You may believe you are first and foremost an artist and a storyteller, but in today's world your paintbrushes are digital capturing devices, and your canvas is the wide array of digital delivery systems available to you. To shield yourself from the reality of how technological change will affect your final product is to face sobering and expensive complications later that will dramatically impact your ability to exhibit your film in today's venues (including film festivals, theatres, and other public screening venues), as well as meet the needs of distributors and platforms worldwide.
And, so, for this New Year, I offer this "Guide to Exhibition & Delivery 2013," a quasi-techie survival guide to the landscape of technological change in the foreseeable future, keeping in mind that this may all look very different again when we revisit this just a year from now…
What changed in 2012?
As 2012 began, major film festivals worldwide had largely coalesced around the HDCAM (despite slight but annoying differences in North American and European frame rates); and distributors and direct-to-consumer platforms were largely satisfied with HDCAM or Quicktime file-format deliveries, although varying platforms required different file specifications which could prove difficult for independent filmmakers to match (most notably iTunes). In addition, a large sector of the distribution landscape, including small film festivals, educational institutions (universities, museums, etc), and even small art house theaters remained content to screen on DVD and other standard-definition formats. The high-definition BluRay – with its beautiful image quality and powerful economic edge in terms of cost of production, shipping, and deck rental — was also emerging as an alternative to HDCAM, Digibeta, and DVD exhibition, despite the warnings by the techie/quality-control class that BluRays would be perilously unreliable in a live exhibition context.
But behind the scenes, the engine of the corporate machine driving studio film distribution was already fast at work driving top-down change. Finally, after years of financial impasse as to how to equip the theatrical network with digital projectors, the multinational Sony / Technicolor / Christie Digital / Cinedigms of the world had immersed themselves fully in the space and converted the North American multiplex system to a digital, file-based projection standard set by DCI LLC (a consortium of the major studios) – saving the studios immeasurably in print and shipping costs, as well as standardizing and upgrading image quality and providing additional security against piracy. This standardization as defined by the DCI studio consortium had already been growing in Europe for years before the North American market caught up, and became known worldwide as the DCP (Digital Cinema Package).
Once the largest technological and exhibition purveyors worldwide had made their move towards standardizing film exhibition, the writing was already on the wall, although it would take several more months to make its impact fully felt in the independent world.
What is a DCP?
A Digital Cinema Package (DCP) is a collection of digital files used to store and convey digital cinema audio, image, and data streams. General practice adopts a file structure that is organized into a number of Material eXchange Format (MXF) files, which are separately used to store audio and video streams, and auxiliary index files in XML format. The MXF files contain streams that are compressed, encoded, and (usually) encrypted, in order to reduce the huge amount of required storage and to protect from unauthorized use (if desired). The image part is JPEG 2000 compressed, whereas the audio part is linear PCM. The (optional) adopted encryption standard is AES 128 bit in CBC mode.
The most common DCP delivery method uses a specialty hard disk (most commonly the CRU DX115) designed specifically for digital cinema servers to ingest the files. These hard drives were originally designed for military use but have since been adopted by digital cinema for their hard wearing and reliable characteristics. The hard drives are usually formatted in the Linux EXT2 or EXT3 format as D-Cinema servers are typically Linux based and are required to have read support for these file systems.
Hard drive units are normally hired from a digital cinema encoding company, sometimes (in the case of studios pictures) in quantities of thousands. The drives are delivered via express courier to the exhibition site. Other, less common, methods adopt a full digital delivery, using either dedicated satellite links or high speed Internet connections.
In order to protect against the piracy fears that often surround digital distribution, DCP typically apply AES encryption to all MXF files. The encryption keys are generated and transmitted via a KDM (Key Delivery Message) to the projection site. KDMs are XML files containing encryption keys that can be used only by the destination device. A KDM is associated to each playlist and defines the start and stop times of validity for the projection of that particular feature.
As a result of all the standardized formatting and encryption features, the DCP offers a quality product generally considered to be superior to 35mm (while simultaneously conforming to the beloved 24 fps rate of 35mm), and a product that can theoretically be shared around the world with less variables and greater reliability than most formats (since 35mm) to date. Given the confusing array of formats facing filmmakers in recent years, there are many ways that the DCP revolution seems a singular advancement worth applauding, and at least on the surface, as a clear way forward for film exhibition and delivery for years to come.
So what's wrong with that?… DCP survival for independents.
Before running out to master your film on DCP now, it is important to consider at least the following mitigating factors, 1) the utility of the format, 2) the price of DCP (including the hidden costs), and 3) the newness of the format and the inherent dangers associated with new formats, and 4) the ways that DCP will not save you from the usual headaches of delivery, and is in many ways an existential threat to independent film distribution as we currently know it.
With regards to the utility of DCP, remember that it is currently a cinema exhibition product, not a format that will be useful for delivery to distributors, consumer-facing platforms, DVD replicators etc. So, obviously you must be quite sure that you have actually made a theatrical film, and by this I mean theatrical in the broadest sense possible…i.e. will your film actually find life in cinematic venues including top film festivals etc. Following the industry at large, film festivals around the globe are in hyper-drive to convert to DCP as their preferred or even exclusive format. Going into the film festival circuit in 2013 and forward in any mainstream/meaningful way without a DCP…especially for narrative features….will be challenging to say the least (although likely still doable if you are willing to forfeit some bookings and some quality controls). But if you aren't sure yet if your film will actually command significant public exhibition at major festivals and theatrical venues, you probably shouldn't dive into the pool just yet. 
Not surprisingly, the largest concern to independents is the issue of price. While nowhere near to the old cost of 35mm, DCP does represent a significant increase in mastering cost over HDCAM, Digibeta etc. In researching this article, most labs quoted me a rate of approx. $2,000 for a ninety minute feature, plus additional costs for the specialty hard drives and cables etc. that put the total closer to $2,500 +. As is the case with most digital products, however, it appears the costs are already headed downward as more and more independent labs get into the space, and it seems reasonable to assume that the price-conscious shopper should be able to find $1,500 and even $1,000 DCPs in the near future (especially with in-house lab deals working for specific distribution companies).
Following the initial mastering costs, the files can be replicated onto additional custom hard drives for prices in the range of $300 – $400, which is at least relatively commensurate with HDCAM replication. This replication process is controversial however — there is no doubt that one can decide to skirt this cost by transferring the files to standard over-the-counter hard drives that run in the range of $100 (we have already distributed one film theatrically and successfully using standard, low-price hard drives). But many labs and exhibitors will warn you against this, telling you that using non-custom hard drives and cables increase the chance that the server at the venue will not be able read the files, and therefore unable to ingest and project the film when it counts most.
In fact, to avoid these potential compatibility issues with differing hard drives, cables etc, some exhibitors (most notably Landmark) are requiring distributors and filmmakers to use specific labs who encode all their content, which perilously puts the modes of production in the hands of the few, and may ultimately keep the cost artificially high. And while indeed there are many reasons to fear compatibility issues between DCP and server (I have already heard of/attended numerous screenings cancelled or delayed in 2012 due to DCP compatibility issues), it is in fact this level of lab and exhibitor control over the product that makes me very nervous about the future of DCP in the independent distribution space.
The most dramatic example of the DCP "threat" to indie distribution is the emergence of the onerous VPF (Virtual Projection Fee) that is now being applied at many (if not most) mainstream theatrical venues (including art house chains like Landmark). The VPF is an $800 – $1,000 per screen fee that is added to the distributor or DIY filmmaker's distribution costs, either leveraged against the film rental or added as a an additional cost to the four-wall. This fee may go down after 20 or so screens, or in a films 3rd or 4th week of adding cities, but otherwise it is largely a fixed fee tacked against the already low profits of most independent theatricals today.
The reason for the fee stems from the fact that the projection companies mentioned earlier (Sony, Christie Digital, etc.) in fact financed the introduction of the digital projectors into the theaters, so the VPF fees largely go towards the recoupment of their investments. But, even once these initial investments have been paid off, it is likely that the VPF will continue as a valuable money-maker for the tech companies, and is not likely to disappear any time soon. And in this age where the financial model of independent theatrical distribution hangs so perilously on a knife's edge anyway, the VPF almost feels like a coup-de-grace dooming small theatrical releases from the get-go.
Another troublesome aspect of DCP distribution is the very encryption technology that was meant to make the product safer from piracy, but also adds an additional level of bureaucracy and cost that most independents cannot realistically afford. The encryption keys (known as KDMs) are controlled entirely by large labs like Technicolor, and are transferred directly from companies like Technicolor to specific theaters within specific venues for limited windows of time. Anyone who has been involved with the free-wheeling nature of independent distribution knows that relying on large labs for print trafficking and shepherding is expensive and time-consuming, and cuts deeply into already marginal profits. And if you are creating DCPs for film festival distribution, the very idea that a single theater in a far-flung locale must rely on a 3rd party lab to get a specific KDM code for its screenings seems akin to courting disaster to me. Indeed, I know several independent festivals that are not accepting DCPs at this point, simply because they refuse to subject themselves to the whims of the studio KDMs.
For the above reasons and more, I've encountered several Industry folks who have been so blunt as to tell me, "DCPs were invented to put independents out of business."
While I'm not quite ready to go there, I will add that the most pernicious aspect of DCP introduction into the market in my opinion is the way that they are already creating a new two-tier distribution market between those larger festivals and venues that can afford DCP projection and those mid-sized and smaller than cannot and perhaps never will be (given the prohibitive cost of the projector technology). As such, DCP does not replace the HDCAMs, Digibetas etc of old, it is rather an additional format that independents must contend with – good in some situations, useless in others – and yet an additional cost to add to your contemporary distribution budget.
As a result of the emerging two-tiered system; with DCP for the better-funded venues and alternatives for the smaller, less-funded; there remains a gaping hole in the contemporary exhibition system which is increasingly filled by the most seductive and problematic format available to independent filmmakers today – and by that of course I mean the BluRay.
The bastard step-child, the BluRay.
Yes I used the word bastard deliberately and with purpose, because the BluRay is the most enticing and simultaneously cruel of the contemporary exhibition/delivery formats.
For independent filmmakers and exhibitors (including theaters, festivals, and other venues) alike, the BluRay seems at first glance an ideal option – inexpensive to produce and inexpensive to ship – to go along with inexpensive players and projectors that can be bought at consumer-level prices. And the quality of both image and sound is usually shockingly good – usually commensurate with the best HDCAM ever had to offer.
As such, the economics of film exhibition have lead to an explosion of BluRay use in 2012, with the format beginning the year as an enticing alternative but quickly emerging as the mainstay of mid-to small size venues in both North America and Europe. But just as quickly as BluRay has emerged, a truism about today's BluRay technology has become painfully clear – it exists at consumer-level pricing because it is not a professional product – and its failure rate in live exhibition context is dangerously (if not outright unacceptably) high.
Consider the following: In recent years prior to 2012, it was nearly unheard of that a booking at a theater or festival should need to be cancelled or delayed due to exhibition format failure…because formats like 35mm or BetaSP or Digibeta or  HDCAM were nothing if not reliable. But suddenly in 2012, the cancelled screening, or the delay mid-screening, or the skipping and freezing of a disc mid-screening became commonplace. To our dismay, it has become normal in 2012 to stop a screening mid-stream for a few moments to switch to a back-up DVD to replace a faulty BluRay. In our haste to transform to the miracles that BluRays seemed to afford us, a variable of chaos and unreliability has been introduced…and as yet there are no easy answers to this conundrum anywhere in sight.
There are numerous factors that account for BluRay unreliability – too many in fact to list in their entirety in this posting. There are many compression issues – resulting in variable gigbyte-per-layer Blurays from 25GB per layer to dual layer to triple layer to quadruple layer discs etc. These are profoundly complicated by player-compatibilty issues – meaning that many BluRays that play perfectly in one player will not even load in another. There are also significant regional differences between BluRay formats – similar but even more complicated than the old PAL vs. NTSC coding schemes. Layer onto this the fact that BluRays are fragile and scratch easily and do not traffic well and are easily lost, and we have arrived upon a formula for delivery chaos, to say the least.
As of today, as we go to print on this post, an uneasy truce on the proper protocol of BluRay delivery seems to be emerging Industry wide…for the moment at least. If you are going to screen your film on BluRay, you must provide at least a DVD back-up in case something goes wrong. Ideally, you should provide 2 BluRays, each of which have been tested, and a DVD back up as well. You still might experience screenings where your film will be stopped mid-stream, and replaced by one of the back-ups, but at least you won't likely face the humiliation of a fully cancelled screening.
It's hard to call this progress….but for the moment this is the price we are paying for digital evolution. The irony is…if BluRays were just a little cheaper than they currently are (generally somewhere between $10 – $40 each following an initial $300 – $500 investment), we might all dispense with attempting to traffic them completely, and just provide pristine BluRays for each screening (with somewhat less propensity for failure). This might solve some of the trafficking and delicacy issues, but this does not seem realistic for most filmmakers just yet, especially as so many other factors still come to bear. To be clear, the issues of BluRay unreliability are far more complex than just scratches and trafficking issues, so providing pristine BluRays to each booking will not solve all the issues, and DVD backup will still be necessary for the foreseeable future.
The further irony here is that DVDs, long since seen as less reliable although in all other ways preferable over the old VHS format, have now become the stalwart back-up to the BluRay…for even the traditional 5% failure rate for the DVDR format have become models of reliability as compared with the mercurial nature of the contemporary BluRay. Thankfully, today's DVDs rarely fail in a pinch…
Where do we go from here?
When finishing a film in early 2013, filmmakers are now faced with the question of what delivery formats to create to meet delivery and exhibition demands. However, given the volatility of the current delivery landscape, it may be actually best to NOT commit to any particular exhibition format, and instead finish your film in a digital (hard-drive) format that you can keep as a master at a trusted lab for future needs down the road. It is advisable to have your film in the most flexible format possible, until you are forced by circumstance to deliver a specific format for a specific purpose.
The most flexible and useful format to initiate most exhibition/delivery formats at the moment is the Apple ProRes 422 digital file. Apple ProRes is a line of intermediate codecs, which means they are intended for use during video editing, and not for practical end-user viewing. The benefit of an intermediate codec is that it retains higher quality than end-user codecs while still requiring much less expensive disk systems compared to uncompressed video. It is comparable to Avid's DNxHD codec or CineForm who offer similar bitrates which are also intended to be used as intermediate codecs. ProRes 422 is a DCT based intra-frame-only codec and is therefore simpler to decode than distribution-oriented formats like H.264.
From your ProRes 422 file, you will be able to make any format you need for today's distribution landscape….from DCPs and BluRays to HDCAMs and any digital files you may need for platform distribution worldwide. This makes it ideal as an intermediary format as you consider your next steps forward.
In 2013, the needs of your exhibition formats and delivery formats will likely be determined by how successful your film turns out to be. If your film turns out to be truly theatrical, you will likely need a combination of DCPs and HDCAMs and BluRays to meet the demands. But if your film turns out to have limited public exhibition applications, then perhaps a mix of BluRays, DVDs, and digital files may be all you need. Rather than make those decisions in advance, we recommend you pursue a delivery strategy that lets the marketplace make those decisions for you.
In 2013, these delivery strategies will be impacted by the rate of technological development, just as they were in 2012. For the time being, it seems to wisest to counsel that we not get ahead of ourselves, and deliver films as a ProRes 422 file available for quick turnaround at a trusted lab with multi-format output capacity. From there, we can be assured of the ability to take our opportunities whenever and wherever they may lead us.
Jeffrey Winter January 7th, 2013
Posted In: Digital Distribution, Distribution, Theatrical
Tags: BluRay, DCP, Digibeta, Digital Cinema Package, digital delivery systems for film, digital film distribution, file formats for film, HDCam, independent cinema, independent film, independent film distribution, Jeffrey Winter, KDM, theatrical distribution