By Smriti Mundhra
Smriti Mundhra is a Los Angeles-based director, producer and journalist. Her film A Suitable Girl premiered at the Tribeca Film Festival in 2017 and is currently playing at festivals around the world, including Sheffield Doc/Fest and AFI DOCS. Along with her filmmaking partner Sarita Khurana, Smriti won the Albert Maysles Best New Documentary Director Award at the Tribeca Film Festival.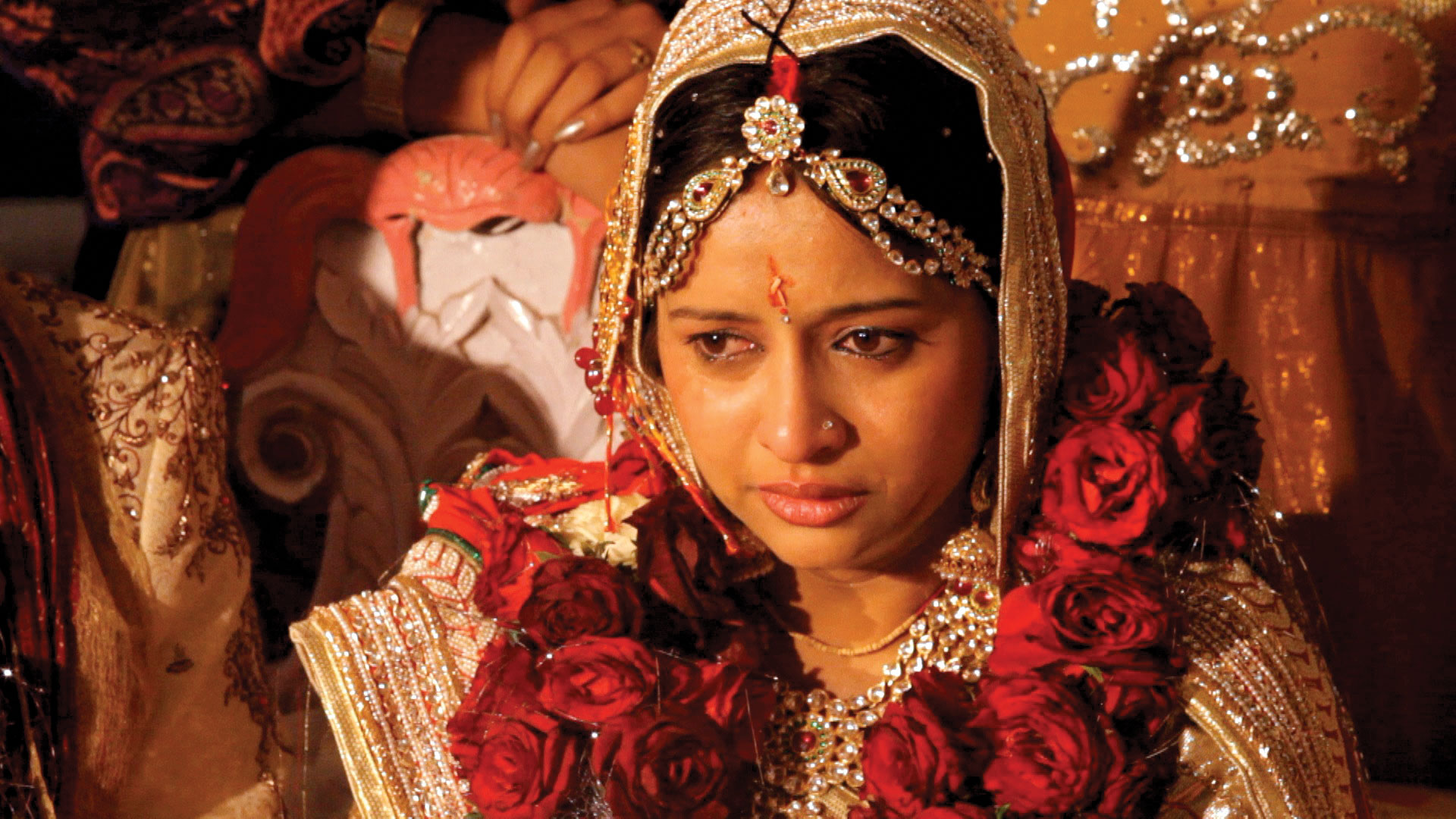 I recently attended a panel discussion at a major film festival featuring funders from the documentary world. The question being passed around the stage was, "What are some of the biggest mistakes filmmakers make when producing their films?" The answers were fairly standard—from submitting cuts too early to waiting till the last minute to seek institutional support—until the mic was passed to one member of the panel, who said, rather condescendingly, "Filmmakers need to be aware of what their films are worth to the marketplace. Is there a wide audience for it? Is it going to premiere at Sundance? Don't spend $5 million on your niche indie documentary, you know?"
Immediately, my eyebrow shot up, followed by my hand. I told the panelist that I agreed with him that documentaries—really, all independent films—should be budgeted responsibly, but asked if he could step outside his hyperbolic example of spending $5 million on an indie documentary (side note: if you know someone who did that, I have a bridge to sell them) and provide any tools or insight for the rest of us who genuinely strive to keep the marketplace in mind when planning our films. After all, documentaries in particular take five years on average to make, during which time the "marketplace" can change drastically. For example, when I started making my feature-length documentary A Suitable Girl, which had its world premiere in the Documentary Competition section of this year's Tribeca Film Festival, Netflix was still a mail-order DVD service and Amazon was where you went to buy toilet paper. What's more, film festival admissions—a key deciding factor in the fate of your sales, I've learned—are a crapshoot, and there is frustratingly little transparency from distributors and other filmmakers when it comes to figuring out "what your film is worth to the marketplace."
Sadly, I did not get a suitable answer to my questions from the panelist. Instead, I was told glibly to "make the best film I could and it will find a home."
Not acceptable. The lack of transparency and insight into sales and distribution could be the single most important reason most filmmakers don't go on to make second or third films. While the landscape does, indeed, shift dramatically year to year, any insight would make a big difference to other filmmakers who can emulate successes and avoid mistakes. In that spirit, here's what I learned about sales and distribution that I wish I knew a year ago.
As any filmmaker who has experienced the dizzying high of getting accepted to a world-class film festival, followed by the sobering reality of watching the hours, days, weeks and months pass with nary a distribution deal in sight can tell you, bringing your film to market is an emotional experience. This is where your dreams come to die. A Suitable Girl went to the Tribeca Film Festival represented by one of the best agent/lawyers in the business: The Film Collaborative's own Orly Ravid (who is also an attorney at MSK). Orly was both supportive and brutally honest when she assessed our film's worth before we headed into our world premiere. She also helped us read between the lines in trade announcements to understand what was really going on with the deals that were being made – because, let's face it, who among us hasn't gone down the rabbit hole of Deadline.com or Variety looking for news of the great deals other films in our "class" are getting? Orly kept reminding us that perception is not reality, and that many of these envy-inducing deals, upon closer examination, are not as lucrative or glamorous as they may seem. Sometimes filmmakers take bad deals because they just don't want to deal with distribution, have no other options, and can't pursue DIY, and by taking the deal they get that sense of validation that comes with being able to say their film was picked up. Peek under the hood of some of these trade announcements, and you'll often find that the money offered to filmmakers was shockingly low, or the deal was comprised of mostly soft money, or—even worse—filmmakers are paying the distributors for a service deal to get their film into theaters. There is nothing wrong with any of those scenarios, of course, if that's what's right for you and your film. But, there is often an incorrect perception that other filmmakers are somehow realizing their dreams while you're sitting by the phone waiting for your agent to call.
Depressed yet? Don't be, because here's the good news: there are options, and once you figure out what yours are, making decisions becomes that much easier and more empowering.
Start by asking yourself the hard questions. Here are 12+ things Orly says she considers before crafting a distribution strategy for the films she represents, and why each one is important.
At which festival did you have your premiere? "Your film will find a home" is a beautiful sentiment and true in many ways, but distributors care about one thing above all others: Sundance. If your film didn't beat the odds to land a slot at the festival, you can already start lowering your expectations. That's not to say great deals don't come out of SXSW, Tribeca, Los Angeles Film Festival and others, but the hard truth is that Sundance still means a lot to buyers. Orly also noted that not all films are even right for festivals or will have a life that way, but they can still do great broadcast sales or great direct distribution business – but that's a specific and separate analysis, often related to niche, genre, and/or cast.
What is your film's budget? How much of that is soft money that does not have to be paid back, or even equity where investors are okay with not being paid back? In other words, what do you need to net to consider the deal a success? Orly, of course, shot for the stars when working on sales for our film, but it was helpful for her to know what was the most modest version of success we could define, so that if we didn't get a huge worldwide rights offer from a single buyer she could think creatively about how to make us "whole."
What kind of press and reviews did you receive? We hired a publicist for the Tribeca Film Festival (the incomparable Falco Ink), and it was the best money we could have spent. Falco was able to raise a ton of awareness around the film, making it as "review-proof" as possible (buyers pay attention if they see that press is inclined to write about your film, which in many cases is more important to them than how a trade publication reviews it). We got coverage in New York Magazine, Jezebel, the Washington Post and dozens of other sites, blogs, and magazines. Thankfully, we also got great reviews in Variety and The Hollywood Reporter, and even won the Albert Maysles Prize for Best New Documentary Director at Tribeca. Regardless of how this affected our distribution offers, we know for sure we can use all this press to reignite excitement for our film even if we self-distribute. On the other hand, if you're struggling to get attention outside of the trades and your reviews are less than stellar, that's another reason to lower expectations.
What are your goals, in order of priority? Are you more concerned with recouping your budget? Raising awareness about the issues in your film (impact)? Or gaining exposure for your next project/ongoing career? And don't say "all three"—or, if you do, list these in priority order and start to think about which one you're willing to let go.
How long can you spend on this film? If your film is designed for social impact, do you intend to run an impact/grassroots campaign? And can you hire someone to handle that, if you cannot? Do you see your impact campaign working hand in hand with your profit objectives, or separately from them? The longer you can dedicate to staying with your film following its premiere, the more revenue you can squeeze out of it through the educational circuit, transactional sales, and more. But that time comes at a personal cost and you need to ask yourself if it's worth it to you. Side note: touring with your film and self-distributing are also great ways to stay visible between projects, and could lead to opportunities for future work.
Does your film have sufficient international appeal to attract a worldwide deal or significant territory sales outside of the United States? If you think yes, what's your evidence for that? Are you being realistic? By the way, feeling strongly that your film has a global appeal (as I do for my film) doesn't guarantee sales. I believe my film will have strong appeal in the countries where there is a large South Asian diaspora—but many of those territories command pretty small sales. Ask your agent which territories around the world you think your film might do well in, and what kinds of licensing deals those territories tend to offer. It's a sobering conversation.
Does your film fit into key niches that work well for film festival monetization and robust educational distribution? For example, TFC has great success with LGBTQ, social justice, environmental, Latin American, African American, Women's issues, mental health. Sports, music, and food-related can work well too.
Does your film, either because of subjects or issues or both, have the ability to command a significant social media following? A "significant" social media following is ideally in the hundreds of thousands or millions of followers, but is at least in the high five figures. We know the last thing you want to think about when you're trying to lock picture, run a crowdfunding campaign, deal with festival logistics, and all the other stress of preparing for your big debut is social media. But don't sleep on it. Social media is important not only to show buyers that there is interest in your film, but also ideas on how to position your film and which audiences are engaging with it already. Truth be told, unless you're in the hundreds of thousands or millions of followers range, social media probably won't make or break your distribution options, but it can't hurt. And, in our case, it actually helped us get a lot of interest from educational distributors, who were inspired by the dialogue they saw brewing on our Facebook page.
How likely is your film to get great critic reviews, and thus get a good Rotten Tomatoes score? Yeah, not much you can do to predict this one. However, a good publicist will have relationships with critics who can give you some insight into what the critical reaction to your film might be, before you have to read it in print. They also reach out to press who they think will like your film, keep tabs on reactions during your press and industry screenings, and monitor any press who attend your public screenings. This data is super useful for your sales representatives.
How likely is your film to perform theatrically (knowing that very few do), sell to broadcasters (some do but it's very competitive), sell to SVOD platforms (as competitive as TV), and sell transactionally on iTunes and other similar services (since so many docs do not demand to be purchased)? While these questions are easy to pose and hard to answer, start by doing realistic comparisons to other films based on the subject, name recognition of filmmakers, subject, budget, festival premiere status, and other factors indicating popularity or lack thereof. Also adjust for industry changes and changes to the market if the film you are comparing to was distributed years before. Furthermore, adjust for changes to platform and broadcaster's buying habits. Get real data about performance of like-films and adjust for and analyze how much money and what else it took to get there.
Can your film be monetized via merchandise? Not all docs can do this, but it can help generate revenue. So, go for the bulk orders of t-shirts, mugs, and tote bags during your crowdfunding campaign and sell that merch! Even if it just adds up to a few hundred extra dollars, for most people it's pretty easy to put a few products up on their website.
Does your film lend itself to getting outreach/distribution grants, or corporate sponsorship/underwriting? With the traditional models of both film distribution and advertising breaking down, a new possibility emerges: finding a brand with a similar value set or mission as your film to underwrite some portion of your distribution campaign. I recently spoke to a documentary filmmaker who sold licenses to his film about veterans to a small regional banking chain, who then screened the film in local communities as part of their outreach effort. The bank paid the filmmakers $1000 per license for ten separate licenses without asking them to give up any rights or conflict with any of their other deals—that's $10,000 with virtually no strings attached. Not bad!
Sadly, Netflix is no longer the blank check it once was (or that I imagined it to be) and the streaming giant is taking fewer and fewer risks on independent films. Thankfully, Amazon is sweeping in to fill the gap, and their most aggressive play has been their Festival Stars program. If you're lucky enough to premiere in competition at one of the top-tier festivals (Sundance, SXSW, and Tribeca for now, but presumably more to come), then you already have a distribution deal on the table: Amazon will give you a $100,000 non-recoupable licensing fee ($75,000 for documentaries) and a more generous (double) revenue share than usual per hour your film is streamed on their platform for a term of two years. For many independent films, this could already mean recouping a big chunk of your budget. It also provides an important clue as to "what your film is worth to the marketplace"—$100,000 seems to be the benchmark for films that can cross that first hurdle of landing a competition slot at an A-list festival.
I'll admit, I was a snob about the Amazon deal when I first heard about it. I couldn't make myself get excited about a deal that was being offered to at least dozen other films, sight unseen, with no guarantee of publicity or marketing. A Facebook post by a fellow filmmaker (who had recent sold her film to a "legit" distributor) blasting the deal as "just a steep and quick path to devalue the film" left me shaken. But again, appearances proved to be deceiving.
I discussed my concerns with Orly, and she helped me see that with so few broadcast and financially meaningful SVOD options for docs, having a guaranteed significant platform deal with a financial commitment and additional revenue share is actually a great thing. Plus, one can build in lots of other distribution around the Amazon deal and end up with as robust a release as ever there could be. Orly says one should treat Amazon as a platform (online store) but as a distributor and that can provide for all the distribution potential. If one does manage to secure an all-rights deal from a "legit" distributor (we won't name names, but it's the companies you might see your friends selling their films to), oftentimes that distributor is just taking the Amazon deal on your behalf anyway, and shaving off up to 30% of it for themselves. So the analysis needs to be what is that distributor doing, if anything, to create additional value that merits taking a piece of a deal you can get on your own? Is it that much more money? Is it a commitment to do a significant impactful release? Are the terms sensible in light of the added value and your recoupment needs? Can you accomplish the same via DIY? Perhaps you can, but don't want to bother. That's your choice. But know what you are choosing and why.
Independent filmmakers are, yet again, in uncharted territory when it comes to distribution. Small distributors are closing up shop at a rapid pace. Netflix and Hulu are buying less content out of festivals, and creating more of it in house. Amazon's Festival Stars program was just announced at Sundance this year (2017) and doesn't launch until next Spring, so the jury is out as to whether it will really be the wonderful opportunity for filmmakers that it claims to be. By this time next year, several dozen films will have inaugurated the program and will be in a position to share their experiences with others. I hope my fellow filmmakers will be willing to do so. Given the sheer variety of films slated to debut on the platform, this data can be our first real chance to answer the question that the funder on the panel I attended refused to: "What is my film worth to the marketplace?"
Orly adds that the lack of transparency is, of course, in great part attributable to the distributors and buyers, who maintain a stranglehold on their data, but it's also due to filmmakers' willful blindness and simple unwillingness to share details about their deals in an effort to keep up appearances. That's totally understandable, but if we can break the cycle of competing with each other and open up our books, we will not only have more leverage in our negotiations with buyers, but will be equipped to make better decisions for our investors and our careers. Knowledge is power, and if we all get real and share, we'll all be informed to make the best choices we can.
admin July 5th, 2017
Posted In: Amazon VOD & CreateSpace, Digital Distribution, Distribution, Distribution Platforms, DIY, education, Film Festivals, Hulu, International Sales, iTunes, Marketing, Netflix, Publicity, Theatrical
Next Page »