a guest post by Allie Hoffman of Picture Motion
Two of this years' biggest film + social action campaigns focused on women's issues: Half the Sky* and 10×10 (now retitled, 'Girl Rising')*.  Both campaigns were conceptualized by media professionals with established reputations; Nick Kristof and Sheryl Wu Dunn launched the movement with their best-selling book; prior to that, Mr Kristof was a 2-time Pulitzer Prize winning NYT columnist. Kristof's network of leaders – non-profit, country, international NGOs, celebs and change makers – is (likely) one of the largest.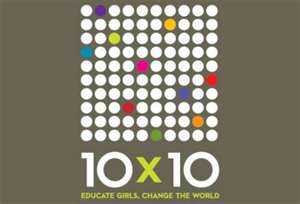 The 10×10 campaign began at the Documentary Group, an offshoot of Peter Jennings' production company. The Emmy-award winning leadership team had worked for decades within the world of broadcast media, which endowed the project with a devoted network of media, corporate and non-profit contacts.Both projects leveraged their contacts expertly. While we recognize these examples are extraordinary – and most independent documentary filmmakers are significantly less networked –  both campaigns evidence the power of  a diversified partnership strategy.
The table below dissects these partnerships across 6 categories:
| | | | | | | |
| --- | --- | --- | --- | --- | --- | --- |
| | Corporate | Govt / Federal Funds | Private Foundations | UN Agencies | Intl NGOs | Local NGOs |
| 10×10 | Intel, google | | Vulcan | UN Foundation (GirlUp) | Plan, Global Campaign for Education, Room to Read | Afghan Connection, A New Day Cambodia, Pratham, |
| Half the Sky | Ikea, Coca Cola, Vagisil, Goldman Sachs, Nike | USAID, National Endowment for the Arts | Ford, MacArthur, Gates, Rockefeller | UN Foundation | World Vision, Save the Children,  CARE | Nearly 30: Examples inc Edna Adan Maternity Hospital, GEMS, Umoja Womens' Village |
By targeting many different types of organizations – and creating numerous partnerships within each category – the campaigns were exponentially strengthened.
Getting organizations on board to engage in meaningful partnership with your film can be an epic challenge; the large ones are slow moving, and the small ones are limited in their scope.  All this being true, progress can be expedited by employing these tactics:
– Research. Understand the organization's program areas and its communications infrastructure. Conduct extensive research on relevant, direct contacts. Gather all the info in a spreadsheet. We often find the following helpful:
Take a quick glance at any non-profit's IRS 990 forms to understand size and financial resources
Review the facebook page to understand their digital engagement capacity
Download Annual Reports to glance programs, and leadership
Pull press releases for direct contact info, if you cant find it anywhere else – its almost always there!
– Create goals. Create a list of possible areas for collaboration, with the greatest opportunities for the film at the top. Think BIG.
Consider your timing; often organizations are slow-moving when it comes to establishing partnerships like this, and it can take weeks – if not months – to see results. As such, try to avoid approaching potential partners 2 weeks before your launch/premiere, etc. Make it clear to them they're an integral part of your campaign by approaching them 6-8 weeks before any campaign milestones.
–Align interests + communicate your goals. Clearly communicate how the partnership will help you meet your campaign goals, what you need from the partner, and how it's in their interest to partner with you. Articulate all the ways the partner organization might benefit. Be willing to compromise. Log all these ideas into your spreadsheet.
–Make it official. As much as possible, create a simple agreement that outlines what the organization has said they would do, and what your team has committed to doing. Log all these commitments into your spreadsheet.
–Track results. Every mention in newsletters, on facebook pages, every time the organization hosts a screening – log it in your spreadsheet. Also record the number of people within the organization's communications network. In other words, how many people received that newsletter? How many facebook likes? How many people at the screening? All this information quantifies your campaign's reach, and overall impression.
Learn more
Other film campaigns that created issue-specific, numerous, dynamic and engaged partnerships:
www.takepart.com/foodinc/action
We look forward to feedback below. Email me at allie@picturemotion.com with any direct inquiries.
About the Author
Allie Hoffman is Director of Communications at Picture Motion, where she manages partnership development for the agency's film + social action campaigns. Current projects include Beauty is Embarrassing and First Generation.
*editors notes
Half the Sky is a landmark transmedia project featuring a four-hour PBS primetime national and international broadcast event, a Facebook-hosted social action game, mobile games, two websites, educational video modules with companion text, a social media campaign supporting over 30 partner NGOs, and an impact assessment plan all inspired by Half the Sky: Turning Oppression into Opportunity for Women Worldwide, the widely acclaimed book by Nicholas Kristof and Sheryl WuDunn.
Girl Rising is the feature-length film at the center of 10×10's global action campaign for girls' education. The film reveals the extraordinary stories of girls from around the globe, fighting to overcome impossible odds on the road to realizing their dreams of education. Directed by Academy Award nominated documentary director Richard E. Robbins, Girl Rising tells the stories of 10 girls from 10 countries, selected in consultation with 10 acclaimed women writers, working closely with non-profit partners.
Orly Ravid December 5th, 2012
Posted In: Community partnership, education, Marketing
Tags: 10x10, Allie Hoffman, Community partnership for films, Documentary Group, Girl Rising, Half the Sky, Nick Kristoff, Peter Jennings, Picture Motion, Sheryl Wu Dunn, social action, women't issues