Narrative film roundup from the Spring festivals
Ed note: TFC colleague Bryan Glick is taking a look at how officially selected films have performed in release since their premieres at the major Spring film festivals SXSW, Tribeca and Cannes 2013. In this second post, he covers the narrative films. His look at documentaries can be found HERE.
CANNES
There is no better worldwide platform launch than Cannes. For foreign language films, it is arguably the best place to solicit North American interest. 20 World Premieres (or 25% of selected films) from Cannes 2013 grossed over $100k and 10 of those grossed over $1 Million theatrically in North America. These films also frequently perform much better internationally. Four foreign language films managed over $1 Mil and 11 over $100k. No fest has such a strong record for non-English Language content. Additionally Nebraska, Inside Llewyn Davis, The Missing Picture, The Great Beauty, All is Lost, and Omar all found their way to Oscar Nominations. And another 9 films from the fest were official Oscar submissions from their country. Cannes has the perception of the ultimate endorsement. It is one of not even a handful of laurels that automatically adds value to a film.
However, less than 2/3 of world premieres got any sort of North American distribution. This is below the % from Sundance, SXSW, Tribeca and only slightly above the behemoth of TIFF. Naturally, the films performing at the top of the box office are primarily from those selected for main competition and are most likely to facilitate distribution deals.
Turning to this year's festival, a little over 30 films currently have North American distribution. 1/3 of those are from Sony Picture Classics! They have a whopping 10 films. They went into the fest with competition award winners Mr. Turner (Best Actor) and Foxcatcher (Best Director) pre-attached. Prior to the fest they also snagged Coming Home and Red Army. On top of that, they added Wild Tales, Saint Laurent, Jimmy's Hall, and Best Screenplay winner Leviathan from the main competition. In addition, they took the doc The Salt of the Earth.
Not far behind was IFC with 6 films. They arrived with competition titles Clouds of Sils Maria, and Two Days, One Night. They added to their impressive tally Bird People and The Blue Room from Un Certain Regard and wrapped it up with The Salvation from the midnight lineup.
Those two companies combined for ½ of all Cannes 2014 films with distribution in the US! They also indirectly highlight what was clearly missing from this year's Cannes crop. No studio presence in any competitive sections. Warner Bros technically has Ryan Gosling's directorial debut, but multiple reports suggest the distributor is trying to pawn it off to a smaller company and cut their losses.
A number of distributors though still had reason to be happy.  Radius-TWC, TWC, Cohen Media Group, Magnolia. And A24 each have a pair of titles.
A24 took the critically panned, but star heavy The Captive and just opened The Rover last Friday to a US opening weekend gross of over $69K in 5 theaters. The film is performing much better in France, Australia and Belgium though.
TWC had opening night Grace of Monaco and The Disappearance of Eleanor Rigby which screened as two different films at TIFF and will be released as three different films in the Fall. The genre heavy and younger skewing Radius-TWC took two films from Critic's Week, the American horror film It Follows and When Animals Dream.
Magnolia took the top two prize winners from Un Certain Regard Force Majeure and White God. Cohen Media Group continues their trend into foreign cinema with Timbuktu and In the Name of My Daughter (screened out of competition).
Other companies to acquire include Strand Releasing (Girlhood), Saban Films (The Homesman), Music Box Films (Gett: The Trial of Viviane Amsallem), WellGo USA (These Final Hours), and EOne (Map to the Stars)
Many of these films have very good prospects in North America and around the world.
TRIBECA
Admittedly, Tribeca is frequently a dump off site for Sundance narrative rejects. Multiple people have opined that the fest would do better to just focus on docs. The performance of last year's narrative lineup shows that there is some life left for their non doc films, but not much.
The English Teacher which was pre-bought by Cinedigm was the only scripted fare at last year's fest to pass $100k (which it barely accomplished). French specialty arm Distrib Films pushed Just a Sigh to just over $71k with only a few small venues left to play.
Lagging behind are Focus World/Screen Media's day and date release of A Birder's Guide to Everything ($48k), Strand Releasing's Bicycling with Moliere ($49k) and Israeli genre fare Big Bad Wolves which managed $33k as a day and date with Magnolia.
What the fest proved to do last year though was highlight a number of films in their North American premiere. Berlin titles Broken Circle Breakdown, The Rocket and Reaching for the Moon all were met with some success. 'Broken' secured an Oscar Nomination and grossed $154k through Tribeca Films. Kino Lorber got the Australian made, but Laos set Rocket  to manage $54k and Wolfe Releasing saw $45k for Reaching on top of massive festival exposure. The Film Collaborative handled grassroots marketing and fests on the latter.
Nothing else grossed over $25k in theatrical relase, though many films performed well digitally in the hands of IFC, Anchor Bay, Oscilloscope, Vertical Entertainment, Tribeca Films, XLRator Media, Samuel Goldwyn, and Dark Sky Films.  Notably, The Machine is currently in the top 10 on ITunes. In all, over 70% of the narrative films that premiered at Tribeca have some form of domestic distribution confirmed.  Only Sundance had a higher rate of distribution. But, American films from Tribeca rarely played well internationally.
Turning to Tribeca 2014 the big deals were once again for docs, but there some notable narrative acquisitions. About 20% of films available when the fest was announced have since been acquired
IFC took Extraterrestrial, 5 to 7, and Match. Likely all three will be VOD focused. Magnolia took Life Partners, Film Movement opted for Human Capital, and Zeitgeist has Zero Motivation.
Additionally About Alex went to Screen Media, Summer of Blood sold to MPI, and The Canal  will be working with The Orchard.
SXSW
Where SXSW has an advantage over Tribeca is that there is a clear sense of programming and demographics. Tribeca is often the back up to Sundance, while SXSW is the place for younger, edgier, hipper fare. Naturally, many of the narrative deals from SXSW this year were for genre films.
Magnet took Honeymoon which is the rare film to premiere at SXSW and screen at Tribeca. Lionsgate bought Exists, Cinedigm peeked into Open Windows, and Radius-TWC invested in Creep. IFC Midnight went for Home and the time traveling teen sexy comedy Premature and mainstay label IFC bought Kelly and Cal. XLRator bought Housebound and The Mule and Oscilloscope took Buzzard.
Radius-TWC has already released this year's  13 Sins and Magnet released Stage Fright.Both were ultra VOD releases with so-so digital performance and middling box office.
Additionally, the fest was the world premiere choice for Chef which has become the 3rd highest grossing indie this year so far and Veronica Mars is the highest grossing day and date release so far this year.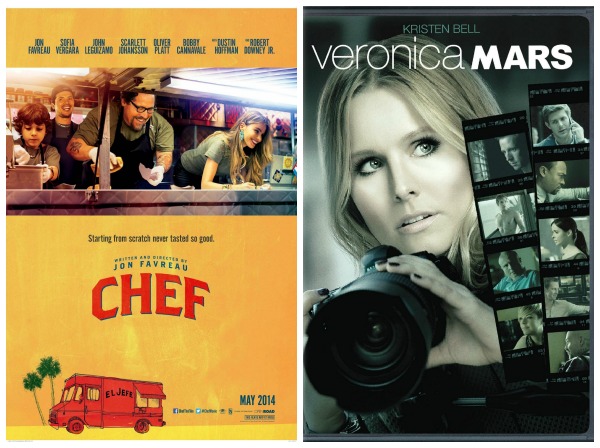 Last year's fest saw the massive breakout Short Term 12 gross over $1 Mil in the hands of Cinedigm and dominate critic's lists. Magnolia did over $343k with Joe Swanberg's Drinking Buddies. The latter was day and date. Both films outgrossed all of the Tribeca Premieres from 2013.
Also performing somewhat well was Drafthouse Films Cheap Thrills which did $59K at the box office and Variance's service release of The Retrieval which will pass $50k this week. Variance also did $62k with John Sayle's Go For Sister which had its North American premiere at the fest.
A large number of films from the fests last year went digital only, had small theatricals, and/or set up self financed releases. Tribeca has started to take notice and this year a number of films premiering there opted for this route.
Cannes continues to be the one major festival holdout where films premiere and wait it out for distribution offers.
Bryan Glick June 19th, 2014
Posted In: Digital Distribution, Distribution, Film Festivals, Theatrical
Tags: Bryan Glick, Festival de Cannes, festival roundup, Film Festivals, independent film, narrative films, SXSW, The Film Collaborative, Tribeca