Cannes Film Festival & Market Guide — The Most Important & Overwhelming Film Event of the Year
Today's guest post is from Matthew Helderman, founder and CEO of Buffalo 8 Productions and BondIt, a new service that cash-flows union bond deposits for independent feature films. Having just returned from this year's Cannes Film Festival, here are his impressions and advice for filmmakers thinking of attending the festival one day.
Cannes 2014 – Introduction
Each year tens of thousands descend upon Cannes in the south of France for the biggest and most exceptional film event of the year. From screenings of competition films, market shopping for completed films looking for additional sales opportunities and more events than one can count — the Cannes Festival is all at once incredibly exhilarating, essential for business and filmmaking endeavors and downright exhausting!
Cannes is the essential market for both new & old content — whether developing new material, finishing up post-production on others or selling international rights for ancillary one off revenues or library generating cash-flow.
Over the past few years as our feature film library has grown in size from a handful of titles to nearly 35+ titles by Cannes 2014 — our approach and experience at the festival has changed. At Buffalo 8 Productions — we represent a library of feature films ranging from micro-budgeted $100k features up to films at the $3M mark — spanning genre's, cast strength and value.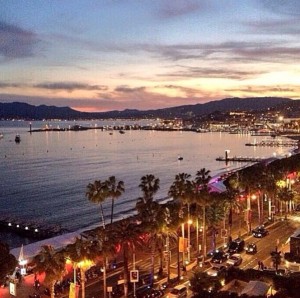 Cannes 2014 – The Set-Up
Cannes is unique in that it offers four elements:
The most prestigious film festival in the world with in competition films typically ending up in Oscar and international award season contention. Additionally, there are a slew of films that screen out of competition that the festival honors for their efforts and merits — think "All is Lost" in 2013 or "Lost River" in 2014 — strong titles that have commercial value and artistic integrity — the essence of the Cannes appeal.
The biggest film market in the world with over 1,500 new film titles for sale and on display for the international buying community. The "Marche" is often times a difficult pill to swallow — with hundreds upon hundreds of films from across the world — the first visit to the market is hard to comprehend. Selling and buying are both relationship based communities in the film business – requiring pre-established relationships with sales agents (those who represent content internationally) and buyers (distributors in individual territories around the world).
The strongest worldwide representation at the international pavilions with each major country in the world representing their national film programs — from tax incentives, to promotions to rebates and panels — each country seeking to draw in productions offers an all inclusive look and conversation into the dealings of their specific region. Often used as meeting places (since Cannes has very limited seating areas in the Marche and festival), the pavilions serve as a landing base for much of the conversations during the 10+ days of Cannes — which offer the countries with the strongest presence an ability to market their offerings while playing host to the film community.
The most important and constant social & networking events that anyone has ever seen. From panel discussions with big name producers, directors and the like to parties at villas, clubs, beach front and yachts to the invite only exclusive dinners and hotel gatherings — Cannes offers the best opportunity year round for the filmmaking and distribution community to mingle for fun and business.
But there is a catch…
Cannes Opportunity Cost
The most difficult part about attending Cannes is deciding how best to spend your valuable time. The cost of attending is steep both financially, time wise (the travel from Los Angeles is 15+ hours door-to-door) and opportunity wise. If you spend all of your time seeing the great films you'll miss the networking and sales opportunities. However, if you spend all your time networking and selling, you'll miss the festival — which is a difficult pill to swallow given the strength of the titles screening at Cannes each year.
Assessing your main objectives months before you attend is crucial — are you looking for financing? If so, pre-sales discussions with sales agents in the Marche is crucial.
Are you seeking tax incentives and interested in discussing with international territories about your options? Then spending your time at the pavilions is the best option.
Regardless — you're going to need to plan your goals well in advance, schedule your meetings 50+ days out (everyone's schedules get ridiculously crowded) and be prepared to miss out on events you want to attend (it's simply not possible to attend everything).
The Buffalo 8 Productions & BondIt Approach to Cannes 2014 
With a library of content for sale, multiple projects gearing up for production and a continued need to expand our social and business networks — we spent our time divided up among our company divisions.
Our film team at Buffalo 8 spent their days selling in the Marche and meeting new buyers to form relationships with companies we'll be in business with for the rest of the year. An interesting piece of advice here being that if you live in Los Angeles – take meetings with people & companies that live elsewhere (similarly for NYC, Chicago, etc…) — this is your rare chance each year to be face-to-face with buyers from every corner of the world. And even in the current times of easily transferred digital files for streaming and viewing purposes – meeting with financiers, buyers and the like go a long way.
Our production team spent time meeting with financiers who cash-flow tax incentives, pre-sales and those looking for equity investment opportunities. These meetings are more difficult to come by and require advance planning to keep the momentum sustained during the craziness of Cannes.
Our BondIt team (BondIt cash-flows union deposits for independent feature films freeing up cashflow liquidity) split their time between finding companies who actively produce content between $100k – $10M budgets (the sweet spot for the BondIt application) and those looking for equity investments into media technology companies. Note here that all of these meetings — at least a large portion — were pre-planned and scheduled. Again, most of the big hitters in Cannes whether individuals or companies have packed schedules so getting in front of them is only possible if you've pre-scheduled.
Cannes Conclusions
Once you've attended your first major market (Berlin, Toronto, Cannes), it's difficult not to go back for another year. The value of attending is so high from a networking, business and relationship stand point. Before attending the major markets, Buffalo 8 was a smaller boutique production entity with limited international presence — but now having attended markets for several years, our database of useful contacts and our business have grown simultaneously.
Weigh out the pro's & con's of attending — be self aware in what you're seeking and who will be attending that could facilitate what you need and may be willing to grant a meeting with you. Recognize that the investments available at Cannes are insanely competitive (Martin Scorsese attended the 2013 Cannes market seeking financing for multiple productions) as the world of financing and distribution continues to get stranger and stranger (a nice way of saying it's getting overly complicated and competitive).
Pre-plan your meetings and have a goal in mind for each contact you sit down with and leave room for those coincidental meetings that will often happen (but don't bank on them) that could open new doors.
Cannes is the most important event of year — make the most of it and you'll never remember why you weren't there years before.
BondIt was founded by independent film producers Matthew Helderman & Luke Taylor of Beverly Hills based Buffalo 8 Productions. Having produced 30+ feature films, the team recognized a dilemma in the production process — union deposits — and launched BondIt to resolve the situation to assist producers & union representatives alike. 

Sheri Candler May 22nd, 2014
Posted In: Distribution, Film Festivals, International Sales, Uncategorized
Tags: BondIt, Buffalo 8 Productions, Cannes Film Festival, film financing, impressions of Cannes Film Festival, international sales, Marche du Film, Matthew Helderman, sales agents, union bond deposits