Crowdfunding via TV? Yes, and it won't cost a dime
Today's guest post is from Emmy winning producer/director Victor Zimet of Home Team Productions who is actively campaigning for finishing funds to complete a new documentary about Croatian/American composer Nenad Bach called Everything is Forever. But did you know campaigns now have a new promotion outlet on a TV show in Buffalo, NY?
It's taken fifteen years to make our film, EVERYTHING IS FOREVER. But I never expected the crowdfunding process to consume half a year.
For two months, we wrote and re-wrote copy explaining who we were and what the project is about, cutting trailers for the film and a sizzle reel for our company, HOME TEAM PRODUCTIONS, and shooting on camera wrap-arounds for the campaign pitch video.
It's been an enormous amount of effort, and it was important for us to emerge from the campaign with adequate funds to finish the film. We chose the flex plan of Indiegogo, in which we could keep what we raised even if we didn't meet our goal.
Two tips from veteran crowdfunders I found useful were put the F-word back in fundraising, that word being fun. This loosened me up enough to stop taking everything so seriously, and sparked a wave of creativity. One example involved shooting a video replete with music, dancing, and a silly party hat, which became the centerpiece of a virtual birthday party and fundraising event posted on Facebook. That stimulated some donations.
The other piece of advice also involved Facebook; the user creates a Facebook Event announcing the campaign on the first day it is launched. Invite all of your friends and ask them to share which we found to be far more effective than just posting an announcement on a timeline.
After thirty hard-fought days of fun (and anxiety, we're only human!), we raised two thirds of our goal and were at peace with our efforts.
But it wasn't over yet.
On the eve of the campaign's conclusion, we were approached by a producer for THE CROWDFUNDER SHOW, which airs on Fox 29 WUTV in Buffalo, NY, inviting us to be a featured segment on the program. Delighted that our ingenuity made an impression, we accepted. THE CROWDFUNDER SHOW is a half hour weekly show that profiles the best, brightest, and most interesting crowdfunding projects looking to make a mark, follow a dream or improve a community.
On December 29th, our campaign will be featured in a four-minute segment packaged in the half-hour show.[ed. To apply for consideration on the show for your project, go HERE].
Having gone through the rigors of a previous campaign, we were able to supply the necessary material to the show quickly and they had our campaign up on the crowdfunding site FundRazr, where they sponsor projects, within 24 hours.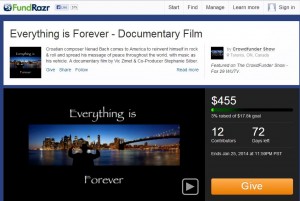 Now, here's where it gets really interesting. In our original campaign, we offered perks such as downloads of some of our earlier films, including festival favorite RANDOM LUNACY. We also offered exclusive bonus interviews featuring pivotal figures from the films. Another perk provided an opportunity to do a commentary track on the EVERYTHING IS FOREVER DVD.
THE CROWDFUNDER SHOW sponsors projects on the Fundrazr site and they are providing an extra incentive to donors. They reward contributors with sponsored gift cards for the same amount of money they contribute, up to $100. With this crowdfunding model, what you give – you get! Donors receive a gift card that matches their donation, compliments of retailing giants such as Best Buy, Home Depot, Starbucks, The Gap, and more. The result? People can support our campaign and it will not cost them a dime. This model is a win-win. With the holidays coming up, you bet that I myself will be purchasing some gift cards!
It's a brave new world in fundraising, and if this is the first wave, we're excited to be part of it. It will be fascinating to see what donations may result from four minutes of TV time.
Victor Zimet is a veteran of the film and television business with over thirty years experience to his credit. Together with partner Stephanie Silber, he founded HOME TEAM PRODUCTIONS, producing and directing award-winning documentary films, television, and not-for-broadcast projects since 1999. For more information or to donate finishing funds for EVERYTHING IS FOREVER, visit their website.
Sheri Candler November 14th, 2013
Posted In: crowdfunding
Tags: Buffalo, crowdfunding, documentary, Everything is Forever, Facebook, Fundrazr, Home Team Productions, independent film, indiegogo, Nenad Bach, Random Lunacy, The Crowd Funder Show, The Film Collaborative, Victor Zimet