One of the absolute strongest pieces of marketing you will create for your film is its trailer. The other is the key art. I wish more filmmakers appreciated how important having a kick ass trailer is and stop trying to save money by editing it themselves or having their feature editor do it. A horror film audience is typically younger and very distracted. A trailer that fails to capture attention in less than 5 seconds is easily turned off in the quest to find something more interesting.
I spoke with professional trailer editor Michael Kurthy of Ye Olde Trailer Shoppe, Inc. about what goes into editing film trailers, especially horror trailers.
SC:What is the first thing you do when you sit down to edit? How do you evaluate the film to choose the elements that will go into a compelling trailer? 
MK: "If I'm working directly with the producer, we usually collaborate on coming up with a marketing direction for the film. The producer usually has some ideas, but is so close to the film that they don't see the 'big' picture on how to sell the film to a wide audience. Every film is different and requires a different approach. I will do a 'Break down' of the film prior to cutting the trailer. This is basically deconstructing the entire film shot by shot/dialog line by dialog line. I try to use the footage and dialog to tell a story, but if that can't be done, I will write or hire a copy writer to tell the story with narration. The trend these days is NOT to use copy. Sometimes we will be working on a film in the early stages of production and we will indeed use a shot that may not make it into the final cut of the released feature."
SC: Is there a difference between what goes into cutting a trailer for a horror film and cutting any other kind of narrative film? Are there "rules" or conventions that go into marketing a horror film that you follow? Does it depend on what the trailer is supposed to do (IE, sell the film to industry vs sell the film to the consumer)?
MK:"The only difference is that horror is usually paced slower, more pregnant pauses are used to accentuate a particular moment and we like to use more sound FX. When I cut the trailer for The Wizard of Gore, a remake of a 70's Vincent Price horror film, I chose to skillfully use music and sound FX that would drive the trailer along in a frenetic manner, with lots of stops. I concluded with a high energy rock cue from the feature soundtrack because it worked so well to pull the whole trailer together at the end."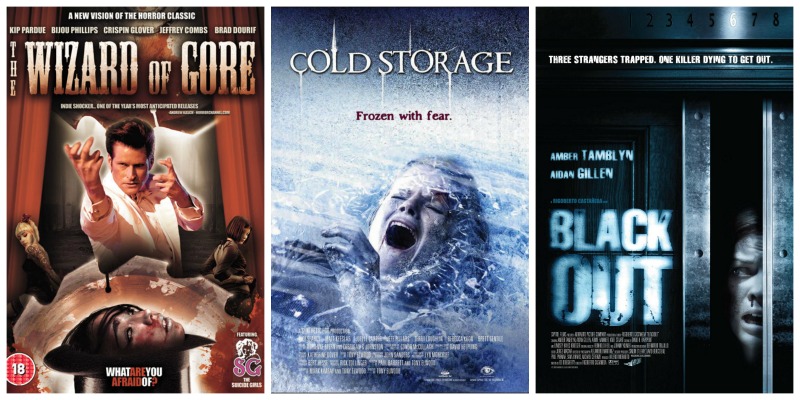 SC: How important is music in a horror trailer? Where do you source your music from? 
MK: "Music searches are really one of the most important elements in trailer making. The music will set the tone of the piece as well as the mood and what I would like the audience to feel and think. For most of the indy horror film trailers I create, I'm usually handcuffed into using the feature score from the film because of ultra low budgets.This can be a good thing or a bad thing depending on the score."
SC: Are there certain fonts or motion graphics that can be used to great effect? Should you have text/graphics or should the scenes play out to demonstrate the full effect of the film? What about using festival laurels or critic quotes? What about foreign films, how do subtitles play in trailers?
MK: "The only reason you need text or graphics in a trailer is because you have to convey another story that can't be accomplished with using dialogue from the film; or the dialogue from the film isn't enough to tell the story.
When we use the festival laurels or critic quotes in a cut, we are trying to use the accolades of the film to our advantage. Testing shows that people do respond to awards and such. A lot of times we 'hide' foreign films by doing a trailer with no dialogue,it's very difficult to sell a sub-titled foreign language movie here in the States."
SC: How is trailer editing different from feature editing? 
MK: "I almost exclusively cut just trailers. I think it really is necessary to hire a professional trailer editor who is not biased on the film. One who can step back and really see the big picture. I recently edited a feature documentary for the first time, a film called The Sound of the Surf about the origins of 'Surf' music. Unlike trailers, this feature's files were so big and daunting, so many things to keep track of ie: photos, interviews, music,flyers etc. With a trailer, one simply has the 1 ½ hr film to be concerned with plus miscellaneous music, graphics and select pulls. Quite frankly, after completing this feature edit, I wonder if I could still cut a trailer for this film, after being so immersed into it."
SC: Given the audience for horror is usually young (teens), does this dictate the length and style of the trailer? How about different lengths depending on where it is shown (online vs in theater)?
MK: "Less is more in this case. Attention spans have shrunk in recent years probably due to the obliteration of broadcast material out there.There is no official maximum length, but if your trailer is over 2m 30secs, it probably won't get played in a theater."
SC: How do you feel about the accusation that trailers "give away the movie"? Is that true? Are there instances where they have to in order to get bums in seats/streams sold?
MK: "A good trailer should never give away the story or ending. However, today a lot of trailers do just that. A lot of this has to do with creatives in charge at the studios.There is a lot of pressure on them to 'Open' a film [ie, provide a successful opening weekend of the release] because if they don't, it's their job on the line. Being a creative advertising exec at a studio is a very short lived career."
SC: Now for the question all of our readers will want to know for budgeting purposes, could you give me a range for how much a professional trailer would cost? Also, how far in advance should a producer plan for trailer edit? 
MK: "If you go to a trailer house (large company with many producers, editors, graphics people), you are going to be charged anywhere from $40,000 on up to $75,000. Smaller shops like mine (1 to 5 employees) can bring the price way down. My rate for an indy trailer is around $4000-$5,000.
It's always a good idea to plan in advance, but unfortunately people wait until the last minute. I have had to cut trailers in ONE DAY!-not fun. Ideally, it takes 1 to 2 weeks to get a great trailer cut that the client likes."
Michael Kurthy is an award-winning motion picture marketing veteran who, over a 20 year career, has created successful theatrical campaigns for dozens of block-buster hits including: "Independence Day", "The Matrix", and "The Lord of the Rings".
Currently,he owns Ye Olde Trailer Shoppe Inc., a boutique trailer house, for which he creates quality advertising campaigns for major and independent features. Mike has created campaigns for many horror films including, "The Wizard of Gore", "Cold Storage", "Friday the 13th Part Vlll", "Blackout", "Close Your Eyes" and "Freddy's Dead" all of which can be seen at www.michaelkurthy.com
Sheri Candler October 24th, 2013
Posted In: Marketing, Publicity, Trailers, Uncategorized
Tags: Black Out, Cold Storage, film marketing, film trailers, horror film, horror trailers, independent film, Michael Kurthy, Sheri Candler, Sound of the Surf, The Film Collaborative, Wizard of Gore, Ye Olde Trailer Shoppe
We've all heard the stories of the little independent horror films that could; seemingly plucked from nowhere and went on to be mega hits. 
Paranormal Activity, a $15,000 film launched at Slamdance 2008, was bought for about $350,000 and became the highest grossing film in the history of the festival. Though it was originally acquired with remake rights in mind, it ended up spawning four subsequent installments.
Sundance 2004 served as the launchpad for Saw (production budget around $1mil) which, like Paranormal Activity, was never supposed to go to movie theaters; it was originally going to go direct to DVD. It spawned 6 sequels. Another Sundance premiere, The Blair Witch Project, was shot for $60,000 and made over $140 Million in theaters.
Insidious was made for $1.5 mil, premiered at the 2010 Toronto International Film Festival and grossed over $90 Mil worldwide. Other films to launch at TIFF include Hostel and Cabin Fever.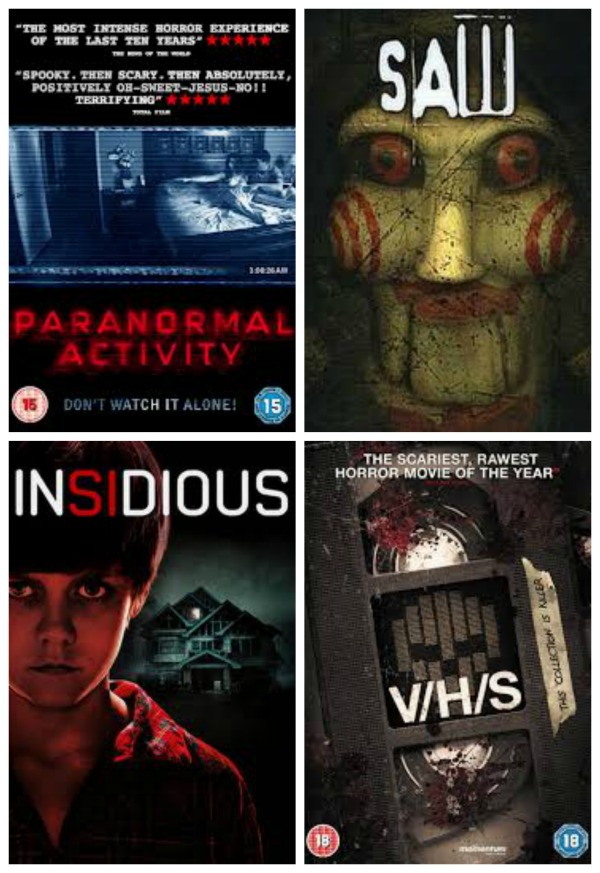 Yes, these films are the exceptions to the rule. The rule that says box office success is a result of higher production spends and star names. Such is the potential of the horror genre. It has one of the most loyal audiences who, to a certain degree, ignore critics and don't care too much about star cast. The catch is the traditional indie release model does not work to get these films out to market.
It is almost impossible for a horror indie to do the slow expansion route. This is why most films either release day/date, go direct to DVD or open wide and place all their marbles on opening weekend. Almost all horror films drop off over 50% after their first weekend. Often dropping even 60 or 70%. Even a film with critical appeal like You're Next only received middling reactions from the larger fan boy audience and will end its theatrical with less than $20 Million. Notably, it still out-performed all but one TIFF acquisition from last year's festival.
What makes the films I listed above unique is that they either opened in limited release and immediately garnered major interest (Paranormal Activity) or showed immense staying power per the genre (Insidious).
The commercial potential of horror compared to other arthouse films cannot be ignored. Almost no one I know would consider any of those films 'arthouse,' but that's exactly what they are. They are some of the most commercially successful independent films ever released. This year, all but one of the midnight madness films from TIFF has a US distributor attached and last year's batch all found distribution deals, making it the only section from the festival to secure domestic distribution for all of its slate.
Even the films that don't necessarily draw massive box office are usually incredibly successful. Sundance films like The Pact and V/H/S were never about theatrical receipts. Both were profitable via the advance received for their domestic distribution deal alone and both were profitable for the distributor (mainly via home video and foreign sales) hence why they each got sequels. Horror is arguably the only genre I know where a film could be bought for just shy of seven figures (The Pact), gross less than $10k theatrically in the US and still be considered a massive success. Distributors like Anchor Bay (who sometimes finances too), IFC Midnight, and Magnet specialize in this kind of release model and continue to thrive. It's incredibly rare for any of them to push the theatrical and almost all of their releases are available on demand upwards of 2 months before they even pop up on a screen.
There is also a clear set of time windows when these films do well. You will not see horror films popping up in theaters in the US during November or December and with good reason. Who can compete with the Christmas releases? Many distributors treat horror as filler title for January/February and it has worked well for films like Hostel. Insidious and The Pact were both summer counter programming. When The Sixth Sense set a then record for releasing at the end of summer, it seems to have set a precedent to debut horror in late summer.
I want to be clear though all is not a pot of gold when it comes to the genre. Please contrast this post with the prior blog entry from my colleague Sheri Candler. EVERYTHING there is absolutely true. I received more solicitations for generic horror films from the Cannes, TIFF, and AFM markets than for anything other genre or story. Many of these films will never see the light of day and even at micro budgets will fail to recoup.
Every year, we anoint maybe one or two new voices in the genre and otherwise it's mostly a rehashing of the same people. Just look at the midnight films from TIFF this year, The Green Inferno and All Cheerleaders Must Die from Lucky McKee. There are fewer spots for new auteurs to breakthrough. The people who are in the horror game are frequently collaborating and backing one another creating a genre power situation where they can squeeze out the very little guys/gals that would have just as easily been considered a few years ago. It's a giant game of six degrees of separation now that gets one to the inner circle of horror stardom.
As the horror sequels pile on, it is so easy to forget the simplicity of what came first. If horror is your game, I encourage you to go back and watch the original Saw. It's really a mystery story focusing on two people trapped in a room. The few other traps we see are only in flashback. The bulk of the film is two people talking in a room. As studios continue to struggle to push the boundaries (okay let's be honest, they struggle to come up with anything even slightly unique or entertaining), they look to the festival circuit for the next film with breakout potential. Every horror franchise to launch in the last few years has come from the festival circuit.
There is still a lot of life left in the genre, but if you're on a micro-budget, you have to offer something fresh or with minimal star power or have powerful connection in the indie world to get noticed. Horror is one genre where titling and cover art can make or break success with an audience. The attention span of the typical horror fan is very short unless they recognize something they like immediately. It's no accident that people were talking about Sharknado; an absurd, but definitely different take on horror and sci fi. It lit up Twitter like nobody's business. The Asylum does very well making those types of films. But the success narrative is skewed; it only attracted a viewing audience slightly better than a typical SyFy Channel movie of the week and its hurried theatrical screenings pulled in less than $200K from 200 cinemas. Still, it has spawned a sequel!
So to recap, the genre is waiting for someone to break out in the midnight section at Sundance, SXSW, Tribeca, and/or TIFF, these films are often the most successful to come out of the festival circuit and almost always receive a deal. However, to get into the festivals at all is incredibly difficult and if you're not already connected to the "in crowd," you are probably shit out of luck. While you could do a D grade microbudget film with distribution pre attached through Full Moon, what would that do for you? The best case scenario is you make a whopping $5,000 for all your hard work, they get control of the edit and the film doesn't see a significant release.
But whatever you do, choose a smart title, a good poster and cut an exciting trailer. They are imperative in horror.
Bryan Glick October 11th, 2013
Posted In: Distribution, Theatrical
Tags: All Cheerleaders Must Die, Bryan Glick, horror films, independent film, Insidious, Lucky McKee, Paranormal Activity, Saw, Sharknado, Sundance, The Film Collaborative, The Green Inferno, The Pact, The Purge, Toronto International Film Festival, V/H/S, You're next
The month of October seems a good time to look at films in the horror genre and we will be releasing a series of posts all month long that addresses the business of releasing these films.
Long the domain of ultra low budget filmmakers everywhere, horror audiences are now spoiled for choice when it comes to finding a film that terrifies. Yes, everyone with access to a digital camera and buckets of fake blood seems to be honing their craft and turning out product by the thousands. Unfortunately, most of it is high on splatter and low on story and production value. That may have made up the majority of the horror film sales 7 years ago, but distribution advances paid for such films are now exceedingly low (maybe $5K per territory, IF there is a pick up at all) and now the genre is perfect for the torrent sites.Unless you plan to make films as an expensive hobby, the pressure to produce a stellar horror film that people will talk about (see The Conjuring, Insidious, Paranormal Activity) is very high.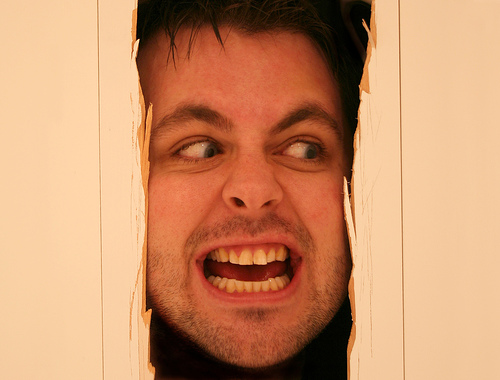 The trouble for filmmakers creating in this genre is there is so much being made of questionable quality, it is like asking audiences to find a needle…in a stack of needles (hat tip to Drew Daywalt). The same challenges for fundraising, marketing, and distribution that plague every production, plague horror films as well. To get good word of mouth, the film HAS to be great and have a significant marketing push.
At a recent event hosted at the LA Film School by Screen Craft entitled Horror Filmmaking: The Guts of the Craft, several involved in the horror genre talked about budgeting and distributing indie horror films. All agreed the production value bar has to be raised so much higher than everything else in the market in order to get people to part with their money for a ticket when competing with studio films. Talent manager Andrew Wilson of Zero Gravity Management pointed out that comments like the film did a lot with so little doesn't hold water with audiences outside of the festival circuit. "You still need it to be good enough to get someone to come into a theater and pay $12…the guy who is going to pay $12 doesn't care that you did a lot for a little bit of money. They want to see a film that is as good as the big Warner Bros release because they are paying the same amount of money to see it." While you may be thinking, "I don't need my film to play in a theater," and that may be, the films seeing the most revenue in this genre are the ones that do.
The panel also addressed selling horror films into foreign territories. While horror does travel much better than American drama or comedy, there are horror films being made all over the world and some are much more innovative than their American counterparts. France, Japan and Korea were cited as countries producing fantastically creative horror films. American filmmakers with aspirations of distributing their films overseas need to be aware of the competition not just with fellow countrymen, but with foreign talent as well.
Other film distributors are candidly talking about the complete decimation of the market for horror, largely brought on by the internet and piracy, but also a change in consumer habits. Why buy a copy to own of that low grade splatterfest when you can easily stream it (for pay or not) and move on to the next one? More where that came from. There was once big money in fooling audiences to buy a $20 DVD with a good slasher poster and trailer, but now they are wise to the junk vying for their attention and don't see the need to pay much money for it.
In a talk given last year at the Spooky Empire's Ultimate Horror Weekend in Orlando, sales agent/distributor Stephen Biro of Unearthed Films actually warned the audience of filmmakers not to get into horror if money was what they were seeking."The whole system is rigged for the distributors and retailers. You will have to make the movie of a lifetime, something that will stand the test of time."  He confirmed DVD for horror is dead. Titles that might have shipped 10, 000 copies to retailers are now only shipping maybe 2,000. Some stores will only take 40 copies, see how they sell and order more if needed in order to cut down on dealing with returns. Of the big box stores left standing, few are interested in low budget horror titles. Netflix too is stepping away from low budget indie horror on the DVD side. They may offer distributors a 2 year streaming deal for six titles at $24,000 total, but there will be a cost to get them QC'd properly (which comes out of your cut, after the middlemen take their share of course!).
As for iTunes, there are standards barring graphic sex for films in the US and in some countries, they are now requiring a rating from the local ratings authority in order to sell from the iTunes Movie store. The cost of this can run into the thousands (based on run time) per country. Also, subtitling will be required for English language films, another cost.
The major companies in cable VOD (Comcast, Time Warner, Verizon etc) are now requiring a significant theatrical release (about 15 cities) before showing interest in working with a title. They are predominantly interested in titles with significant marketing effort behind them. The cable operators often do not offer advances and you must go through an aggregator like Gravitas Ventures to access. If the aggregator refuses your film, that's it.
Selling from your own site via DVD or digital through Vimeo or Distrify is still an option, and the cut of revenue is certainly larger. But unless there is a budget and plan in place to market the site, traffic won't just materialize. Still, for ultra, ultra low budget films (like made for less than $5,000) with a clear marketing strategy and small advertising budget, selling direct is the way to go. Certainly better than giving all rights away for free, for 7 years and seeing nothing. At least your film can access a global audience.
Here is Biro's talk from Orlando. It runs almost an hour
If after reading this, you are still set to wade into the market with your horror film, stay tuned to future posts looking at the numbers behind some recent horror films and what options you'll have on the festival circuit.
photo credit: <a href="http://www.flickr.com/photos/markybon/102406173/">MarkyBon</a> via <a href="http://photopin.com">photopin</a> <a href="http://creativecommons.org/licenses/by-nc-sa/2.0/">cc</a>
Sheri Candler October 3rd, 2013
Posted In: Cable, Digital Distribution, Distribution, International Sales, iTunes, Long Tail & Glut of Content, Marketing, Netflix, Theatrical
Tags: Andrew Wilson, cable VOD, Distrify, Guts of the Craft, horror films, independent film distribution, iTunes, LA Film School, Netflix, Screen Craft, Spooky Empire's Ultimate Horror Weekend, Stephen Biro, Unearthed Films, Vimeo, Warner Bros, Zero Gravity Management